Lenovo LaVie – An Attractive MacBook Alternative For Productivity-Oriented Users – The 'Book Mystique
Apple's new MacBook isn't the only player in the ultralight, ultrathin premium laptop game. Because it's an Apple device and assumed paradigm-setter, the MacBook is getting the lion's share of attention, and it's a fine machine for folks who can live comfortably with compromised connectivity and the less than cutting-edge performance its low power draw Intel Core-M CPU. I expect that some users will buy the Retina MacBook instead of an iPad, especially those who would use an iPad in a keyboard case most of the time anyway and are unenchanted with touchscreens.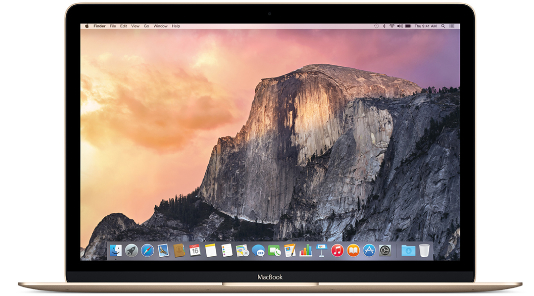 Photo Courtesy Apple
However, productivity-oriented users are likely to find Apple's single do-all USB-C port minimalism tedious at best, and for many types of production work, you can never have too much power.
Lenovo, which has a lot of cred in the enterprise world dating back to the old IBM ThinkPads whose lineage the Lenovo LaVie Z is heir to, also has a new super lightweight laptop contender — the Lenovo LaVie Z line of ultraportables which they claim are the lightest 13.3 laptop and convertible form factors in the world, and were winners of the CES Best of 2015 award.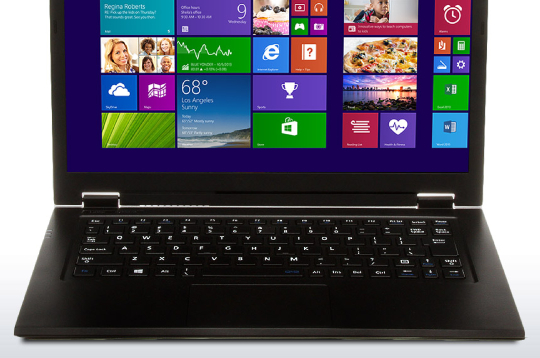 Photo Courtesy Lenovo
While the new MacBook weighs in at 2.03 pounds, the LaVie Z, while not quite as thin as Apple's ultraportable, tips the scales at a mere 1.87 pounds, thanks to its having a magnesium-lithium chassis frame, while the MacBook uses Apple's established unibody aluminum architecture.
And for once, a PC manufacturer isn't lowballing the Apple laptop competition on price by using lots of plastic and cruder, cheaper engineering. To be fair, the old IBM ThinkPads were not examples of that strategy, and were solidly-built, rugged and reliable machines. I remember seeing a photograph of Steve Jobs around the time of his return to Apple in 1996 using a ThinkPad (presumably running his NeXT OS). Ironically perhaps, IBM is now In a high-profile alliance with Apple for development of MobileFirst for iOS business software and promotion of the iPad and iPhone as enterprise hardware platforms through IBM's huge global sales network.
Anyway, the LaVie Z is currently offered starting at $1,499, versus the base MacBook at $1,299 (at least until you start adding the price of several likely necessary USB-C adapters).
The LaVie isn't fanless like the new MacBook, but it's equipped with a full-powered Intel Core i7 processor that handily dusts the MacBook's low power draw Intel Core M CPU in performance. As for the necessary fan, Lenovo says its systems are built to lessen heat buildup in critical areas, and its laptop fans are specially designed to run quietly with the least amount of power.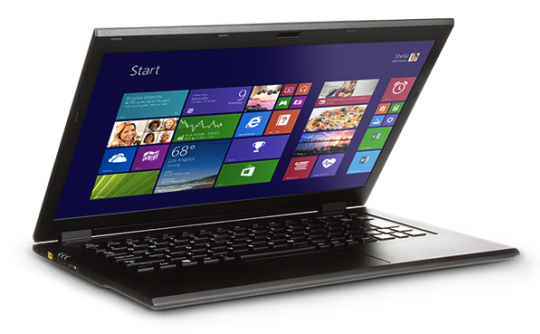 Photo Courtesy Lenovo
One of the new MacBook's marquee features is its 2,304 x 1,440-pixel 12-inch Retina display, but the LaVie matches or arguably bests it with a quad HD (2,560 x 1,440 pixels) resolution 13-inch panel that is also a touchscreen — something you can't get on any MacBook. LaVie has a 720p HD front-facing camera for video phone calls, teleconferencing and such, vs. the 480p unit on the MacBook.
The LaVie Z also matches the MacBook in other standard specs., such as 8GB of RAM and a 256GB solid-state drive (SSD), and substantially betters it in the I/O department with two standard USB 3.0 ports, an HDMI video out port for connecting to a desktop monitor or to a projector for showing presentations, and an SD card reader — making the LaVie Z a lot more practical than the MacBook for business users.
The 12-inch MacBook has only a single USB-C port to its name to handle all wired connectivity, ranging from charging (goodbye MagSafe connector), through data transfer and peripherals I/O, to video out, and requiring an array of expensive adapters that easily have the potential to draw the MacBook's practical purchase price even with or higher than LaVie Z's.
There is also a convertible variant. the LaVie Z 360, which is equipped wit a flexible hinge like Lenovo's Yoga line of convertible laptops, which allows the machine to be used in tent and tablet modes. that will cost you $200 more up front, and will be an attractive feature for some, Consumer Reports last week reported that there have ben some problems with the 360 model that should have been ironed out before it went into production. Those issues will presumably be addressed, but in the meantime they should not affect the regular LaVie Z model.
That caveat notwithstanding, the Lenovo LaVie Z appears to have a lot more going for it — especially for enterprise and other productivity-oriented users — than the MacBook does except for one thing; the MacBook runs Apple's iOS or Windows via Apple's Boot camp install assistant or virtual machine software like third-party Parallels, while the LaVie is Windows (or Linux) only.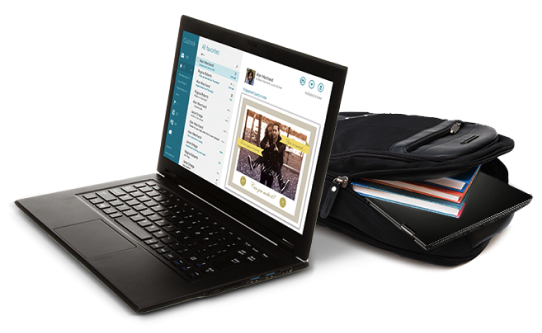 Photo Courtesy Lenovo
However, by and large, enterprise users tend to be more Windows than Mac oriented anyway, so from their perspective the Lenovo LaVie's being a familiar Windows computer will be regarded as a positive anyway. Apple will sell a lot more MacBooks than Lenovo will LaVies, but the latter will still find a ready niche with business and professional users on the go who want a full-featured PC that's easy to take along.