Logitech MX Anywhere 2 Wireless Mobile Mouse – 'Book Mystique Review
I always approach new Logitech keyboard and pointing devices with high expectations, and over the years I've very rarely been even mildly disappointed with a product from the Lausanne, Switzerland based company.
There's nothing disappointing about Logitech's the Logitech MX Anywhere 2 Wireless Mobile Mouse, which even in the long tradition of Logitech computer rodents is an exceptionally nicely turned out piece of work. Even the box it comes in evokes an impression of traditional Swiss quality, precision, and attention to detail (although the mouse itself is actually made in China) — with its front panel hinging open to view the device under plastic, its closure secured with a magnetic catch no less.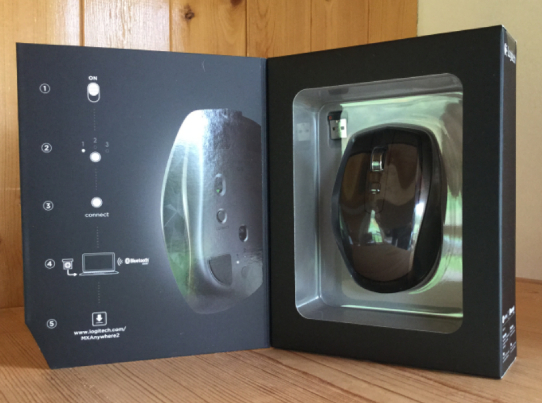 In the box you'll find the mouse, its USB charge cable
The positive first impression is reinforced by the MX Anywhere 2's appearance — dressed in matte black and bronzed gunmetal (harmonizes especially nicely with the Gold color option for the new 12-inch MacBooks) with attractively patterned traction grip side panels of a rubbery material.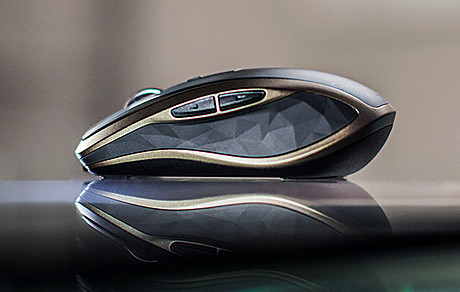 When picked up, the MX Anywhere 2 — which is Logitech's mobile version of their award-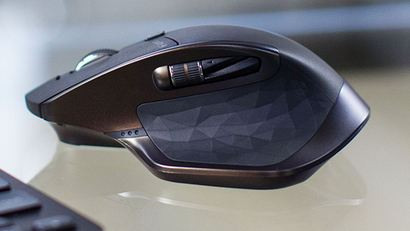 winning MX Master Wireless Mouse — feels like it looks, with perfectly weighted and silky-action buttons and scroll wheel, and smooth tracking — notwithstanding the weight of the unit's internal rechargeable battery — a full charge of which Logitech claims lasts up to two months (based on six hours daily typical office use), eliminating the need to carry spare batteries. One minute of USB-cord charging gives you up to two hours of usage juice. When it's time to recharge, simply plug MX Anywhere 2 into a USB port on your computer with the charging cable (if you have a new MacBook with Retina display you'll need a USB-C to USB adapter).
One of my objections to wireless mice has long been the weight of the battery/ies, but the MX Anywhere 2, while no lightweight at 3.7 oz (106 g)with its rechargeable internal battery pack, tracks extremely smoothly and with minimal effort. The convenience of wireless mousing can't be gainsaid, and I've gradually become a convert for use with my laptops in a range of locations. The MX Anywhere's scroll wheel also supports one of my all-time favorite mouse features — a free-wheeling mode that enables zipping through long documents almost effortlessly. And if you prefer detent clicks, that's supported too.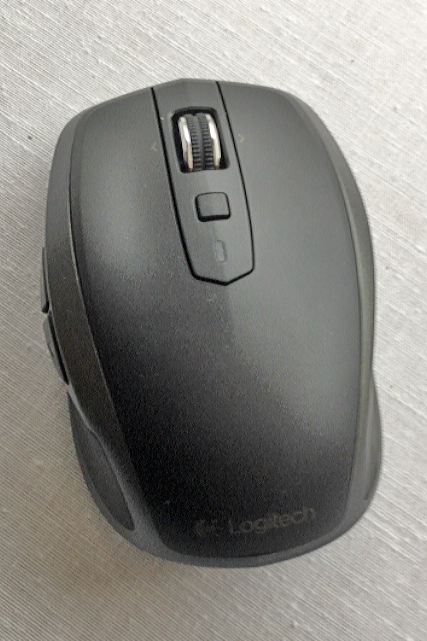 Inside the box with the mouse are multilingual warranty information and battery disposal instructions, a USB cable for charging the battery, and a Logitech Pico Unifying Receiver dongle, which uses one of the computer's USB ports (or in a hub) for RF wireless connectivity.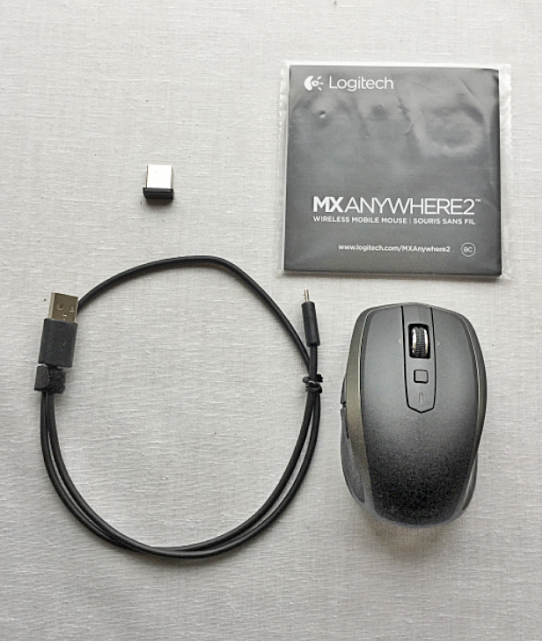 The "2" in the MX Anywhere 2's name however, refers to the fact that this wireless mouse also supports Bluetooth Smart technology, for dongle-less connections if you prefer. It also can be paired to three different Bluetooth devices simultaneously, with a button on the bottom to select among them. Personally, I prefer the RF dongle as it eliminates the hassle of pairing, and in my experience provides a more positive connection with less latency and no wake-up lag compared with some Bluetooth mice. However, it's nice to have both, and if Apple can be persuaded to support a mouse driver for the iOS, maybe someday we'll be able to use Bluetooth mice with our iPads. The MX 2 Anywhere already of course supports Microsoft's Surface family of tablet PCs and other Windows tablets.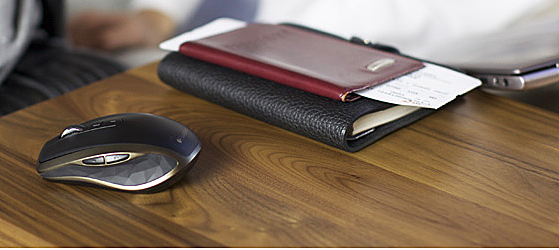 Speaking if compatibility, Logitech cites minimum system requirements of OS X 10.8 for use with the proprietary Pico Unifying Receiver, and OS X 10.10 for Bluetooth Smart. However, I tried using it with my old late 2008 MacBook running OS X 10.6 Snow Leopard (still the third most popular OS X version in use) and found that the Pico Unifying Receiver and the mouse's basic functions work fine, although I doubt that the Logitech Options customizing software would.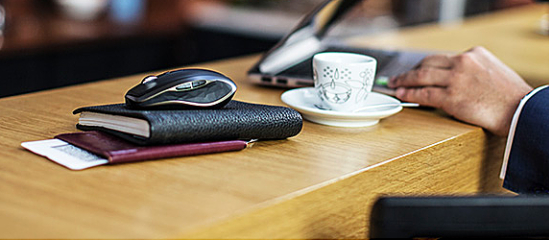 Some mice designed to be used with portable computers on the road are too small to be really comfortable for sessions longer than a few minutes. Not so the MX Anywhere 2, which at 2.4 in (61.6 mm) x 3.9 in (100.3 mm) x 1.4 in (34.4 mm) is trim-sized enough to fit in a pocket or purse, but large enough for ergonomic comfort, and perfectly suitable for routine, general purpose mousing duty. I have long fingers and generally prefer larger mice, but I find the MX 2 Anywhere quite comfortable for prolonged use.

Logitech says that the MX 2's Darkfield Laser Sensor tracks on any surface, including glass provides precise tracking. In a bit of experimentation, it worked fine on all surfaces I tried, including glass, metal, plastic, a blanket, even my shirtsleeve. The sensor's default setting is 1000 dpi, with minimal and maximal values of 400 dpi and 1600 dpi respectively and settable through the range in increments of 200 dpi.
The MX2 has standard left and right click buttions, two more programmable buttons on its left side, and a Gesture button located centrally behind the scroll wheel. With Logitech Options software installed (see below), and by holding down the gesture button and moving the mouse, you can trigger four different navigation controls, optimized for the operating system you use.
On the bottom of the MX 2 Anywhere are found an on/off switch, a Bluetooth connect button, and a Bluetooth paired device selector button with three indicator LEDs.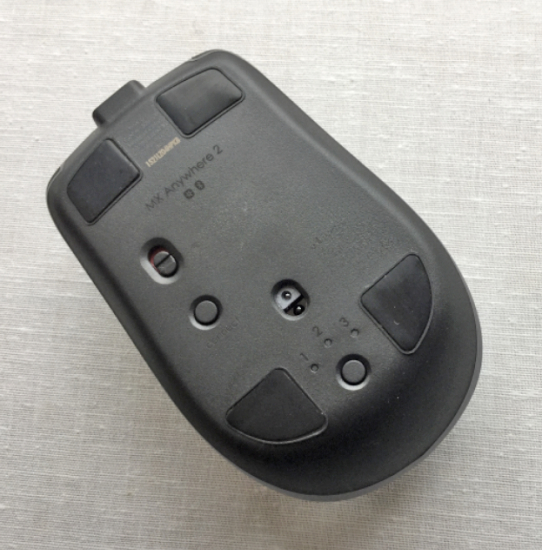 As with the Logitech MX Master Wireless Mouse, the Logitech MX Anywhere 2 Wireless Mobile Mouse is customizable, by using Logitech Options software you can adjust scroll wheel and cursor speed, enable the aforementioned gesture button to reproduce either Mac or Windows touch gestures to replicate touch gesture controls on Mac computers, and toggle between standard and enhanced key functions on your Mac, display battery status, and reassign mouse buttons.
If I have a beef with the Logitech MX 2 Anywhere Wireless Mouse, it's the lack of documentation either physically supplied with the product or online, leaving the user to interpret a few diagrams on the packaging. "Where have all the manuals gone." Aside from that, it's pretty much all good.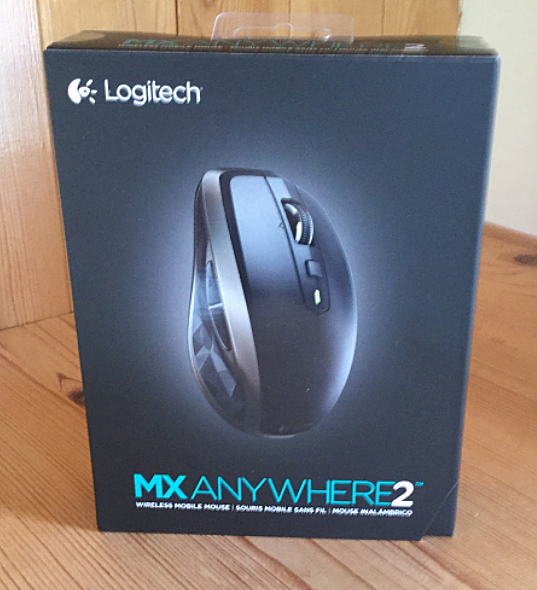 System Requirements:
• USB port or Bluetooth Smart Ready computer or Windows tablet
Logitech Pico Unifying receiver
USB Port
Windows 7
Windows 8 or later
Mac OS X 10.8 or later
or
Bluetooth Smart
Bluetooth Smart Ready device
Windows 8 or later
Mac OS X 10.10 or later
• Internet connection for software download
The Logitech MX Anywhere 2 Wireless Mobile Mouse is expected to be available later in June in the U.S. for a suggested retail price of $79.99. That's definitely not bargain-basement for a computer mouse, but what you get is hardware that matches the quality of your Mac.
For more information, visit:
http://www.logitech.com/mxanywhere2
or the Logitech blog:
http://blog.logitech.com/?p=3D23256