Puffin For Facebook: Fastest Speed With Less Data Usage For iOS Facebook Users
CloudMosa, Inc. has just released a special edition of their Puffin Web browser for iOS optimized for Facebook users. CloudMosa'a Justin Hsiao tells me the Facebook variant of the Puffin app not only significantly reduces the data usage, but also increases page loading speed.
If you haven't yet tried Puffin, which was a 2013 Apple App Store Best App, it's really worth checking out because it's really fast supports Flash video (full paid version) and has other features that are not supported by other iOS browsers. As the developers say, it's "wicked fast" thanks to the help of "cloud servers" that provide proprietary data compression that speeds things up, especially on slow networks like in developing countries or during data roaming. Puffin Browser is claimed to be faster than other browsers or even native apps on high-end phones and consumes 80-90% less data than other browsers or even native apps. The performance advantage is especially noticeable on mainstream or low-end phones, and my experience over several years using Puffin is consistent with CloudMosa'a claims.
Justin notes that recently Facebook has been receiving lots of complaints about its battery usage, and says that in such cases Puffin for Facebook should be a great alternative choice.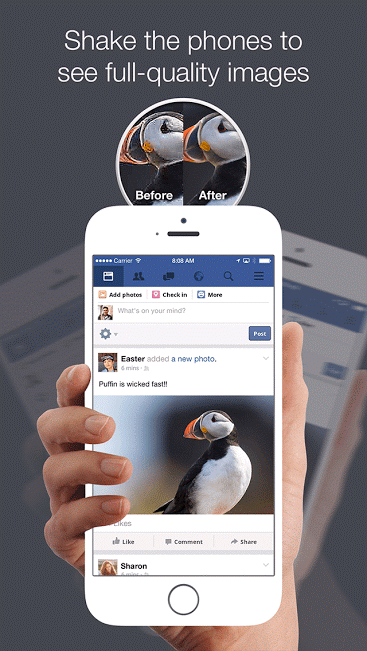 NB: "Puffin for Facebook" is not associated with Facebook, Inc., and is developed by CloudMosa, Inc. — the creator of the Puffin Web Browser. Puffin for Facebook is a special edition of Puffin browser optimized for Facebook users. Its motto is "Better for Less" — a better user experience for less data usage.
Puffin for Facebook removes the traditional web browser UI for a fully immersed Facebook experience. The Puffin UI is kept as subtle and intuitive as possible. For example, monthly data savings are displayed when refreshing the news feed. To view an image in full quality, simply shake the mobile device.
To fully appreciate Puffin for Facebook, Justin says to try it on a Moto E using a 2G Edge network. Puffin for Facebook works remarkably well.
This figure shows data savings of "Puffin for Facebook" in a 5-min session (scroll 10 screens & click 3 photos).
To view a video with more about the app, visit:
https://www.youtube.com/watch?v=tmW5qbDMiDk
For more information, visit:
https://www.facebook.com/puffinbrowser