The Future Of MacBooks: Thin, Light, (And Detachable?) – The 'Book Mystique
I've been a laptop aficionado since first laying hands on a friend's 100-series PowerBook back in the mid-1990s. It seemed to me magical (and still does) that Apple could pack that much power into such a compact, self-contained package.
However, it took over a decade for the full advantages of compact self-contained computing to comprehensively sink in.
My original conception of the laptop was as a smaller, portable and battery-powered substitute for a desktop machine, and my early affinity was to bigger, heavier laptops that I used mostly in desktop substitute mode, with an external keyboard, mouse, and usually peripherals attached at an office workstation.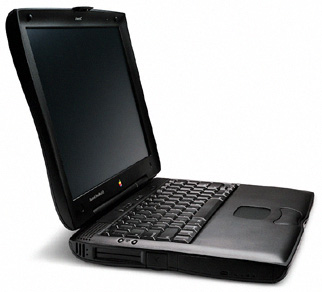 My first PowerBook — a 5300 — didn't have a huge footprint, but it was hefty enough in weight and quite thick in section. Its replacement as my main workhorse, a PowerBook G3 WallStreet, was one of the biggest, heaviest laptops Apple ever built, along with its predecessor the PowerBook 3400c and G3 "Kanga", and various 17-inch PowerBooks and MacBooks.
I had a 17-inch PowerBook as well, which is still my wife's daily driver email and web-surfing computer. I also have had three PowerBook G3 2000 Pismos (two of which still are still with me in excellent serviceable condition) a design that was considered "slim" in the context of its day, but which seems pretty bulky and heavy by recent standards.
This reverie was sparked by my happening to carry my late-2008 aluminum MacBook and then my 13-inch MacBook Air back-to-back. The MacBook, which had seemed so small and svelte coming off the 17-incher back in 2009, now feels boat-anchor weighty and thick in section compared to the Air, which itself is far from the smallest, slimmest laptop Apple makes these days.
That would of course be the current namesake of my aluminum MacBook — the 12-inch MacBook with Retina Display — a device of some controversy but enticing with its brilliant display and diminutive weight and thickness.
It was actually using an iPad that finally clued me into the full benefits of lightweight, untethered computing. The 13-inch MacBook Air is comfortable to carry, and it has pretty good battery life, but it's a bit large in footprint for literal laptop service. It may well be the best computer I've ever owned, but lately I find myself hankering after an even smaller, lighter laptop — which, staying in an Apple context, would be either a 12-inch MacBook or an 11.6-inch MacBook Air.
I dithered some over whether to go 11 or 13- inch when I bought the MacBook Air two years ago. I'm not sorry I picked the 13-incher, which was the right choice for me at the time, but two years is usually the point where I start getting the itch to think seriously about upgrading my main computer, and I'm thinking that whatever I settle on next will be smaller and lighter than the Air I have now.
However, I won't be making any move until at least the next tranche of MacBook updates. The MacBook Airs in particular are long overdue for at least a refresh (where are the Intel 6th-generation Core "Skylake" CPUs that are powering the latest generation Windows PC laptops and tablets, including Microsoft's Surface Pro 4 and Surface Book?), and arguably a complete redesign of the MacBook Airs whose current form factor dates back to 2010 and are the last Apple AIO computer systems without a Retina Display.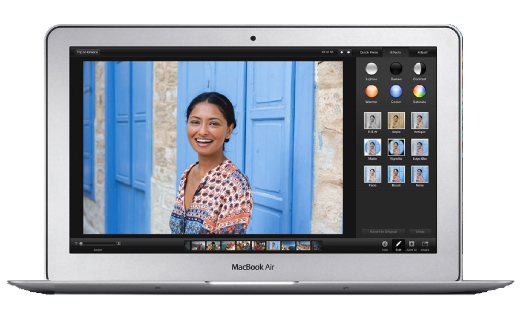 Photo Courtesy Apple
The smallest Air starting at $899.00 — $400 less than the entry level 12-inch MacBook — is a serious bargain in the historical context of Mac laptop pricing. The saving can be banked or used to purchase an iPad mini or toward an iPad Air as the tablet member of a portable device tag team. The little MacBook Air is pretty powerful too, with a standard 1.6 GHz Core i5 CPU or an optional 2.2 GHz Core i7 backed up with an Intel HD 6000 integrated graphics processor. That's a lot more grunt than you get with the 12-inch Retina MacBook's 1.1 and 1.2 GHZ Core M "Broadwell" processors. However, the main objection to the 11-inch MacBook Air is its 11.6-inch non-Retina 1366 x 768 resolution display — a key factor in my choosing a 13-inch model two years ago.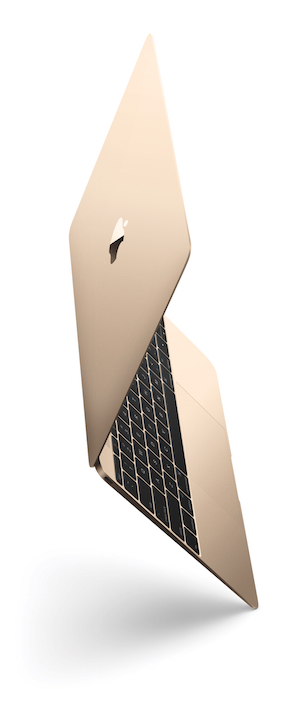 The MacBook offers the high resolution screen — at a price — but while it's seductive, in my estimation it's too compromised to serve as a production anchor device. That said, the original MacBook Air was in context a much more compromised machine than the MacBook, and it led to the vastly superior second generation Airs — one of the best laptop designs Apple ever made. It will be interesting to see what Apple does with a second-gen Retina MacBook in terms of connectivity and processor power.
Superficially the clamshell laptop form factor remains recognizable, but today's MacBooks Air and Pro, and especially the Retina MacBook with its tablet-like weight and dimensions (less than half the thickness of my late-2008 MacBook) and single I/O port (plus audio), are very different machines from my old WallStreet and Pismo PowerBooks. The 12-inch MacBook arguably has as much or more in common with tablets than it does with its seven-pound behemoth ancestors that bristled with I/O ports and expansion slots and bays — with one big exception: its lack of a touchscreen.
Personally, I don't miss touchscreen capability when using a laptop with its built-in keyboard or at a desktop workstation with peripheral input devices, but a single device solution that could replace both a laptop and tablet with a single, do-all machine would (in my estimation) need both
full desktop operating system power and versatility and a detachable touchscreen display for duty in standalone tablet mode — The formula Microsoft has applied to its latest Surface Pro 4 and Surface Book machines if you will.
Market research firm IDC's latest the Worldwide Quarterly Tablet Tracker report notes that detachable tablets becoming a clear focus for many PC vendors, and while heretofore these devices as a class have held just a single digit percentage of the overall tablet market, IDC expects their share to increase dramatically over the next 18 months.
"The first generation of detachable tablets failed to gain much traction, as they represented a series of compromises in terms of both operating system and hardware that few consumers or businesses were willing to accept," says Tom Mainelli, Program Vice President, Devices & Displays at IDC. However, he adds: "The devices shipping now represent a clear evolution of both OS and hardware, and it's our expectation that both home and pro users will begin to embrace the form factor in larger numbers going forward."
That's a form factor Apple has deliberately chosen to shun, at least so far, arguing that pure laptops and pure tablets respectively provide a better user experience than a jack-of-all-trades solution. They may be right — at least partly — on the point, but the convenience, lesser complexity, and economy of a one-device solution are inescapable. IDC observes that Apple still holds top position in the worldwide tablet market, although the days of deifying the iPad as the ultimate tablet may have come to an end, with Apple's self-cannibalization (especially with the iPhone 6 Plus phablet) and increasing competition from PC vendors with detachable tablets have both contributed to a decline in iPad shipments.
And it appears that Apple may be about to blink, with reports this week that they've applied for a patent for what amounts to the touchscreen detachable display module of a 2-in-1 hybrid device.
Such a machine, if (when?) it materializes, will be a very strong candidate to become my next workhorse system.