13-Inch Haswell MacBook Air At Two Years – The 'Book Mystique
The 13-inch mid-2013 "Haswell" MacBook Air I ordered in Apple's November 2013 Black Friday sale was my first new Mac in four and a half years — the longest interval I've gone between system upgrades since I started using Macs in the early '90s. It's testimony to the extreme goodness of the late-2008 model aluminum unibody MacBook that the 2013 Air replaced as my anchor Mac, that the now nearly seven-year-old machine is still going strong as my number two laptop,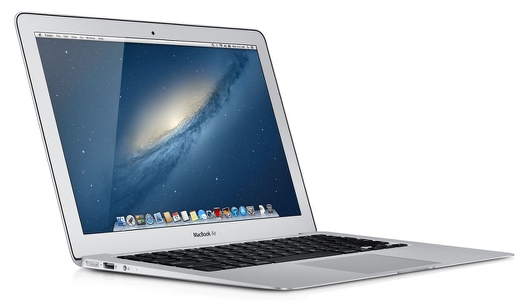 Photo Courtesy Apple
The MacBook Air has a really tough act to follow in that superb old MacBook, which has been a flawless and completely reliable performer, never missing a beat and requiring nothing aside from periodic OS X version upgrades. It's currently running either OS X 10.11 El Capitan or OS X 10.6 Snow Leopard, which are installed on separate hard drive partitions — mostly the former. But that's another movie.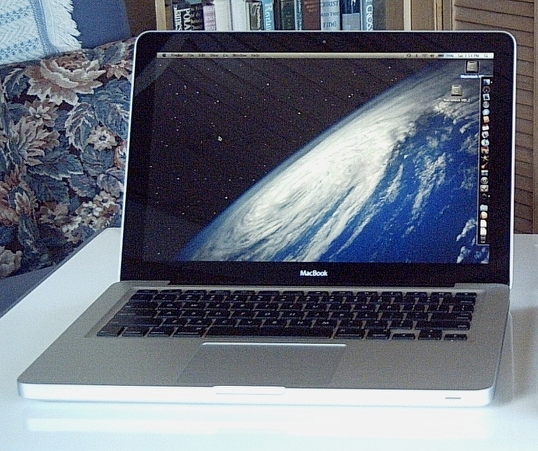 It's hard to imagine that the MacBook Air has been here for two years. I still think of it as the "new" computer and go-to for doing stuff I can't do on my iPad Air 2.
Ad: Check out Black Friday pricing for new models on our MacBook Air Price Tracker, updated continuously.
Back in 2013 I had been on the fence (or fences) over whether to go with an 11.6-inch or 13-inch MacBook Air, or a 13-inch MacBook Pro with Retina Display. I'm still satisfied with my decision two years on, and I think the 13-inch Air represents the best all-round value Apple has ever offered in a laptop computer.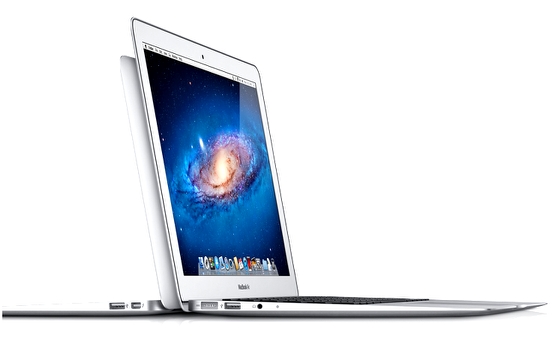 Photo Courtesy Apple
My Air's performance has been nearly flawless, although battery charge life deteriorated after I installed OS X 10.10 Yosemite and subsequently OS X 10.11 El Capitan, although a recent System Management Controller (SMC) reset seems to have helped with that issue substantially. However, I still can't get through two days of typical work sessions without recharging like I can with my iPad Air 2. Aside from that, the unibody MacBook has done everything I've asked it to without hesitation, drama, or a hint of problems.
I love the Air's light weight and easy handling more than I had anticipated. The old 2008 MacBook, which itself seemed light when moving down from a 17-inch PowerBook G4 in 2009, now seems boat-anchor heavy compared with the lithe and lean MacBook Air, although the latter's footprint is a bit larger. That leads me to wonder if I wouldn't experience a similar epiphany in downsizing again to an 11-inch MacBook Air or a 12-inch MacBook with Retina Display, which are currently penciled in at the top of my next system upgrade shortlist. The iPad has got me addicted to easy portability, which would be even better combined with the power of OS X.
When I bought the MacBook Air I wondered if I would end up kicking myself for not ordering an 8 GB upgrade from the standard 4 GB of RAM, but two years on I still haven't had reason to second-guess spending the money on a 256 GB flash memory upgrade instead. The MacBook Air seems to handle El Capitan just fine, and 4 GB still seems adequate for my present needs. However, my next Mac will have 8GB of RAM for future-proofing.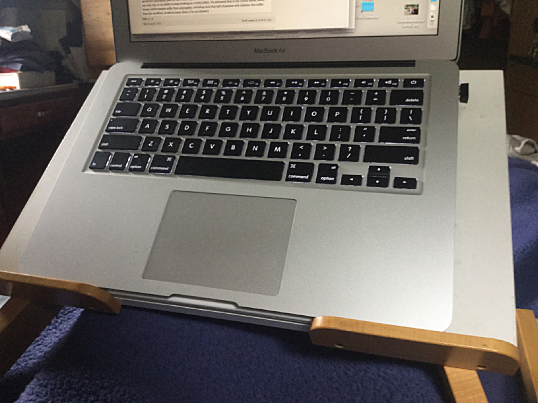 The MacBook Air's chiclet keyboard is visually similar to the one in the MacBook, albeit without the Air's KB backlight. However I'm extremely picky about keyboard action and feel (of necessity; I have peripheral neuritis) and I don't find the Air's 'board as comfortable as the one in the 2008 MacBook, definitely not up to the comfort standard of the superb : in my old Pismo PowerBooks. The difference is subtle, but I can go longer on the MacBook's 'board than the MacBook Air's without pain developing. My Logitech K750 Solar Wireless Keyboard trumps them both for comfort by a substantial margin.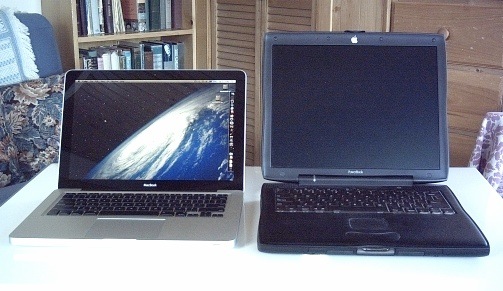 I like the size of the large, glass, multitouch, buttonless trackpad, but after five years using them I remain unconvinced that buttonless is a good idea. I find the trackpad in the MacBook Air much better than the one in the 2008 MacBook, which is way too stiff.
Another thing I like is the MacBook Air's dead silence, although the MacBook gave me little to complain about in that department. You can hear the whisper of its hard drive if you're in a low background noise environment, but had been by far the quietest computer I'd owned since I used to run my old PowerBook 5300 off a RAM disk with the hard drive spun down. Of course the MacBook Air with its solid state storage drive is completely quiet save for the clicking of the keys. I'm hoping the Air's 256 GB flash memory module will hold up as well as the HDD in the MacBook has.
The MacBook has run pretty cool most of the time, and even when the internal cooling fan occasionally cuts in on hotter days under heavy processor load, it's much less offensive and lower-volume than the hideously cacophonous fans older Mac laptops. So far the fan in the MacBook Air only started kicking in after I installed Yosemite and El Capitan, but the above-mentioned System Management Controller reset has quieted it down again.
Aesthetically, it's hard to argue with Apple's sliver thin form factor obsession, although it does compromise function somewhat. I'm pleased that they have introduced some color choice with the 12-inch MacBook — options I hope they will expand to the other MacBook model families as the next major updates are introduced. The silver livery is attractive, but dare I say it's become a bit monotonous. I'm partial to Space Gray on laptops, based on the Retina MacBook. But whatever color, the precision and superb standard of finish of Apple laptops is a joy to touch and look at for those of us who appreciate quality.
Photo Courtesy Apple
In summary, after two years' experience on this machine, I remain confident in declaring the 13-inch MacBook Air the best performance/features-price value laptop Apple has offered yet. It doesn't have s Retina display, but I haven't found that a hardship for the stuff I do with computers. It's going to be fascinating to see what replaces the current Airs, whose form factor dates back to 2010, in the MacBook Lineup.
In the meantime, if you're shopping for a mid-size general purpose laptop, it's pretty hard to go wrong with the current model.