Why Apple Still Sells An Eight-Year-Old Design Laptop – The 'Book Mystique
In his first column of 2016, blogger Marco Arment — always a good read, draws our attention to the fact that under the radar, Apple is still selling the last non-Retina MacBook Pro model that was released way back in 2012, and nowhere near bleeding edge current even then.
I had almost forgotten that the MD101LL/A — Apple's official product number designation for that machine — hasn't quite been quietly put out to pasture, is still for offer, although it's kept well buried on the Apple online store site. However, if you want one, it's available with a 2.5 GHz Core i5 CPU, 4 GB of RAM, and a 500 GB hard disk drive, for $1,099 ($829 refurbished). You can also option up to a 2.9 GHz Core i7 processor, 8 GB of RAM, and 1 TB HDD, or even your choice of a 128 GB, 256 GB, or 512 GB SSD for ascending amounts of extra up front cash, with a fully tricked out unit selling for a not inconsiderable $1,999. That's a lot of grickles for what is essentially an eight year old design, dating back to the 13-inch non-Pro aluminum MacBook that debuted in October, 2008, but depending on your needs and priorities, it could still be substantially cheaper than the closest-corresponding current MacBook Pro with Retina display in terms of capacities.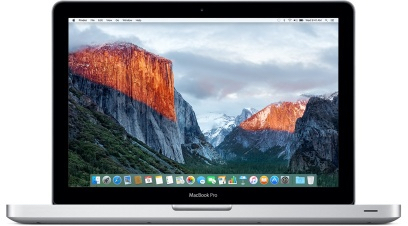 I have one of those, which served me well for three and a half years as my main system, and remains in service as my number two Mac. It runs El Capitan nicely with its four gigs of RAM (same as my mid-2013 MacBook Air), and is still a very satisfying computer in desktop use, although it now feels a bit boat-anchor-ish to lug around compared to the much lighter, much thinner Air.

13-inch MacBook Pro compared with 13-inch MacBook Pro with Retina Display – Photo courtesy Apple
This comparison shot from Apple shows the relative thickness of the MD101 as opposed to the 13-inch MacBook Pro with Retina display, and the MacBook Air is even thinner.
That hasn't been much of an issue recently, as the battery in my MacBook is shot. It can power the machine in sleep mode for a couple of days, but is really useless for working untethered. However, the cool thing is that replacing that battery is a matter of 99 bucks to Other World Computing and a quick switch involving no teardown. I dread the day when the MacBook Air's battery croaks its last, as battery replacement — not a do-it-yourself job — is prohibitively expensive for a four or five year old computer, which means the Air destined to end its days plugged in at a workstation. Which is one very good reason why some folks still bridle at buying today's essentially unrepairable computers with finite service lifespans and choose the MD101, despite the fact they can get a better performing new Mac for significantly less money.
As Marco Arment observes, other reasons why some will find the MD101 compelling is its status as the last Mac standing with an internal DVD drive "Obsolete format"? — I still have and use a couple of VHS recorders. However, I have made my peace with having no internal optical drive, since I have a very nice Aegis external tray loader optical drive and hard drive combo unit to use with the MacBook Air for accessing stuff I have archived on disks or the occasional old school software install. That works for me, since I have no interest in watching movies or listening to audio DVDs and CDs on the MacBook, but for those who do, I can see the convenience of an on-board drive.
The MD101 is also the last Mac laptop that supports FireWire, and the last that uses old fashioned spinning hard disk drives — which make large capacity, reliable data storage really cheap. If you wish, the optical drive can be swapped out for a second HDD, potentially enabling up to 4TB internal data capacity. Apple will upgrade the MD101 to one terabyte for a mere fifty bucks at time of purchase.
Speaking of which, the MD101 is the last Apple laptop that relieves you of making an irrevocable decision as to RAM capacity at that point. My MacBook came with 2GB of RAM, which I upgraded myself, and without which I probably wouldn't be happily running OS X 10.11 on a nearly eight year old laptop. Apple will option you up to 4 GB or 8GB, and third-party 16 GB upgrades are available from OWC and others.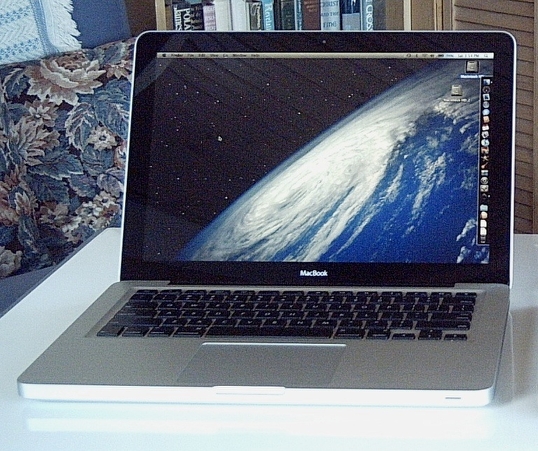 What about that 1280 x 800 native resolution display? While the 1400 x 900 panel in my 13-inch MacBook Air is roomier, I don't really find using the lower-res. screen in the MacBook a hardship, and indeed some older users in bifocals (like me) may even consider it an advantage with the larger-appearing icons and screen text.
Holding on the supposedly obsolete and dead technologies that do a better (often cheaper) job addressing certain needs and tasks dosen't make one a Luddite. Bleeding edge riders will always be eager to shake the dust of obsolescence off their feet, but some times the cast-off technologies stubbornly refuse to die. Examples include the resurgence of interest in and appreciation of vinyl recordings, and Kodak's resurrection of its Super 8 film format with its Super 8 Filmmaking Revival Initiative at CES 2016 last week, showing an early prototype of a new Kodak Super 8 film camera that combines the classic features of a Super 8 with digital functionality. Cool, I say.
It will be interesting to see how long Apple keeps selling the old MD101, but as long as it is available, it will appeal to certain categories of laptop users.