Could Modular Smartphone Systems Replace Laptops And Tablets? – The 'Book Mystique
More and more people seem to be using smartphones and phablets as their de facto main computing devices, a phenomenon that raises the question of whether users would embrace a smartphone as digital hub for all, or at least most, of their computing activities. After all, iPhones and other smartphones now pack more computing power than desktop tower Macs and PCs of not so many years ago.
Speaking of things past, longtime Mac veterans may find the general modular system concept evocative of an Apple innovation from back in the '90s, namely the PowerBook Duo — Apple's dockable first sub-notebook PowerBook.
The original Duo concept was for the portable module to function as a normal laptop computer while mobile, but when you returned to home or office you could insert the closed Duo into a Duo-Dock with a full-size CRT monitor, a full set of I/O ports, a floppy drive, an internal hard drive, and two internal NuBus expansion slots, and have the composite rig function as a no-compromises desktop computer. This was a particularly compelling concept in the days before large active-matrix color laptop monitors.
There were also smaller, portable minidocks that could plug into the 152-pin Duo connector, providing a set of standard ports and a connector for an external floppy drive. The Duo was Apple's longest-serving laptop form factor of the '90s, and Duos were eventually built with Motorola 68030 and '040, and 603e PowerPC chips. The PPC Duo 2300, introduced in May, 1994, was the last of the line, and Apple dropped the dockable Duo concept in May, 1997, replacing it with the PowerBook 2400c subnotebook.
I always thought the Duo was a really cool, truly innovative idea, and was sorry that Apple signed off on it, but the concept's potential was never fully realized due to the fact that the Duo laptop module, while small for a laptop in the mid-'90s context, was still too big and heavy to pack around conveniently, and both Duo and Dock were also dauntingly expensive – the The PowerBook Duo 2300 sold for $3500 to $4500 depending on configuration, and the Duo Dock Plus for example cost $900.
However, I still think the modularity concept has a lot going for it, and arguably a dockable smartphone today arguably has better potential for success as do-all computing device hub than did those old Duo laptops of the '90s.
Over in the Android world, there's a fair bit of activity around modular phones — that is handsets that can be upgraded, accessorized, expanded, and repaired with relative ease. It would be premature to suggest that modular could be the "next big thing," but modularity is a quality that appeals to quite a few users who would like to break the 18-month/2 yearish typical smartphone upgrade cycle and paying for features they don't want or use, as well as having a device that will be easy, quick, and inexpensive to repair if, for example, the screen gets broken.
Last week at At Mobile World Congress 2016 in Barcelona, LG Electronics unveiled its new LG G5 smartphone with a metal unibody enclosures featuring a Slide-out Battery and a Modular Type design that supports an ecosystem LG calls LG Friends, a collection of companion devices that can transform the G5 into a digital camera, a Hi-Fi player and more.
With the Slide-out Battery a depleted have battery can be easily swapped out for a fully charged one in seconds, and of course battery replacement in cases of malfunction or just wearing out is equally quick and simple.
For camera duty, the G5's 135-degree wide-angle lens lets you choose between standard or wide angle lens, and the device's Always-on Display displays notifications instantly with time, date and more available anytime without waking the G5. Moreover, the G5's 3D Arc Glass 5.3-inch display creates a gentle curve while what LG calls an "an advanced microdizing process" prides an ultra smooth finish, with the smartphone's insulative antenna invisibly integrated into the body without disrupting the seamless look.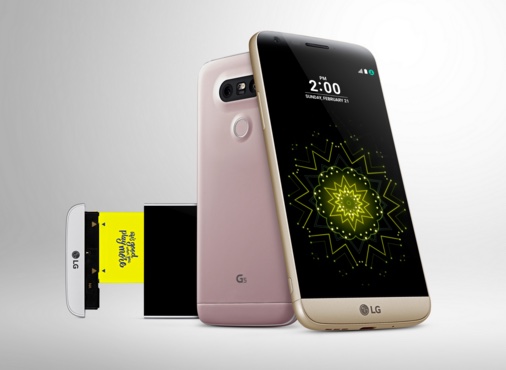 The LG CAM Plus camera module that can be attached through the battery slot to provide a comfortable grip and control of a standalone camera with physical buttons for power, shutter, record, zoom, and LED indicator and also offers auto focus and exposure lock, features usually found on standalone digital cameras. When attached to the LG G5, the module provides additional battery capacity of 1,200mAh to allow for longer shooting times. The LG 360 CAM is a compact 360-degree angle camera equipped with two 13MP 200-degree wide angle cameras, 1,200mAh battery and 4GB internal memory, which can be supplemented by a microSD card. The LG Rolling Bot is a companion device that rolls like a ball while capturing images and videos with its embedded 8MP camera.
The LG Hi-Fi Plus module with B&O PLAY is a portable Hi-Fi DAC audio player developed in collaboration with B&O PLAY offering high-end audio performance. H3 by B&O PLAY is a set of high-end earphones compatible with the high-quality LG Hi-Fi Plus with B&O PLAY sound. The LG TONE Platinum (model HBS-1100) is a Bluetooth headset rated Harman Kardon Platinum grade for its superior sound quality. The LG 360 VR is a VR goggle that can be connected with the G5 via a dedicated cable and works exclusively with the G5 to simulate a 130-inch TV viewed from two meters away. The LG Smart Controller allows users to control certain drones, and the LG Friends Manager is the hub application that allows the G5 to connect with LG Friends with minimal effort.
LG isn't exactly pioneering a new or unique concept with the G5. Motorola released a modular smartphone system called the Motorola Atrix 4G https://motorola-global-portal.custhelp.com/app/product_page/faqs/p/30,6720,7898/ back in 2011, featuring an anchor handset hub and a dock ecosystem. With a Standard HDMI port and room for up to three USB devices, the HD Multimedia Dock for the ATRIX 4G offered what Motorola called "netbook-like I/O versatility". You could add a keyboard, a Bluetooth mouse, and Motorola's Webtop application to the mix, and you were good to go with a mini desktop solution using a netbook-sized screen or to connect the ATRIX to an HDTV. With its included remote you could run the HD Multimedia Docked ATRIX as a multimedia centre, using it to play movies, pictures, or music.
The Motorola Laptop Dock  featured an 11.6-inch screen (same size as the smaller MacBook Air), a full keyboard, stereo speakers, a 36Wh three-cell battery that delivered up to eight hours of battery life and weighed a reasonable 2.4 pounds. Users could dock their Motorola ATRIX 4G in the Laptop Dock to transform it into a mobile work, web, and gaming platform that was lighter and smaller than most laptops then on the market.
The ATRIX won CNET Best of CES 2011 Award in the Smartphone category among nine awards it garnered at the show. Google acquired the ATRIX technology when it acquired Motorola Mobility for US$12.5 billion later that year. Motorola and Google had already been working together to integrate the ATRIX software with the hardware.
Google subsequently sold Motorola Mobility to Lenovo, but its brief ownership of the company spawned a modular smartphone initiative called "Project Ara" with a target goal of developing an open hardware architecture for highly modular smartphones enabling customization of features using modules of the owner's choice, such as a display, camera or an extra battery, as well as the ability to swap out malfunctioning modules or upgrade individual features as innovations advance, providing longer replacement or upgrade cycles for the handset, and hopefully reducing the volumes of electronic waste. A Project Ara smartphone is projected to begin pilot testing in the U.S. later this year.
Other current players in modular smartphone development are Fairphone and Puzzlephone.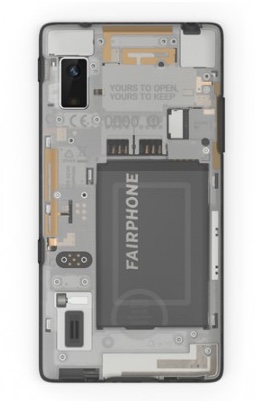 Fairphone 2 is being pitched as an ethical, open, and built to last smartphone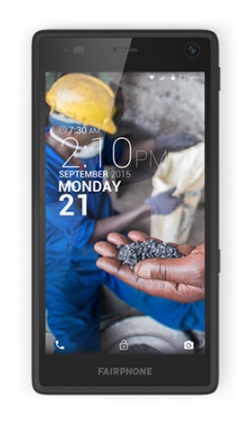 system with a 5-inch 1080 x 1920 resolution full HD panel with 446 ppi pixel density and featuring dual SIM support, 4G LTE, Wi-Fi, Bluetooth, and powered by a Qualcomm MSM8974AB quad core processor with 2.26 GHz Qualcomm Krait 400 GPU running Android 5.1 Lollipop. The Fairphone 2 is designed for repairability, with spare parts available to battle anything life throws at it.
With two SIM slots, you can also keep your work and personal lives separate, or easily switch between home and abroad.
The Finnish PuzzlePhone is a smartphone with three easy-to-change modules. (Like a puzzle. Except this is a phone) making the necessity of buying a new phone every time you drop and break it a thing of the past. PuzzlePhone is both upgradeable and repairable.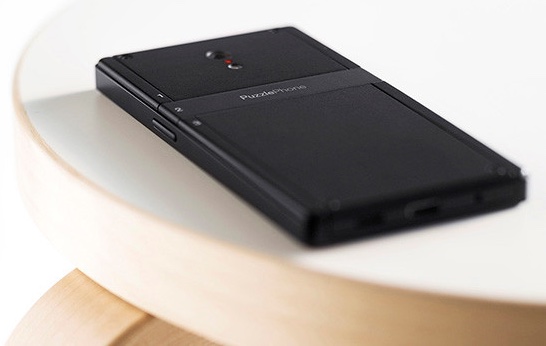 The Brain contains critical electronics: the CPU, GPU, RAM, memory, and cameras, while the Spine is the structure and high-res display. Core spine elements will be available in a variety of sizes and materials. The Heart contains the battery and will be the enabler of secondary electronics and features chosen by the user.
PuzzlePhone has a 5-inch full HD, 1920 x 1080 resolution panel, a 12 megapixel rear camera with LED flash, a 2.800 mAh battery, an ARM 64 bits, 8 core processor with 3 GB RAM memory, 2G/3G/4G/LTE Cat4/6* (*depending on markets)., WiFI 802.11 a/b/g/n/ac, GPS, Accelerometer, Gyroscope, Proximity, Ambient light sensor, and runs Android 6.0 Marshmallow.
Puzzlephone's developers say their Nordic design philosophy is rooted in a blend of beauty, usability and sustainability. Design focussed on subtle and functional forms, optimal use of available resources and materials, and longer-lasting products made with carefully selected eco-friendly materials, combining beauty with practicality.
The PuzzlePhone team are raising development capital with an IndieGoGo crowdfunding campaign.
What is needed now is for some company — perhaps most likely Google Ara, to take the smartphone as digital hub concept to the next level. Unfortunately, even repairability, let alone modularity appears to be dissonant with Apple's current marketing philosophy, which prefers us to be multi-device buyers with short replacement cycles.