iPad Air 2 vs 9.7-inch iPad Pro: To Upgrade Or To Not Upgrade? – The 'Book Mystique
My iPad Air 2's 16-month run as latest, greatest, top of the line 9.7-inch iPad has been a value bonus and a great ride — the longest I've ever stayed at the cutting edge with an Apple hardware product in my quarter century usership of the company's devices.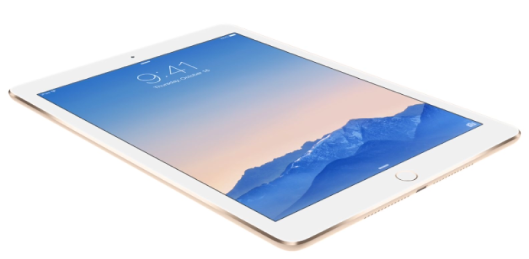 Photo Courtesy Apple
You might argue that the Air 2's demotion to second banana iPad status really came last September with the arrival of the 12.9-inch iPad Pro, and you'd be technically correct, but for those of us who prefer the classic 9.7-inch iPad form factor, the top gun in class remained the Air 2 until last week's debut of the new 9.7-inch iPad Pro.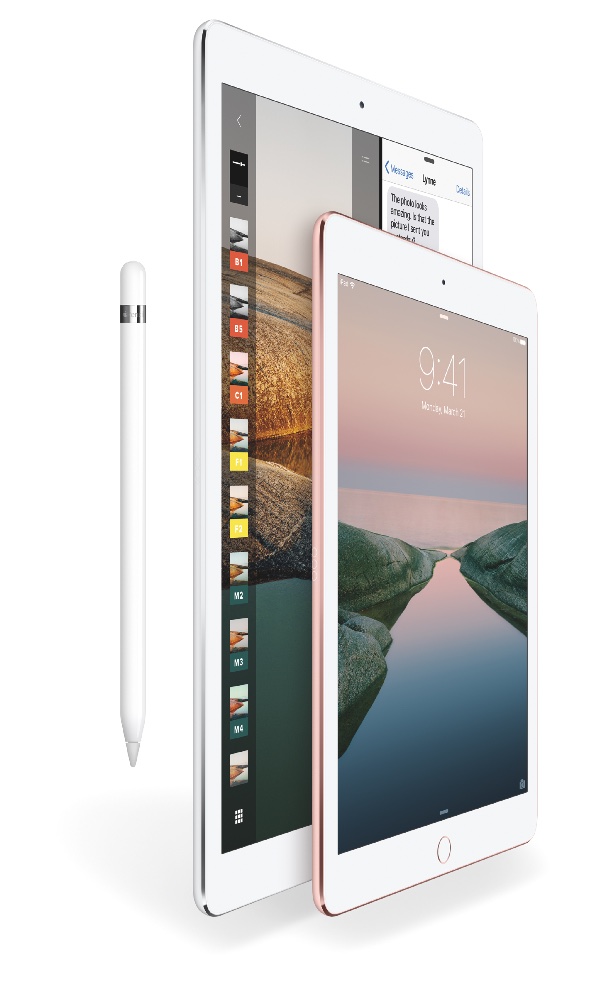 Photo Courtesy Apple
Of course I want one. Usually single-generation device version upgrades offer less substantial advances in features and performance, but no doubt partly due to the longer-than-usual interval between upgrades in this case, the new smaller iPad Pro contains enough improvement from an already strong base to justify moving up from the Air 2 if your budget can stand it.
That said, wants are not necessarily needs, My iPad Air 2 is only 16 months old, and my Mac is next in line for a system upgrade, intervals between which which I try (with mixed success) to hold to a minimum of three years, which would put my next major hardware purchase in late 2017. Will I be able to old out? Maybe. Maybe not. We'll see.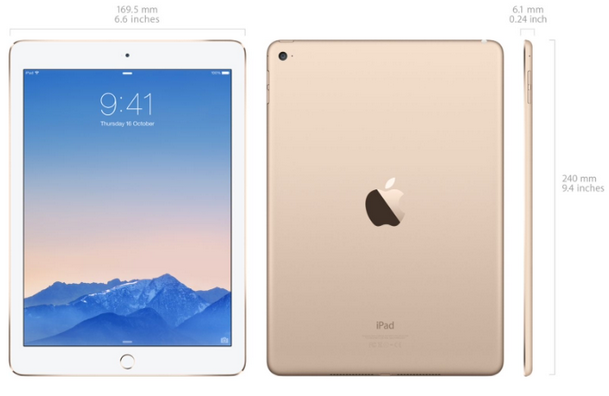 Photo Courtesy Apple
Meanwhile, what's new in the mid-size iPad Pro distinguishing it from the similar form factor iPad Air 2. The aluminum enclosures respectively have the same 6.1 mm thick dimensions and weight under one pound, so you won't need new cases and/or other iPad Air 2 sized accessories if you trade up. However, the new Pro model is available in an additional Rose Gold color option in addition to the carried over Silver, Space Gray, and Gold anodized finishes.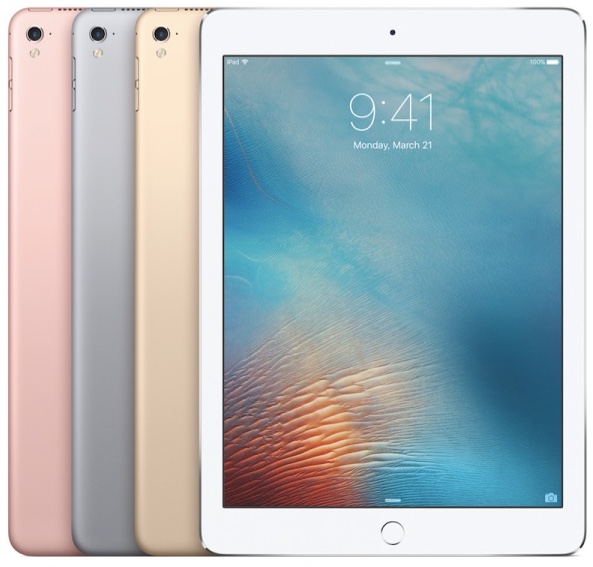 Photo Courtesy Apple
The new 9.7-inch iPad Pro features what Apple calls True Tone display technology, which uses four-channel sensors to dynamically adjust the panel's white balance to match the light temperature in the environment where it's being used for a more neutral and accurate, paper-white appearing effect.
Apple also says the Retina display has the same 2048 x 2536 (264 ppi) resolution but is claimed to be 25 percent brighter and 40 percent less reflective than the screen in the iPad Air 2, making it easier to see outdoors, which will be a big help for users who would like to be able to use the device al fresco, and with using the upgraded camera (about which more in a moment) out of doors. The iPad screen now has the same wider color gamut as the iMac with Retina 5K display, delivering a claimed 25 percent greater color saturation for more vivid colors. A custom timing controller, photo alignment and oxide TFT deliver improved color, contrast and clarity, and the "Night Shift" feature in iOS 9.3 uses iPad Pro's clock and geolocation to automatically adjust the colors in the display to the warmer end of the spectrum after dark and may help you get a better night's sleep according to recent research.
The new 9.7-inch Pro is powered by the A9X system-on-chip that debuted in the 12.9-inch iPad Pro and iPhone 6S last September but reportedly with 2 GB of RAM (as opposed to 4 GB in the larger Pro), third-generation 64-bit architecture, 802.11ac Wi-Fi with MIMO technology, support for faster LTE Advanced with up to 50 percent faster cellular connectivity and the most LTE bands supported by any tablet on LTE enabled models. Apple SIM — a multi-carrier SIM card that enables connection to some cellular carriers' networks without a carrier-specific SIM card installed — is now embedded directly, making it easier to connect to wireless data plans from the device when traveling in more than 100 countries and territories, according to Apple.
Commendably, the base $599 iPad Pro comes with 32 GB of storage memory as opposed to the ridiculous 16 GB of the base Air 2. Even 32 GB is no more than marginal these days, but could be workable for those on constrained budgets.
iPad Pro 9.7's above noted better rear-facing camera features the 12-megapixel (vs. 8 MP in the Air 2) resolution camera sensor from the iPhone 6S with 'Focus Pixels' for faster focusing, an Apple-designed image signal processor, advanced noise reduction, third-generation local tone mapping and better face detection, and support for 63-megapixel panoramas and Live Photos, and a True Tone flash to improve low light shooting and document scanning. The new camera also shoots 4K and 240fps slow motion video, and the front-facing FaceTime HD camera gets substantially improved 5-megapixel resolution (up from 1.2 MP in the Air 2) and uses the display backlight as a screen flash for taking better selfies in low light.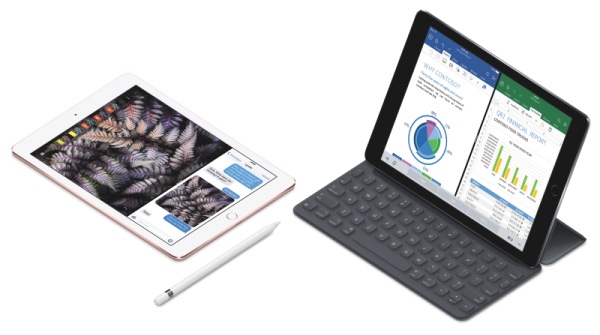 Photo Courtesy Apple
The Pro 9.7 gets a four-speaker audio system is claimed by Apple to have twice the audio output of the Air 2's system. Built-in sensors automatically adjust and optimize the audio to whatever environment it's being used in.
The new iPad Pro is compatible with Apple Pencil thanks to the new display panel's pressure and tilt sensitive layer. The display also features palm and finger rejection when using iPad Pro with the Pencil.
Apple is also offering compatible Smart Keyboards fitted for the new iPad Pro. Unhappily the Apple Smart Keyboard and the Pencil are priced at a suck-in-your-breath $149 and $99 respectively. Personally, I don't like the body English using styluses, and even a precise and pressure sensitive one doesn't entice me (mouse support please, Apple).
Photo Courtesy Apple
As for keyboards, the Apple keyboard fitted to the Pro 9.7 has kinda' small keys, and I already have a really nice Logitech K-480 'board with full-sized keys that I use with my iPad Air 2 on rare occasions when I don't prefer the on screen keyboard.
Photo Courtesy Apple
In other accessories, a new Lightning to SD Card Camera Reader and Lightning to USB 3 Camera Adapter make it easy to download photos and videos from a digital camera to iPad Pro, while a new Lightning to USB-C Cable and Apple's 29W USB-C Power Adapter enables faster charging, which sounds pretty cool, but why can't we just have a real USB-C port in the iPad? With mouse support.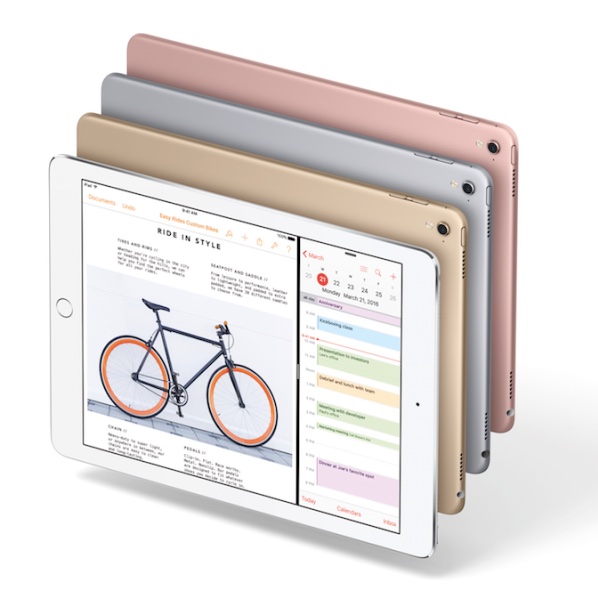 Photo Courtesy Apple
The new iPad Pro (Wi-Fi) comes in three storage options – 32GB for $599, 128GB starting at $749, and 256GB starting at $899. For another $130 you can get cellular support at the same memory capacities. The new 9.7-inch iPad Pro is available on pre-order now, with actual sales to begin March 31.
The iPad Air 2 remains available reduced in price to $399, which poses a value dilemma for those going iPad for the first time, since that's nominally one-third cheaper than the Pro 9.7. But remember that you're only getting half the memory with the base Air 2, with which no 32 GB version is available, and upgrading to 64 GB will take you within fifty bucks of the 32 GB Pro 9.7's price. The iPad Air 2 remains a more than respectable performer. I love mine. But if I was buying my first iPad, going with the new Pro would be a no-brainer.