Why Use Indie Opera And Vivaldi Instead Of Safari, Chrome, and Firefox? – The 'Book Mystique
For many years my web browser workhorses were various permutations and spinoffs of the Netscape/Mozilla/Firefox Open Source platform, and the Norwegian indie browser Opera, which I took a shine to early on. Apple's Safari has been there as well of course since its introduction in 2003 with OS X 10.3 Panther, although it's never been a favorite browser choice of mine. However Safari's close integration with OS X makes it the logical alternative sometimes,and functionally it's a more than respectable performer, especially in recent years, so I continue to use it for certain tasks.
Meanwhile, Google's Chrome browser came along, and pretty much displaced Opera in my core software suite for several years, during which Opera's user interface went more mainstream and the application bulked up in overhead footprint with the addition of an integrated email client. I'm also particularly partial to Chrome's slick built-in machine translation feature for other language websites.
However, for the past nine months or so, Firefox has barely been started up on my Macs, Chrome only slightly more often to do translations or if I really need to view Adobe Flash content, since I keep Flash disabled at the operating system level. As I began using my MacBooks more and more untethered from the power grid, influenced by iPad usage habits and the lighter weight and heft of my MacBook Air, along with improved battery life, I found both Firefox and Chrome antagonistic to realizing that enhanced battery runtime potential, as well as causing the laptop to run hotter and kick in cooling fan activity, inclining me to look elsewhere to satisfy my browser requirements. I was pleased to discover that recent slimmed down and speeded up Opera versions — now with a Chrome based browser engine instead of its former proprietary Presto engine, is a slick and quick performing alternative to Chrome itself for general browsing with a lighter, less ponderous "feel". And new kid on the block — Opera's Nordic step-sibling Vivaldi — has pretty much displaced my use of Firefox. Vivaldi brings back some of the interface features of classic Opera such as a zoom slider on the window margin and a more interesting set of UI appearance customizing options than we get with most browsers these days. It's also fast, and has proved very reliable even in beta builds. A stable, final build, Vivaldi 1.2, was released last week.
With my recent focus on laptop battery charge life, Opera's recently introduced power saving mode originally available in Opera developer channel builds, and now added to the current Opera final version 38, has been of particular interest.
Opera is the first major browser to include a dedicated power saving mode, which they say is designed to extend laptop battery life by potentially up to 50 percent compared with, for example, Google Chrome, and which depending on your hardware, could mean several hours more browsing time between recharges.
Since most users keep a browser running pretty much 100 percent of the time, there is potential for making significant battery charge economizing gains from improved browser power management, and accordingly Opera's engineering team embarked on project to start tune Opera's power efficiency in order to provide users with more hours of browsing when on the move and between charges.
With Opera's new power saving mode, once the laptop's power cable is unplugged, the battery icon will appear next to the browser's search and address field. Clicking on the battery icon summons a popup on which you can activate power saving mode by sliding a virtual switch. The browser will also suggest enabling power saving mode when your laptop reaches 20 percent remaining battery capacity.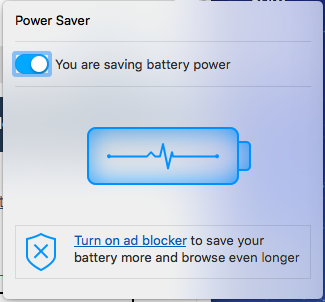 According to Opera VP Engineering Pawel Miniewicz, "under-the-hood" optimizations to deliver power-saving efficiencies include:
• Reduced activity in background tabs
• Waking the CPU less often due to more optimal scheduling of
• Automatically pausing unused plug-ins
• Reduced frame rate to 30 frames per second
• Tuning video-playback parameters and forcing usage of hardware accelerated video codecs
• Paused animations of browser themes
Miniewicz says these optimizations provide a significant enhancement of power efficiency without compromising speed and functionality, and were arrived at by studying how laptop users interact with the browser, allowing them to create benchmarks resembling real-life usage. They note that unlike the usual focus on speed benchmarks, in real world use there is quite a lot idle time and background activity so it is possible to save a lot of energy by optimizing those states. Inspired by how modern processors do such an amazing job in saving power by taking tiny "naps" multiple times per second, Opera's development team focused on writing code that would wake background activities up as seldom as possible.
Opera claims that in their testing designed to reflect the way people use browsers in real life, they were able to achieve runtime 50 percent longer compared to browsers like Google Chrome on a laptop running Windows 10, 64-bit.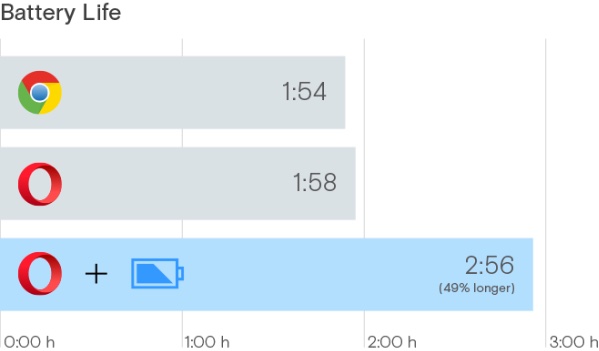 In my own use of Opera power saving mode over several weeks, I've noticed no tangible associated performance compromises. If you use your laptop unplugged on a regular basis, checking it out is highly recommended.
Opera is available for macOS, Windows, and Linux.