Apple's Slow Laptop Upgrade Strategy Running Out Of Steam -The 'Book Mystique
Apple has made it implicitly clear that they are in no rush to release new laptop models. The newest member of the MacBook family — the 12-inch MacBook with Retina Display — is now over a year in production and received its first incremental update in the past spring. The current MacBook Pros date back to 2012, and the MacBook Air's form factor to October, 2010. Both of the larger-sized MacBook families have received a series of updates tweaking their feature sets and performance, but no major changes for years.
A new MacBook Pro has been grist for the rumor mills for more than half a year now, but it didn't materialize at Apple's World Wide Developers Conference in June or in a relatively rare but not unprecedented summer product announcement. The next window of opportunity would be Apple's traditional September event, but that is generally focused on iPhone and other iOS related announcements, so I'm doubtful that we'll see a major new laptop announcement tacked on. My likeliest guess now is for mid to late October.
That timing would mark three years since my last Mac system upgrade — a mid-2013 13-inch MacBook Air, which is still in fine fettle, but I'm now in the early stages of laptop upgrade mode, albeit not seriously until the next stage MacBookom roadmap is more clearly defined. At this point it's looking like no major revision for the MacBook Air is in the works, and some contend it will be dropped in favor of an expanded role for the 12-inch MacBook. Another school of thought suggests that the Air may be continued, possibly just the 13-inch model, perhaps with some mild specification tweaking, to continue as Apple's entry level price leader laptop. Yet another faction holds that the 12.9-inch iPad Pro is destined to fulfill that role.
Anyway, the latest MacBook Air revisions are not different enough from the computer I'm using now to more than mildly tempt me, even though I've been very satisfied with it, and a rethought MacBook Pro seems like a probable candidate for consideration once it's available to be considered. I expect a lot of other Mac OS laptop users are finding themselves in the same boat, and hanging on to serviceable older hardware in anticipation of new product to come.
Apple seemed to be getting along remarkably well with its apparent new slow-upgrades strategy until the second calendar quarter of 2016 (Apple's fiscal third quarter), when market research firm International Data Corporation (IDC)'s Worldwide Quarterly PC Tracker among others, reported that Mac system global sales during the quarter ending June 30 experienced an 8.3 percent year-over-year decline, with their market share slipping to 7.1 percent from 7.4 percent in the corresponding quarter a year ago.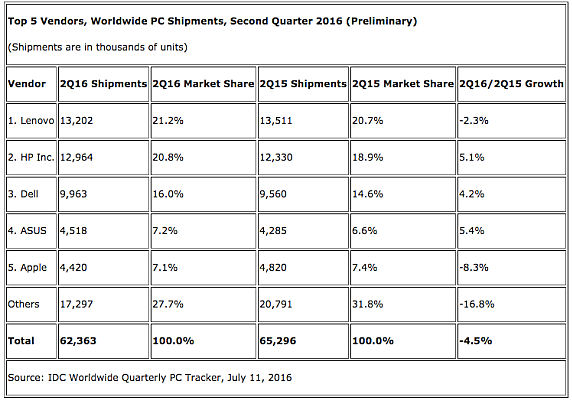 Not only that, all of the four other top-five laptop makers recorded double-digit US sales growth year-over-year from 2015-2016, while Apple logged a -7.6 percent decline. Number one laptop vendor HP captured 27.9 percent of the US domestic market, with Apple falling back to an 11.2 percent share.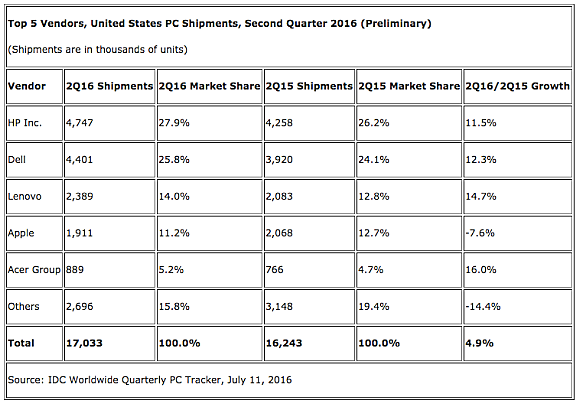 Those metrics can be attributed to a combination of no new professional/production grade Apple laptop hardware in a long time, and some very enticing laptop hardware emerging on the PC side.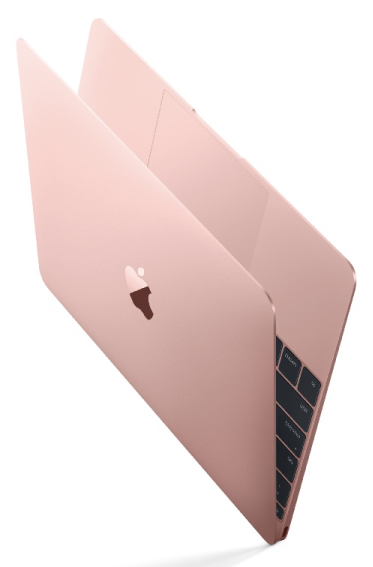 For example, the $1299,00 12-inch MacBook is a seductive but compromised contender, with its relatively poky Core M3 processor, single do-all USB-C i/o-charge port, and "butterfly" mechanism keyboard that does not commend itself to use for longer typing sessions.
On the other hand, consider market leader HP's latest ultrathin Spectre (base price $1,169), which is actually even thinner than the 12-inch MacBook (0.41″ vs the Apple machine's 0.52″) yet HP has still managed to pack in more USB-C ports (three versus one), a full-power Core i5 or i7 processor, and a much nicer and more comfortable keyboard. The Spectre also has a 13.3-inch display although somewhat lower in resolution (1920 xm1080) than the MacBook's 12-inch 2304 x 1440 Retina panel. Personally, by preference I lean to a larger physical real estate screens, although the MacBook's Retina unit has a higher screen image.
And while the Spectre is an obvious alternative to the 12-inch MacBook, it's no copycat, knockoff, or derivative, and features its own very attractive ash-black-and-copper carbon fiber and aluminum themed appearance theme.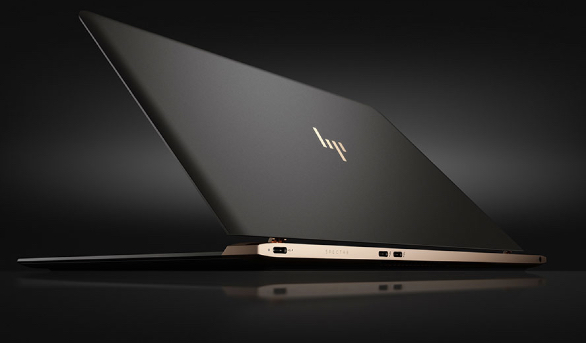 As for the Spectre's keyboard, LAPTOP Editor in Chief Mark Spoonauer in a head-to-head assessment notes that the Spectre's 1.3 mm of keyswitch travel feels "positively cushy" compared with The MacBook's meagre 0.5 millimetre key travel.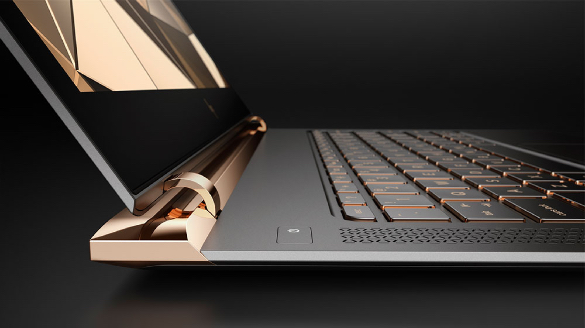 Ominously, one of the new MacBook Pro rumors is that it will be ultrathin and use a variant of the unfortunate short travel 'board used in the MacBook. If that comes to pass, it could mark a tipping point for me after a quarter century of Mac laptop userdom, because there's no way I would adopt a machine with a badly compromised keyboard as my production computer, however attractive it may be in other aspects, although giving up the Mac OS would be tough. Hopefully, it won't come to that.
But if perchance it did, the HP Spectre would be a strong contender, and certainly no hardship to look at. I think I like the ash-black-and-copper aesthetics better than the MacBook in Rose Gold.
Aad who knows? Maybe Apple will unveil new MacBook Pro models in the fall with IBM Skylake power, more ports and a better keyboard than the one in the MacBook.
After the chorus of boos the 12-inch MacBook keyboard got from many reviewers, the next-generation MacBook Pro keyboard will be another gauge of Apple's stubbornness in listening to usr feedback. Maybe the "butterfly" keyswitch technology can be improved and made more comfortable, although I'm skeptical. And why does a professional grade laptop have to be uber-thin anyway?