"Boring" iPhone 7 Critics Overlooked Significance Of Substantial Camera Enhancements – The 'Book Mystique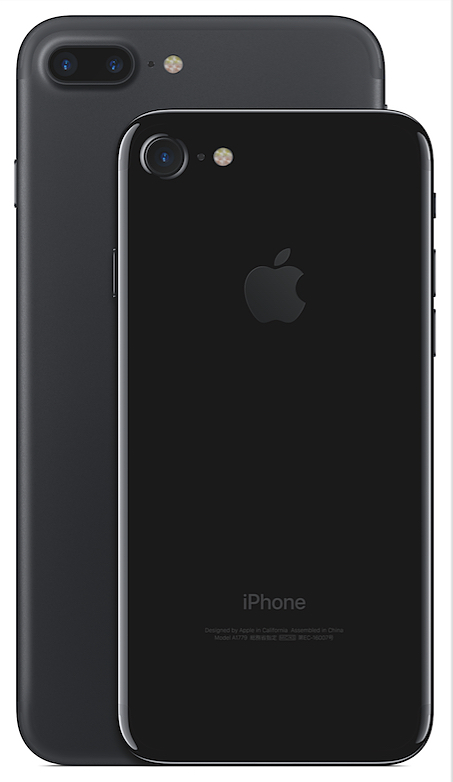 Ever notice how frequently conventional wisdom is wrong about Apple? For example, the new iPhone 7 models announced September 7 (was that Wednesday intro date chosen for the numerology?) were widely declared a disappointment by tech and financial punditry, which focused strongly on the 7's largely unchanged looks (save for the availability of two new black color options) removal of the analog 3.5 mm headphone/earbud jack. As Daring Fireball's John Gruber observed, "There is a large contingent of pundits who apparently would be more excited about a new iPhone that looked entirely different but had the exact same components as the iPhone 6s than they are by the actual iPhones 7, which are shaped like the 6s but have amazing new components. I don't get that mindset at all. It's like being a car pundit and judging the new Porsche 911 (which has had recognizably the same basic styling since it was first introduced in 1964) with a 'meh' because it looks like the previous 911, and never even considering what it's like to actually drive the new car."
Two weeks later, the iPhone 7s are a sellout, especially the 5.5-inch 7 Plus phablet, which has overtaken the standard 4.7-inch iPhone 7 in preorder popularity for the first time. One of the reasons prognosticators so often get it wrong about Apple is that the financial media especially tends to insist on treating Apple as if it was a normal company, which it isn't. Apple is usually pursuing its own, often highly secretive and unorthodox agenda, and chooses to ignore the latest trend developments in the Windows PC and Android sectors.
A good example is Apple's bailing out of the PC CPU upgrade derby, currently selling MacBook Pro models powered by fourth-generation Intel Core i Haswell silicon that was news back in 2012-'13. While a complete redesign of the MacBook Pro is widely expected, likely in October or November, it will still be most probably powered by sixth-gen Core i Skylake CPUs, as opposed to the latest PC models, such as the Dell XPS 13 and Inspiron 15 & 17 5000 laptops announced last week and sporting the latest Intel Core i seventh-gen. Kaby Lake chippery. Apple is playing a different game.
Back to the iPhone 7, while other factors like the dynamics of iPhone user upgrade cycles are doubtless playing a role in robust iPhone 7/7 Plus sales, as is the Samsung Galaxy Note exploding battery and global recall debacle. The Daily Express's Aaron Brown cites unnamed South Korean analysts projecting that Samsung"s catastrophic contretemps could translate into Apple shipping as many as 100 million iPhones 7 and 7 Plus by the end of 2016.
It appears that many pundits failed to recognize the importance to many users of the new iPhone 7 models' substantially enhanced photographic capabilities.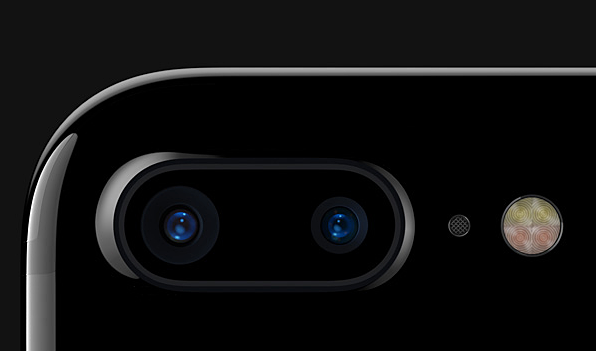 As Apple never tires of telling us, the iPhone is already world's most popular camera, and with the iPhone 7 and especially the 7 Plus, the company has kicked smartphone photography capabilities several very substantial notches higher. The new Plus comes equipped with two lenses — a 28mm wide-angle and a 56mm telephoto with 2x optical zoom, A larger /f1.8 maximum aperture lens on the iPhone 7 Plus's 6-element 28mm wideangle and the standard lens in the iPhone 7 sheds up to 50 percent more light on the camera sensor than does the lens in the iPhones 6s, and will especially enhance low-light photography quality without flash.
Speaking of which, the iPhone 7 and 7 Plus Quad-LED True Tone flash's four smart LEDs produce 50 percent brighter flash illumination of your subject than does the iPhone 6s, and includes an innovative sensor that detects flickering in ambient lighting and compensates for it in videos and photos. The iPhone 7 flash also adjusts to the colour temperature of the shooting environment, resulting in sharper, more brightly lit photos.
Videos shot in darker environments with iPhone 7 Plus will be enhanced by optical image stabilization that reduces motion blur and handshake in your footage. With the 28 mm lens's ƒ/1.8 maximum aperture, the camera is able to capture high-resolution video up to 4K even in low light situations. A sensor helps the lens counteract even the tiniest movement, allowing for up to 3x longer exposure compared to iPhone 6s.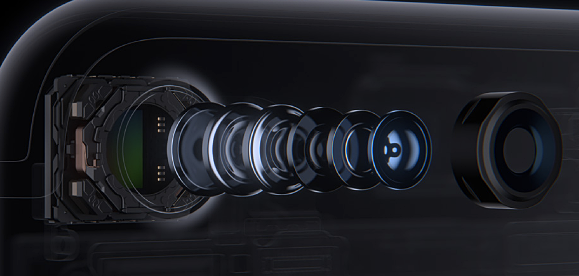 Coming later this year, the iPhone 7 Plus's dual 12-megapixel cameras will also enable a new depth-of-field effect, using both cameras on iPhone 7 Plus to capture images, while sophisticated technology including Machine Learning separates the background from the foreground to achieve portrait quality previously possible only with DSLR cameras. Control of depth of field allows you to keep your subject's face sharp while creating a blurred effect in the background. When you take a shot with iPhone 7 Plus, the dual-camera system uses both cameras and advanced machine learning to make your subject sharp while creating the same out-of-focus blur in the background — known as the Bokeh effect — a capability previously reserved for DSLR cameras. It should however be noted that the true Bokeh effect is done with optics, and can be employed for other categories than portraiture in DSLRs, rather than with software simulation in the iOS.
Other iPhone 7/7 Plus camera features include ability to capture http://www.imore.com/shooting-editing-and-importing-raw-iphone-ultimate-guide. DNG RAW photos with much higher resolution than JPEGs, a sapphire crystal lens cover, backside illumination, sensor hybrid IR filter, Autofocus with Focus Pixels, Tap to focus with Focus Pixels, Live Photos with stabilization, wide colour capture for photos and Live Photos, improved local tone mapping, body and face detection, exposure control, noise reduction, Auto HDR, for photos, auto image stabilization, burst mode, timer mode, and photo geotagging
Some are now even suggesting that the iPhones 7 camera enhancements could spell trouble for the DSLR camera sector. For instance, Slate's Jordan G. Teicher cites speculation by WSJ tech columnist Christopher Mims tweeted September 7 suggesting that with the iPhones 7, Apple is potentially forecasting the death of the DSLR — especially the lower-priced categories selling for around $500, either right now, or at least in a phone generation.
That speculation is likely a bit overstated. The iPhone 7 and 7 Plus cameras still fall well short of the versatility of a full interchangeable lens DSLR. As Apple's Senior Vice President of Worldwide Marketing Phil Schiller, cited by 9To5Mac observed at the iPhone 7 announcement, "Now we are not saying to throw out your DSLRs and that iPhone replaces all of the DSLRs. What we are saying is this is the best camera we have ever made in an iPhone. This is the best camera ever made in any smartphone. For many of the customers who have it, it'll probably be the best camera they've ever owned to date…. "It's not for every style of picture you're going to take, but for the ones you want to use it on, it's a pretty big breakthrough."
However, standalone point-and-shoot camera makers probably should be worried. Early sales figures for the new iPhones indicate that their enhanced camera capabilities have indeed caught the photography world's attention. While the 12 megapixel camera in the standard 4.7 inch iPhone 7 with its six-element f1.8 lens is no slouch, Slice Intelligence reports that early online preorder sales figures for the iPhone 7 models respectively indicate that early shoppers prefer the Plus, with its superior camera doubtless a major factor in the 7 Plus's breakthrough popularity.