New MacBook Pro "Best Notebook Ever Made?" Plus Two Touch Bar Demo Options For Macs Running Sierra – The 'Book Mystique
I've been pretty harshly critical of the direction Apple has chosen to take with the redesigned MacBook Pros, and I've had plenty of like-minded company. However, it's rarely wise to bet against Apple's product decisions, and evidently there are a lot of folks out there who like the new MacBook Pros with their slimmed-down (even more) form factors and the marquee feature of the higher-end models — an OLED multi-touch enabled task strip Apple has christened "Touch Bar"replacing the traditional row of keyboard F-keys.
Apparently the sharply hiked price points for the new professional grade Mac laptops have not proved a major impediment to sales, at least in the early going either. In an interview with The Independent last week, Apple's Senior Vice President of Worldwide Marketing Phil Schiller declared: "We are proud to tell you that so far our online store has had more orders for the new MacBook Pro than any other pro notebook before. So there are certainly a lot of people as excited as we are about it."
More evidence is provided in a report by Slice Intelligence's Tyler Stanton citing research data showing that in the first five days of online availability, the new MacBook Pro generated over seven times the revenue the 12-inch MacBook with Retina display did on its April 2015 launch, with new model's sales already equaling 82 percent of all revenue generated by the 12-inch MacBook since its release, and accumulating more revenue than any other laptop this year. Slice's survey methodology tracks the buying behavior of a panel of 4.4 million online shoppers.
According to the report the new MacBook Pro had already sold almost four times as many units as Microsoft's Surface Book, nine times as many units as the Asus Chromebook Flip, ten times the Lenovo Yoga 900, and outsold combined sales of the Dell XPS 13 and 15, which have been on sale for more than 10 months.
Based on these early-going claims and metrics, it's pretty hard to gainsay Apple's MacBook Pro strategy from a business plan perspective. However, I'm constrained to observe that there is a lot of pent-up demand, what with the MacBook Pro lineup's last major overhaul having been four years ago.
There's also the Apple loyalist early adopter customer dynamic in play. Slice Intelligence's Stanton observes that those rushing out to order the new MacBook Pro "look strikingly similar to the early adopters who bought the Apple Watch on release," noting that more than eighty percent of shoppers who bought a MacBook Pro in the first five days of its release were male — the same gender breakdown that Slice reported when the Apple Watch was released in April 2015.
The Apple Watch is other of the company's recent efforts I've been underwhelmed by and remain so, but I digress.
In the Independent interview Phil Schiller mused that the Touch Bar is part of Apple's thinking about where to take the notebook next, noting that in Cupertino's view, other PC makers are trying to turn the notebook into the tablet. By contrast he affirms that the new MacBook Pro celebrates the fact that it is a notebook — a form factor that has been with us for the last 25 years and that Schiller predicts will probably be with us for another quarter century "because there's something eternal about the basic notebook form factor in which you have a surface that you type down on with your hands and a screen facing you vertically forming an 'L' shape that makes perfect sense and won't go away." On that point I agree wholeheartedly with Mr. Schiller.
However, with the Touch Bar Apple aspires to improve on the standard clamshell laptop paradigm of the past two and a half decades by, as Mr. Schiller describes it, introducing a multi-touch surface that's coplanar with the keyboard and the trackpad, but brings a whole new experience into it. One that's more interactive, with multi-touch, but without going whole-hog with a full touchscreen display a la most Intel/Windows ultrabooks these days — a trend Schiller pours ice water on, contending that making a touchscreen Mac would require devising a ways to make it a good experience with your finger on a touchscreen, observing: "Trust me, we've looked at that — it's a bad experience. It's not as good or as intuitive as with a mouse and trackpad."
Thing is, Windows laptops with touchscreens still have full conventional keyboards and mouse/trackpad support in addition to the touchscreen interface that Windows 10 supports but macOS does not, providing the Ultrabook laptop user with a much greater range of choice and flexibility than Apple's Touch Bar will ever be able provide, and — important for those of us who use them — retaining the row of traditional F-keys.
Schiller says the Apple design and engineering team brainstormed creating a multi-touch surface coplanar with the keyboard and the trackpad, but adding a new, more interactive experience to it with multi-touch technology, declaring: "We know we made good decisions about what to build into the new MacBook Pro and that the result is the best notebook ever made."
That's a pretty extravagant claim, and the point where I part company with Mr. Schiller. Whether or not the Touch Bar ultimately proves to be a useful innovation or turns out to be a flash-in-the-pan gimmick, it's hardly ground for qualifying the Touch Bar MacBook Pro categorically as "the best notebook ever made." As Engadget's Dana Wollman observes, "by doing things like removing full-sized USB ports, the memory card reader and even the Function row, Apple seems to have forgotten how many of us actually work. An even better MacBook Pro would be one that doesn't require users to make drastic changes to their workflow." What she said.
IMHO, a professional grade appliance that can be optioned up to well over $4,000 should also be reasonably repairable and upgradable. The new MacBook Pro Touch Bar models are neither, and take another step backward with their SSDs soldered to the logic board. Oddly, the SSD in the base new MacBook Pro without Touch Bar remains upgradable.
Schiller does acknowledge that the new MacBook Pro "might not be right for everyone on day one," but reassures that "We care about what they love and what they are worried about. And it's our job to help people through these changes," and that "We love the Mac and are as committed to it, in both desktops and notebooks, as we ever have been."
Given the laxadaisical pace of Mac development over the past several years, it's exceedingly difficult to not be skeptical about that latter avowal. For example, the steep price increases on the new MacBook Pros reinforce the impression that Apple is in the process of realigning its marketing strategy by promoting the iPad Pro models with optional keyboard and stylus as replacements for entry level personal computers (use of which, I can't resist observing, involves the reaching-over-the-keyboard body-English Mr. Schiller condemns as a "bad experience" on touchscreen Windows laptops, and doesn't support the affirmed as better and more intuitive mouse/trackpad input at all). Just sayin'.
Incidentally, if you're interested in spending some quality time experimenting with Apple's Touch Bar without purchasing a new MacBook Pro, Dutch developers Andreas Verhoeven and Robbert Klarenbee have posted a free Touch Bar Demo App that enables you to use the macOS Touch Bar from an iPad (through USB connection) or on-screen by pressing the Fn-key, allowing you to check out the Touch Bar on any Mac that can run the latest build of macOS Sierra.
Make sure you have macOS Sierra 10.12.1 build 16B2657, which adds Touch Bar support to macOS installed, Version 10.12.1 build 16B2555 does not have Touch Bar support, so the app won't work with it.
You can determine which build of macOS Sierra you have installed by clicking version number in the About This Mac panel window.
For a Touch Bar Demo App demo video, download link, and detailed installation instructions visit:
https://github.com/bikkelbroeders/TouchBarDemoApp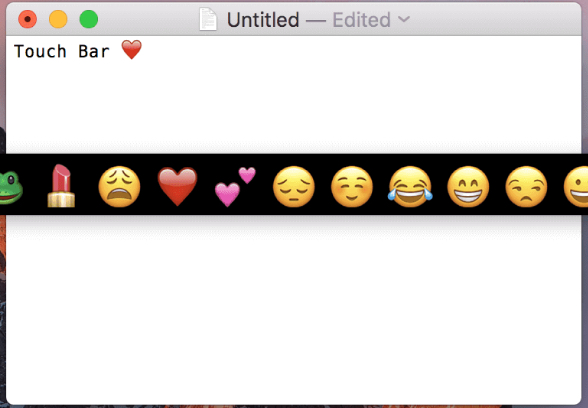 Late-breaking, here's another, more user friendly solution to Touch Bar activation.
Red Sweater Software's free Touché app allows you to activate the Touch Bar on Macs that support macOS Sierra to simulate, show and hide, take screen captures.

Touché lets you assign a global keyboard shortcut for easy toggling of the simulated Touch Bar window. Leave Touché running, and when ypuwant to to see the Touch Bar just press the keyboard shortcut. You can set keyboard shortcuts for toggling Touché, saving a screen capture to disk, or copying a screen capture to the pasteboard in Touché's preferences, available from the Touché menu in the menu bar at the top of the screen
If you see something in the Touch Bar you want to share with a friend or colleague, Touché provides global keyboard shortcuts for saving a screen capture to disk, or copying it directly to the pasteboard.
System Requirements:
Touché requires macOS 10.12.1 or later, but you must have the very latest 10.12.1, with system support for the Touch Bar. If your 10.12.1 version is specifically 16B2657 or higher, you're good to go. If not, you can update to the required version here. You can confirm you are running 16B2657 by clicking the version number in the About this Mac panel.
For more information, visit:
https://red-sweater.com/touche/