A Touchscreen For The MacBook Air – The 'Book Mystique
Apple's Mac sales have been declining for over a year now while Windows PC's have been staging a modest resurgence. In my estimation a big part of the reason, at least in the laptop context, is that innovation leadership has shifted from Apple's MacBooks to an array of attractive offerings from across the PC vendor spectrum, including Microsoft's own line of Surface models.
Microsoft and PC makers like HP, Dell, Lenovo, Toshiba Acer, and Asus have been giving laptop users features that they want, often undercutting Apple by hundreds of dollars for machines of comparable size and power, while over the past two years Apple has brought forth the 12-inch MacBook which is essentially a Mac netbook with a very high quality display, and the new MacBook Pro with its gimmicky Touch Bar marquee feature as an alternative to the touchscreens offered on many Windows Ultrabooks.
Another portable computing market segment in which Apple has refused to participate is convertible hybrid 2-in-1s that are proving popular on the PC side. A major factor in Apple's non-participation in both the touchscreen laptop and 2-in-1 markets is the macOS's lack of touch support as opposed to Windows 10's platform flexibility. Apple instead touts the iPad Pro as its laptop replacement slate candidate, but the iOS powered iPads are simply not adequate to fulfil that role compared to, say, Microsoft's Surface 4 (and soon 5) Tablet PC which can run a full slate (pun intended) of Windows desktop apps. in tablet mode, while the iPad is limited to the usually limited power and functionality of iOS apps.
Apple has long resisted adding touch support to the macOS, arguing that the ergonomics are terrible (true), and that trackpad gestures are an adequate substitute alternative (debatable, at least in my experience). A counter-argument is that laptop touchscreen ergonomics are no worse than when using an iPad with an external keyboard, and with a laptop you have the option of using a mouse — flexibility not available with the iPad setup due to Apple's stubborn refusal to add mouse support to the iOS.
I'll grant that a touchscreen is not a top priority laptop feature (at least yet), but habits developed working on iPads find me absent-mindedly pawing at my MacBook Air's display often enough to be convinced that touch support would be a useful and welcome addition to Mac input options that users have come to expect on premium laptops.
As Pixobebo's Kate MacKenzie puts it: "A touchscreen is an expectation for electronic devices in the 21st century and Apple needs to bite the bullet, suck it up, swallow some pride, and put a touchscreen on a Mac. Hell, why not make a Mac with a removable touchscreen that leaves the keyboard behind…. Simply put, the Mac needs a touchscreen.
I agree with Kate.
However, in the meantime, Apple's pigheaded intransigence notwithstanding, it's now possible, or at least soon will be, to have your Mac Laptop and touchscreen functions too.
At the CES 2017 last week, Stockholm, Sweden based optical sensing technology company Neonode Inc. last week announced the official U.S. launch of a MacBook Air 13.3 inch version its AirBar, a lightweight add-on device that instantly adds touchscreen capabilities to existing laptop displays. Offered in the United States initially via Amazon.com, AirBar for MacBook Air provides Apple notebook users the ability to activate touch and gesture functionalities on their laptop's display.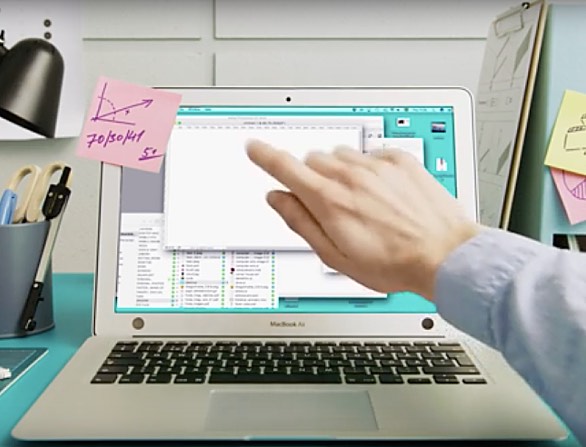 "We believe the community of devoted MacBook Air users will welcome this new product, as AirBar for MacBook Air will surely enhance the user-experience of an already great product," said Remo Behdasht, Senior Vice President of AirBar Devices at Neonode. "Our goal for AirBar continues to be expanding its application to more devices, across even more markets."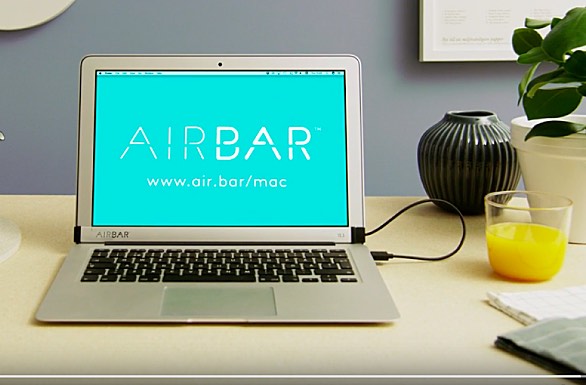 AirBar was also named a CES 2017 Innovation Awards Honoree in the computer accessories category. Products honored with the awards, sponsored by the producer of CES 2017, the Consumer Technology Association (CTA), are deemed by the judges to reflect innovative design and engineering.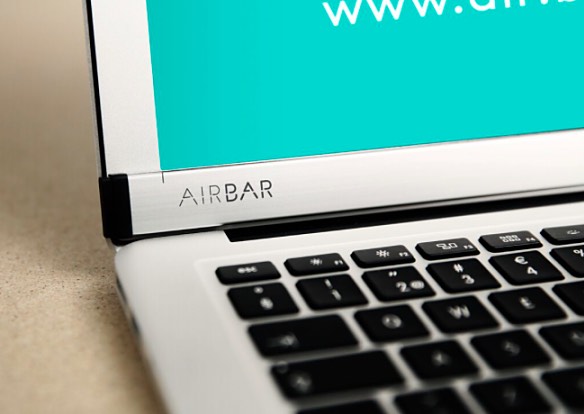 The AirBar sensor is a slim bar that attaches magnetically to the bottom of a laptop display and plugs in via USB to instantly activate touch and gesture capabilities. No software installation, drivers, or additional configuration to the laptop are required. The Airbar has to be removed in order to close the laptop, but the magnetic attachment makes that quick and easy. AirBar uses Neonode's patented zForce (zero Force) AIR sensing technology to emit an invisible light field over the display that senses touch input.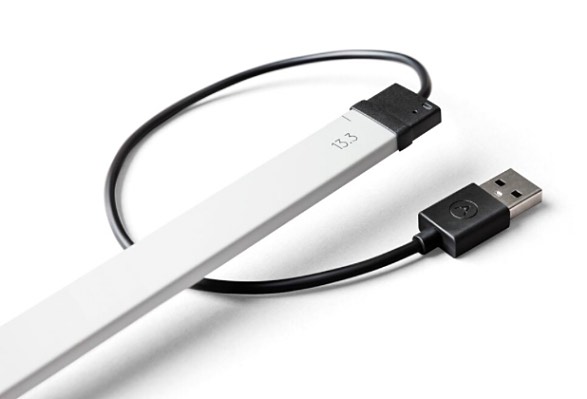 Neonode says zForce provides several major advantages over traditional touch and proximity technologies such as capacitive, resistive, infrared or camera based solutions, and any type of display or surface of any shape can be touch enabled. zForce can work sensing touch input with any type of touch object such as a finger, a stylus, a fingernail, a glove, an ordinary pen or even a paintbrush.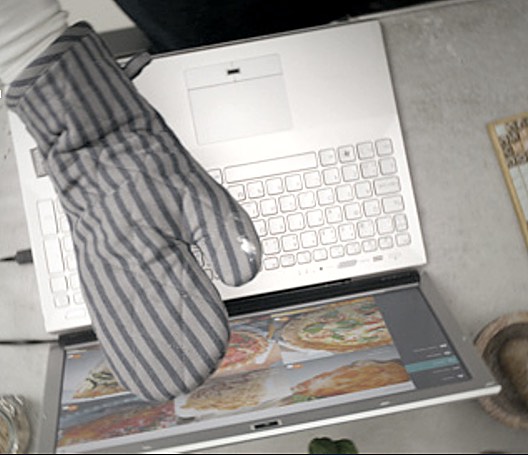 zForce technology consists of a set of light emitters and detectors, an optical light guide with lenses and a touch controller IC that is connected to a host. The host runs Neonodeซs proprietary embedded software stack and is connected to the touch controller(s). The touch controller IC regulates the light emitters and they send out short pulses of light just above the touch surface (or into a glass or fluid). The touch controller continuously monitors the light collected by the detectors and checks the ambient light scene and try to calibrate the system to work in all light conditions. When a slight intensity shift of the received light occurs, the software tries to find what has happened and initiates tracking of the object on the surface. The size and position of the touch object (i.e. a finger) is reported back to the host. By combining the measured value from a number of detectors, the touch position and object size are calculated. Compensations are also made for dust, wear out and other small particles on the optical surfaces as well as for variations in component quality.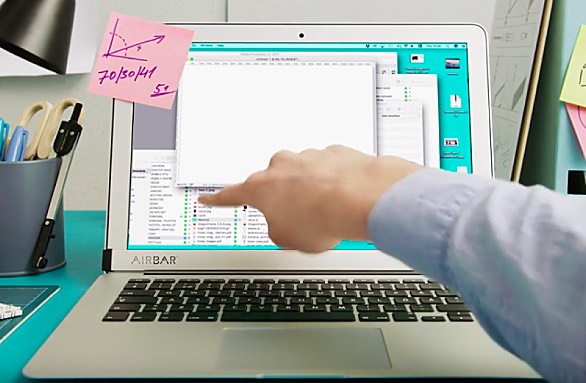 With zForce technology enabled sensing there is no requirement for a layered glass or plastic film to overlay the display surface. The result is a 100 percent optical transparency window with consistent image quality and no glare combined with industry's lowest cost.
Being light based means that zForce technology is almost immune to electrical noise and other electrical conducted interferences and strong RF sources. Neonode's NN1002 touch controller IC uses sophisticated hardware filtering in combination with the optical and software filtering to achieve a system that is completely immune to ambient light and other strong light sources. zForce technology has a touch resolution of more than 200 DPI which enables precision writing with thin objects such as a pen or a stylus, and is developed to operate in extended temperature range, from -40°C to +85°C.
Airbar gives users the ability to for example flip through a digital cookbook without removing their oven mitt or allow kids to draw and paint without the messy art supplies. "We developed this product knowing there is really nothing else like it on the market," says Behdasht. "People want touchscreen capabilities, but until now their options were very limited by brand and cost. Our successful pre-order phase was further confirmation of the massive appeal and demand for this device.
Unlike the matte black Windows PC version, AirBar for MacBook Air comes in a brushed aluminum finish to harmonize with the MacBook Air's unibody enclosure.
AirBar for 15.6 PC laptops running Windows 10 now retails for $69. AirBar for 13.3-inch and 14-inch PC laptops will be released with AirBar for MacBook Air in early March. AirBar for MacBook Air will retail for $99 through launch partner http://Amazon.com.
Online retailers currently carrying AirBar for PCs, which sells for $69.99, include Amazon, Best Buy, QVC, Staples and Walmart. AirBar for MacBook Air is available for pre-order at http://www.air.bar/mac, and will also be sold on Amazon.com. Neonode plans to extend AirBar compatibility to additional MacBook models and PC sizes in the first half of 2017.
It's interesting that Neonode chose the 13-inch MacBook Air, which dates back to October, 2010, and has only had incremental speed bump and memory configuration updates since, as its Airbar Mac launch platform. The Air was passed over for any updates at Apple's new MacBook Pro unveiling event last fall, and is widely anticipated to be headed for end of life status, but as Apple's price leader laptop six year in production, there are plenty of them around for retro-fitting. I'm a fan of the Air, and underwhelmed by the new MacBook Pro and its stratospheric price, bought a new MacBook Air in Apple's Black Friday sale as a hedge. Availability of Airbar for this model is a welcome bonus — not a must have, but definitely a like to have.
As for sticking with Apple hardware despite manifold frustrations over Apple policy and upgrade decisions, I've needed some reminding why I don't switch to Windows, I got some here and here
For more information, visit:
http://www.air.bar
and
http://www.neonode.com