Clean Writer 3 Plain Text Editor For iPad – The 'Book Mystique Review
A fundamental requirement for using an iPad as a writing platform is an app to write in. Happily there are many available, from simple text notepads to advanced word processors like Microsoft Word and Apple's own Pages, and of course there is Google Docs.
I work mainly in plain text, and mostly use text editors for composing and editing on both my Macs and my iPad, which simplifies switching documents in progress back and forth between platforms and applications using Dropbox as my synching medium.
Thanks to the macOS's accessible document-based Finder file directory system, Dropbox synching on the Mac is simply a matter of saving or moving files into the Dropbox folder. Unfortunately, due to Apple's pig-headed resistance to adding a visible document based filesystem to the iOS, things are considerably more complicated on the iPad. You need a text editor with Dropbox support to transfer files from Mac to iPad and the reciprocal.
Since I started using an iPad back in 2011, my writing tool of choice has been an app originally developed by Hog Bay Software called Plain Text, taken over in January, 2014 by 433 Labs and renamed Plain Text 2.
One of PlainText 2's advantages is its lack of fancy bells and whistles. It's essentially a platform for file synchronization and organization and uncluttered writing. The app has three default file directories, and allows the user to select files saved respectively on the iDevice itself, on Apple's iCloud, or on Dropbox.
Any changes made to a file opened in PlainText 2 will be automatically saved to the corresponding file in the iDevice, iCloud or Dropbox folder and files can be moved from one folder to another.
The PlainText 2 file directory drawer also has a search function for words in file names. There is a simple text editor window and an extended virtual keyboard with especially handy cursor-arrow positioning keys. There is also a useful character and word count feature.
However, while Plain Text 2 is still working fine in iOS 10, it hasn't been upgraded since Oct 15, 2014 when version 2.0.5 was released, and last December, 2016 433 Labs posted this short, cryptic message on their Website:
"So long, and thanks for all the fish.

"I'm sure this will come as no surprise, but as of Jan 1, 2017 PlainText will no longer be updated or supported. Thanks to everyone who has used PlainText the past few years!

"#goodbye."
Consequently, I'm in the hunt for a new text crunching and Dropbox synching iOS app before Plain Text 2 gets broken by a future iOS upgrade.
One candidate is Cognitive Bits Software's Clean Writer, a text editor app developed exclusively for iPad. Clean Writer version 3.0, a major update, was recently released, .
Originally created in the summer of 2010, Clean Writer is claimed to have been the first iPad app of its kind – a distraction-free text editor for writers and creative people that puts the focus on words and writing instead of formatting and unnecessary features. It is still actively developed, although at a leisurely pace. Version 3.0 is the first update since 2012, bringing improvements that users have called for, including: hardware and software compatibility with modern iPads and iOS versions' improved Dropbox integration using Dropbox API 2.0; a modern UI with a cleaner look and fresh icons.
Other notable features include: live counters for words, characters and lines; a minimalist UI with the possibility to hide everything but the text and use multi-touch gestures for navigation and menu invocations.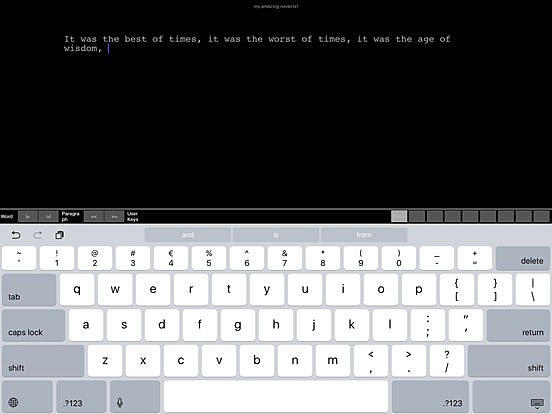 Users can choose from five color themes: Light, Night, Hacker, Sunset, and Black and White(Contrast), a custom global font selection,  file management with Dropbox integration; a keyboard auxiliary bar with user-customizable shortcut keys; inter-app connectivity; and sending files as email attachments.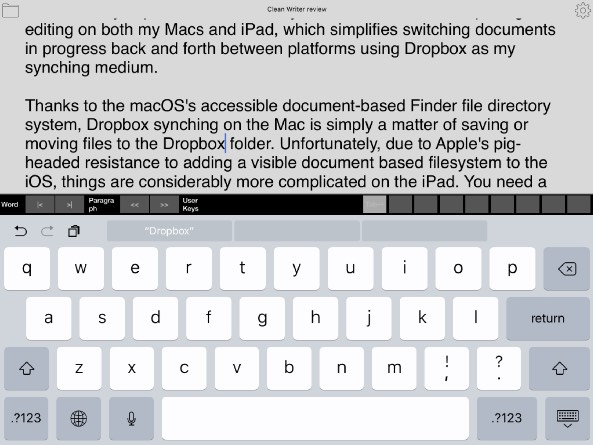 Developer Alexandru Brie says all new features have been added at the request of writers around the world. Other Clean Text features include a preference to show or hide the live text counters and buttons for an an even more minimalist user interface. Hiding the counters aso improves performance when working with large files. You can choose from three screen page width options. and rename the active file by tapping the file name at the top of the page. Selected files in the files list can be deleted by tapping the Trash Can button. The currently open file can't be deleted to prevent accidents, and is autosaved when you exit the app, when you download a file from Dropbox or when opening a file from other apps.
Clean Writer can also sync files to/from your computer using Desktop iTunes file sync iTunes->your device->Apps tab->Clean Writer, email current creations straight from the app (as a file text attachment), and open files from external apps (such as Mail, Dropbox and more), although note well that only plain text files (.txt) can be actually viewed and edited. The extended keyboard row provides navigation shortcuts (next/previous word, next/previous paragraph) and user custom keys, (characters, words or phrases) that you can define for quick access.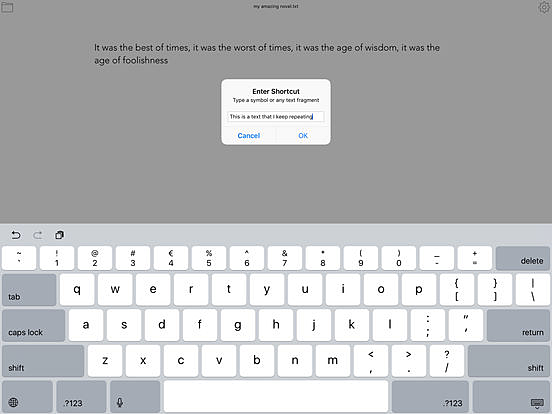 The custom keys can be reset from the Preferences panel. Clean Writer can also preview your text as HTML, converted using the Markdown syntax. The Markdown button can be hidden if you don't need this feature. You can copy the HTML output to the clipboard, ready for pasting into a new Clean Writer file, an email or another app. If you have an AirPrint iOS compatible printer, you can print the source file (button in the Files panel) or the Markdown HTML output(button in the Markdown preview popup). You can chose to display and download any file in your Dropbox folder, but you can only open for editing files saved in plain text format.
To edit documents saved in other file formats, say Word, Pages, or RTF files, you need to export them in plain text format from the parent application. After editing a file it can be uploaded to Dropbox — pick the destination folder and then upload. The existing file at the destination will be replaced with the new version. In case of accidental overrwrites, you can use the Dropbox web app to revert to an older version.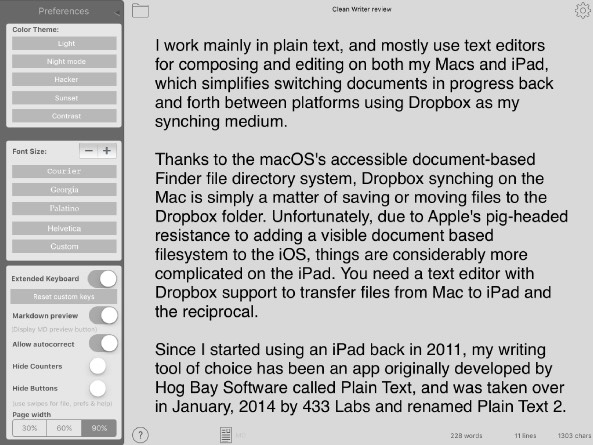 Clean Writer supports several navigation screen gestures. The File, Preferences and Help panels can be quickly summoned by swiping:
1. finger swipe left->right opens the File panel (as does tapping the top-left corner button)
2. finger swipe left->right opens the Preferences panel (as does tapping the top-right corner button)
Pinch in/out inside the text view to change the font size, and dismiss panels and return to text view with the panel's top-right corner button, or easier, by tapping on the text view.
Double tap the bottom margin of the text view to jump to the end of your text.
Tap the top status bar of your device to jump to the beginning of your text.
I like Clean Writer. It's a good writing app, and is now on my shortlist for a potential Plain Text 2 replacement when that becomes necessary. Dropbox integration is a high priority box checked, although it requires more hands (or fingers) on attention than Plain Text 2's "set it and forget it" automatic file saving and synchronization. However, Plain Text 2 is no longer available, so if you're looking for a good Dropbox integrated text editing app for your iPad, Clean Writer deserves a trial.
Device Requirements:
* Compatible with iPad
* Requires iOS 9.1 or later
* 6.0 MB
Clean Writer for iPad 3.0 can currently be downloaded from the iTunes App Store in the Productivity category, on special "UPDATE" sale for $0.99, 75% off its original price.
Cognitive Bits Software:
http://cognitivebits.com/
Clean Writer 3.0:
http://cognitivebits.com/clean-writer-ipad.html
Purchase and Download:
https://itunes.apple.com/app/clean-writer/id383001862