Is iPhone X Really The Future Of The Smartphone?
Should iPhone X even be called a telephone? It does of course support telephony and texting, but its main feature set is oriented to other things. It is also debatable whether it makes any rational sense at all to be walking around with a device in your pocket that sells for $1,000 up unless you travel with a retinue of personal bodyguards.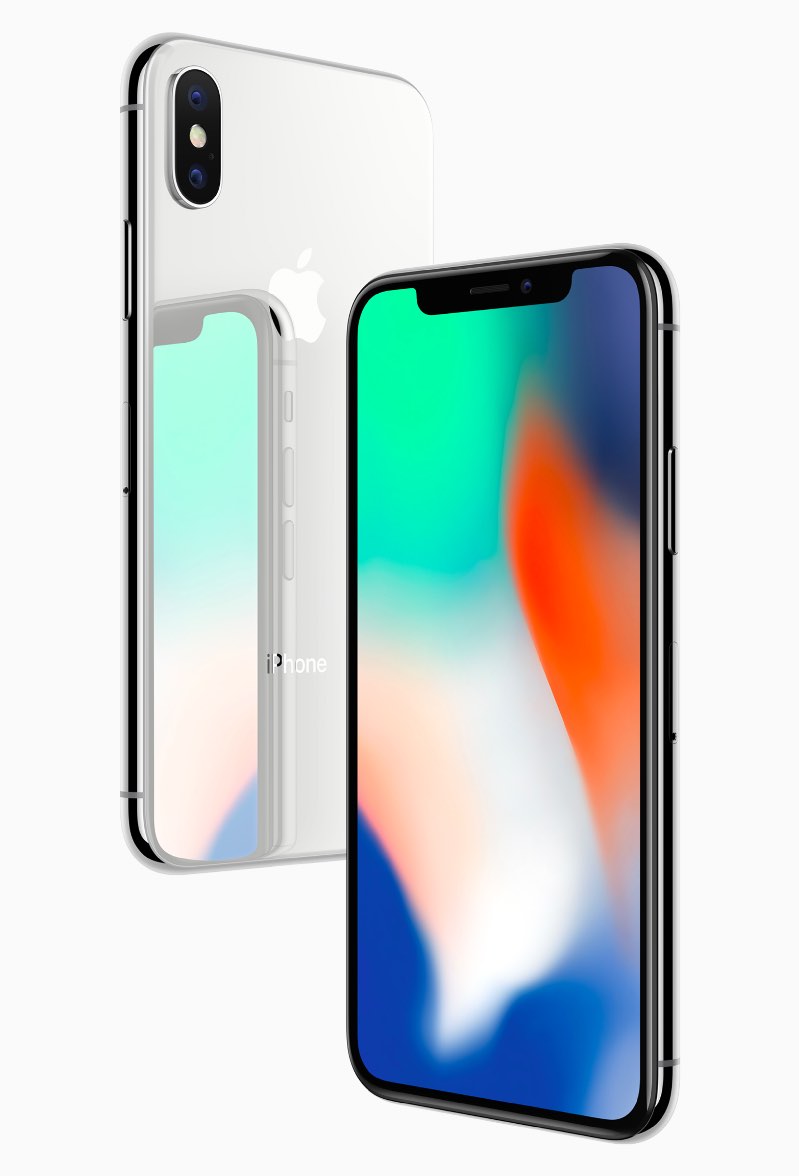 Photo Courtesy Apple
Then there's the matter of overrkill. The iPhone X's A11 Bionic six-core system-on-chip would have placed it in the supercomputer category back in the '80s and '90s. Apple says it's the most powerful and smartest chip ever deployed in a smartphone, with two 25 percent faster performance cores and four efficiency cores that are 70 percent faster than the foregoing A10 Fusion SoC plus a new, second-generation performance controller that can harness all six cores simultaneously, delivering up to 70 percent greater performance for multi-threaded workloads, with battery life two hours longer than with iPhone 7. A11 Bionic also has an Apple-designed three-core GPU with a that it claims delivers up to 30 percent faster graphics performance than the previous generation of iPhone GPUs.
The trouble is, all this power will likely get used mostly for entertaining but trivial pursuits. iPhone X's neural engine in A11 Bionic is purpose-built for machine learning, augmented reality apps and immersive 3D games — a dual-core chip that can perform up to 600 billion operations per second for real-time processing, designed for specific machine learning algorithms and also enables Face ID (which does have practical uses), Animoji and other features demanding large amounts of computing power.
To create Animoji, working with A11 Bionic, the TrueDepth camera captures and analyzes over 50 different facial expression muscle movements which it then animates in a dozen different Animoji templates, including a panda, a unicorn and a robot. Available as an iMessage app pre-installed on iPhone X, users can record and send Animoji messages with their voice that can smile, frown and more. Whatever floats your boat I guess.
Apple says iPhone X 's all-glass front and back, available in silver and space grey, feature the most durable glass ever used in a smartphone.
iPhone X's 5.8-inch Super Retina water and dust resistant all-screen display display employs new OLED technology enabling it to precisely follow the curves of the design, all the way to the rounded corners. A seven-layer colour process allows for precise colour hues and opacity on the glass finish enhanced by a reflective optical layer.
Apple says the iPhone X display is the first OLED panel that rises to iPhone standards with true blacks, a million-to-one contrast ratio, and system-wide colour management in a smartphone, also supporting Dolby Vision, HDR, and HDR10, and the addition of True Tone dynamically adjusts the white balance of the display to match the surrounding light.
"iPhone X is the future of the smartphone. It is packed with incredible new technologies, like the innovative TrueDepth camera system, beautiful Super Retina display and super fast A11 Bionic Chip with neural engine," said Philip Schiller, Apple's senior vice president of Worldwide Marketing, at the product announcement. "iPhone X enables fluid new user experiences from unlocking your iPhone with Face ID, to playing immersive AR games, to sharing Animoji in Messages," adding redundantly: "It is the beginning of the next ten years for iPhone."
It is that latter by default, but the future of the smartphone I think not, at least not in any mass-market sense. It's too expensive for starters, and the mainstream smartphone market is not interested in paying premium prices for "fluid new user experiences" on their mobile. None of Mr. Schiller's list of marquee iPhone X features solves practical problems that any of us knew we had. Very few smartphone users have any practical reason to carry a supercomputer that can perform up to 600 billion operations per second in their pocket. The personal security issues discussed above also pertain.
A better choice for most of us will be iPhone 8 or iPhone 8 Plus, a more evolutionary design featuring new Retina HD displays and powered by the A11 Bionic SoC. The iPhone 8s get upgraded cameras with Portrait mode and Portrait Lighting, support wireless charging, and augmented reality (AR) optimization unprecedented in a smartphone.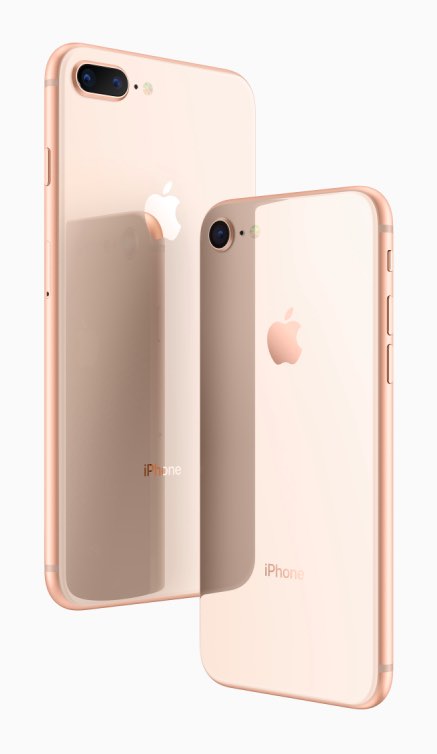 Photo Courtesy Apple
Space grey, silver and gold finishes on iPhone 8 and iPhone 8 Plus are made using a similar process to the one used in in iPhone X, and introduce a water and dust resistant glass back design made with more of that most durable glass ever in a smartphone and a colour-matched aerospace-grade aluminum bezel. Their 4.7-inch and 5.5-inch Retina HD displays now support True Tone, and Apple says their redesigned stereo speakers are up to 25 percent louder and deliver deeper base.
iPhone 8 and iPhone 8 Plus feature an improved 12-megapixel camera with a larger and faster sensor, a new colour filter, and new Apple-designed image signal processor that delivers advanced pixel processing, wide colour capture, faster autofocus in low light and better HDR photos, while a new quad LED True Tone Flash with Slow Sync results in more uniformly lit backgrounds and foregrounds.
Apple says each camera is individually calibrated, with new gyroscopes and accelerometers for accurate motion tracking and AR benefits from A11 Bionic, which handles world tracking, scene recognition and graphics at 60fps, while the image signal processor does real-time lighting estimation.
iPhone X will be available in silver and space gray in 64GB and 256GB models starting at $999, and iPhone 8 and iPhone 8 Plus will be available in space gray, silver and an all-new gold finish in increased 64GB and 256GB capacity models starting at $699 (US) from http://apple.com and Apple Stores, and will also be available through Apple Authorized Resellers and carriers (prices may vary).
iPhone 8 and iPhone 8 Plus are not cheap either, but if you can afford the price of ownership (or can live with monthly payments thhrough Apple's new iPhone Upgrade Program), with them and iPhone X Apple has again raised the bar in smartphone state of the art.