Retro Review: PowerBook 1400cs

PowerBook 1400cs
Originally published in 1997 by Steve Hildreth:
My initial impression of the 1400cs is that it's an extremely solid machine. The keyboard is metal based, giving the keys a solid, crisp feel. The dual-scan, passive matrix screen is huge and bright, and the 800×600 resolution provides the same working space as a 17-inch monitor. The active matrix screen would be even better, of course, but it just wasn't worth the extra $1000, and I'm glad I didn't spend it. The trackpad is smooth, and with click & drag capabilities, is a snap to use.
It comes with a full array of installed software, including System 7.5.3, Claris Works and Claris Organizer, Apple Internet Connection Kit (Netscape, Claris E-Mailer, etc.), and a bunch of other stuff. This is a true plug and play machine. The 750 MB hard drive is sufficient for me (for now), and my Zip drive can handle any overflow. After much tinkering, the system software is now taking up about 8 MB, leaving 16 MB for other software. I plan to buy more RAM soon to take up the slack. A word to Apple: Include more RAM with your new PowerBooks. 12 or even 16 MB just doesn't cut it these days.
Installing extra RAM and the optional video card was practically a no-brainer. Pop the speaker grill, pull back the keyboard, remove the six screws securing the heat sink, and the 1400's innards are exposed. The video card pops in with no problems. Two small screws on the back side of the 'Book secure it. The RAM card was a little tighter, and it took a couple of tries to get the card lined up with the plastic edge guide provided inside the right side of the 'Book. All in all, it probably took 20 minutes or so, but I was moving slowly and very carefully. When I install more RAM in the future, I don't expect it to take more than 10 minutes.
With minimal power conservation (AppleTalk off, screen slightly dimmed), I am getting 1-2 hours from the battery. That's really not much improvement over my old 165c and no where near the 4 hours quoted by Apple.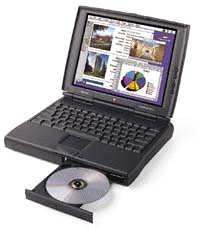 Rating
At the time: A-

General

117-MHz PowerPC 603e
133 or 166 MHz PowerPC 603e with 128K level 2 cache
16MB RAM standard, maximum 64MB via one RAM slot (can piggy-back two RAM cards)
750MB (1400cs/117) or 1GB (1400cs/133 & 166) hard drive
Sleep-swappable 6x, 8x, or 12x CD-ROM drive module, except in some base 1400cs/117 models.
Ports
1 serial
ADB
audio in
audio out
video out (optional)
HDI-30 SCSI
IR
1 expansion bay
2 PC card slots
Display
Passive-matrix 1000's of colors
11.3"
800×600 resolution
Weight

7.0 pounds with CD-ROM drive installed
6.7 pounds with floppy drive installed
Battery
30 watt-hour nickel-metal-hydride (NiMH)
Sound
16-bit, CD-quality stereo sound capable of driving headphones or external speakers
Built-in speaker and integrated microphone
Digital-to-analog conversion sampled at 44.1, 22.05, or 11.025 kHz
16-bit audio line-in for recording
Size
Height: 2.0 in. (5.2 cm)
Width: 11.5 in. (29.2 cm)
Depth: 9.0 in. (22.5 cm)
Apple's Specifications:
PowerBook 1400cs/166

Logic Board
Ports
Power

| | |
| --- | --- |
| Processor: | 603e, 166MHz |
| PMMU: | integrated |
| FPU: | integrated |
| Data Path: | 64-bit, 33.3MHz |
| L1 Cache: | 32K |
| L2 Cache: | 128K |
| 2nd Processor: | none |
| Slots: | 2 Type II PC Card (1 Type III ) |

| | |
| --- | --- |
| ADB: | 1 |
| Video: | opt.mini-15 |
| Floppy: | none |
| SCSI: | HDI-30 |
| Geoports: | none |
| Ethernet: | none |
| FireWire: | |
| Mic Type: | Line In |
| Other Ports: | Printer, Speaker, |

| | |
| --- | --- |
| Max Watts: | 45 |
| Amps: | 1.875 |
| BTU per Hr: | 153.9 |
| Voltage: | 100-220 |
| Freq Range: | 50-60 Hz |
| Battery Type: | PB1400, NiMH |
| Soft Power: | yes |

Memory
Video Memory

| | |
| --- | --- |
| Logic Board: | 16 MB |
| RAM Slots: | 1, PB1400 |
| Min – Max RAM: | 16 MB – 64 MB |
| Min RAM Speed: | 70ns |
| RAM Sizes: | 8-24 MB |
| Install in Groups of: | 1 |
| Notes: | Memory expansion slot allows "piggy backing" of up to two memory cards. |

Resolution
Video Memory
built-in LCD screen
(built in)
512 x 384
n/a-bit
640 x 400
n/a-bit
640 x 480
n/a-bit
800 x 600
16-bit
832 x 624
n/a-bit
1024 x 768
na/-bit
1152 x 870
n/a-bit
1280 x 1024
n/a-bit

Physical
Software
Storage

| | |
| --- | --- |
| Introduced: | 10/15/1997 |
| Discontinued: | n/a |
| Form Factor: | PowerBook 1400 |
| Gestalt ID: | 310 |
| Weight (lbs): | 6.6 |
| Dimensions (in): | 6 H x 11.5 W x 9 D |
| | |

Addressing Modes:
32-bit
Orig SSW:
8.0
Orig Enabler:
none
ROM ID:
$077D
ROM Ver:
n/a
ROM Size:
4MB
AppleTalk Ver:
n/a
Mac OS
Supported:
8.0

| | |
| --- | --- |
| Floppy Size: | 1.44MB |
| Floppy Inject: | manual |
| Min. Int HD Size: | 1.3GB |
| Int HD Interface: | ATA |
| Orig CD Speed | 12x |
| Int CD Support: | yes |
PowerBook 1400cs/133

Logic Board
Ports
Power

| | |
| --- | --- |
| Processor: | 603e, 133 MHz |
| PMMU: | integrated |
| FPU: | integrated |
| Data Path: | 64-bit, 33.3 MHz |
| L1 Cache: | 32K |
| L2 Cache: | 128K |
| 2nd Processor: | none |
| Slots: | 2 Type II PC Card (1 Type III) |

| | |
| --- | --- |
| ADB: | 1 |
| Video: | opt. mini-15 |
| Floppy: | none |
| SCSI: | HDI-30 |
| Geoports: | none |
| Ethernet: | none |
| FireWire: | |
| Mic Type: | Line In |
| Other Ports: | Printer, Speaker, |

| | |
| --- | --- |
| Max Watts: | 45 |
| Amps: | 1.875 |
| BTU per Hr: | 153.9 |
| Voltage: | 100-220 |
| Freq Range: | 50-60 Hz |
| Battery Type: | PB1400, NiMH |
| Soft Power: | yes |

Memory
Video Memory

| | |
| --- | --- |
| Logic Board: | 16 MB |
| RAM Slots: | 1, PB1400 |
| Min – Max RAM: | 16 MB – 64 MB |
| Min RAM Speed: | 70 ns |
| RAM Sizes: | 8-24 MB |
| Install in Groups of: | 1 |
| Notes: | Memory expansion slot allows "piggy-backing" of up to two memory cards. |

Resolution
Video Memory
built-in LCD screen
(built in)
512 x 384
n/a-bit
640 x 400
n/a-bit
640 x 480
n/a-bit
800 x 600
16-bit
832 x 624
n/a-bit
1024 x 768
n/a-bit
1152 x 870
n/a-bit
1280 x 1024
n/a-bit

Physical
Software
Storage

| | |
| --- | --- |
| Introduced: | 5/19/1997 |
| Discontinued: | n/a |
| Form Factor: | PowerBook 1400 |
| Gestalt ID: | 310 |
| Weight (lbs): | 6.7 |
| Dimensions (in): | 2 H x 11.5 W x 9 D |
| | |

Addressing Modes:
32-bit
Orig SSW:
7.6.1
Orig Enabler:
none
ROM ID:
$077D
ROM Ver:
n/a
ROM Size:
4MB
AppleTalk Ver:
n/a
Mac OS
Supported:

| | |
| --- | --- |
| Floppy Size: | 1.44MB |
| Floppy Inject: | manual |
| Min. Int HD Size: | 1.3GB |
| Int HD Interface: | ATA |
| Orig CD Speed | 8x |
| Int CD Support: | yes |
PowerBook 1400cs/117

Logic Board
Ports
Power

| | |
| --- | --- |
| Processor: | 603e, 117 MHz |
| PMMU: | integrated |
| FPU: | integrated |
| Data Path: | 64-bit, 33.3 MHz |
| L1 Cache: | 32K |
| L2 Cache: | none |
| 2nd Processor: | none |
| Slots: | 2 Type II PC Card (1 Type III) |

| | |
| --- | --- |
| ADB: | 1 |
| Video: | opt. mini-15 |
| Floppy: | none |
| SCSI: | HDI-30 |
| Geoports: | none |
| Ethernet: | none |
| FireWire: | |
| Mic Type: | Line in |
| Other Ports: | Printer, Speaker, |

| | |
| --- | --- |
| Max Watts: | 45 |
| Amps: | 1.875 |
| BTU per Hr: | 153.9 |
| Voltage: | 100-220 |
| Freq Range: | 50-60 Hz |
| Battery Type: | PB1400, NiMH |
| Soft Power: | yes |

Memory
Video Memory

| | |
| --- | --- |
| Logic Board: | 12, 16 M B |
| RAM Slots: | 1, PB1400 |
| Min – Max RAM: | 12 MB – 64 MB |
| Min RAM Speed: | 70 ns |
| RAM Sizes: | 8-24 MB |
| Install in Groups of: | 1 |
| Notes: | Memory expansion slot allows "piggy-backing" of up to two memory cards. |

Resolution
Video Memory
built-in LCD screen
(built in)
512 x 384
n/a-bit
640 x 400
n/a-bit
640 x 480
n/a-bit
800 x 600
16-bit
832 x 624
n/a-bit
1024 x 768
n/a-bit
1152 x 870
n/a-bit
1280 x 1024
n/a-bit

Physical
Software
Storage

| | |
| --- | --- |
| Introduced: | 10/1/1996 |
| Discontinued: | 7/14/1997 |
| Form Factor: | PowerBook 1400 |
| Gestalt ID: | 310 |
| Weight (lbs): | 6.7 |
| Dimensions (in): | 2 H x 11.5 W x 9 D |
| | |

Addressing Modes:
32-bit
Orig SSW:
7.5.3
Orig Enabler:
PowerBook 1400 Enabler
ROM ID:
$077D
ROM Ver:
$32
ROM Size:
4MB
AppleTalk Ver:
58.1.6
Mac OS
Supported:
7.5.3
7.6
7.6.1
8.0

| | |
| --- | --- |
| Floppy Size: | 1.44MB |
| Floppy Inject: | manual |
| Min. Int HD Size: | 750MB, 1GB |
| Int HD Interface: | ATA |
| Orig CD Speed | 6x, 8x |
| Int CD Support: | yes |