Get Rid of Photos Clutter and Free Up Disk Space with New iPhone App Gemini Photos by MacPaw
NEWS: 06.22.18 – Software company MacPaw recently launched their new app for the iPhone called Gemini Photos.
The app, which was released on May 22, 2018 is the Ukraine based software company's attempt to enter the iOS software market having established themselves as primarily a creator of desktop software applications for the Mac.
From a company press release:
"'The idea behind Gemini Photos was to create a simple app which would help users clean their photo libraries and free up iPhone storage fast,' says Oleksandr Kosovan, CEO of MacPaw. 'Gemini Photos was inspired by the users of a desktop app we built earlier — an intelligent duplicate finder Gemini 2. Similar photo cleaning was one of the most popular functions of Gemini 2 and today we're happy to bring this function to life in our new iOS app.'"
According to market research done by the company, 35% of iPhone users report having too many redundant photos and 58% say that that is a problem. That's where Gemini Photos comes in to solve the issue.
Some key features of the Gemini Photos app include:
⁃ the app uses a smart algorithm to detect the best images out of a set of similar ones and lets you remove unneeded images fast
⁃ in addition to detecting blurry or bad images, the app can find images that are not actual photos such as screenshots or text-based images like documents, receipts, or handwritten notes
⁃ Gemini Photos is fully Compatible with image libraries on the Photos apps for iOS and Mac OS as well as iCloud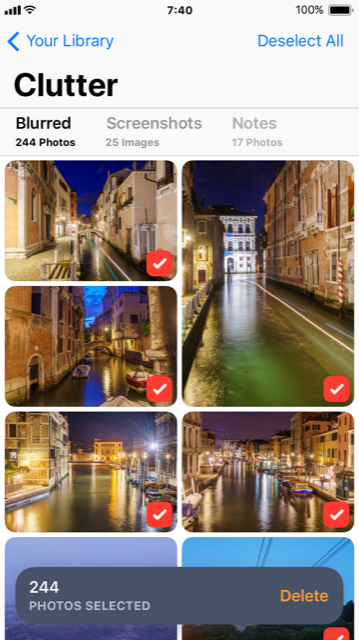 The Gemini Photos mobile app works in tandem with the Gemini 2 desktop application (download it here) the latter having a million users around the world.
With a user base of over 500 million worldwide, the company, MacPaw, works with different software developers internationally but most of it takes place at their headquarters in Kyiv, Ukraine with business development in their U.S.-based office in Santa Clara, California located in the heart of Silicon Valley which is also their official contact address. Established in 2008 (they will be celebrating their tenth anniversary on July 17, 2018), they primarily develop software for the Mac and according to the company, MacPaw "has been developing apps with a strong focus on design and functionality to ensure that every user gets a stunning app experience."
Currently, MacPaw has 12 apps: seven for Mac, four for iOS, and one for Windows. A few of the applications available are a wallpaper app, security software, and file archiving/unarchiving and encryption. The company's most popular desktop application is their flagship product, CleanMyMac 3, which performs various tasks that tidy up (much like Gemini Photos), maintain, and optimize system performance on a Mac.
Gemini Photos, which requires iOS 11 or later and 63MB of available storage space, is a free download on the App Store with in-app purchases.
Users can test for free all features of the app for a 3-day period. After that, the only features that will work with the free version are removal of blurry photos, screenshots, and text-based images. The ability to detect and remove similar images in a set of photos is a paid feature priced at: $1.99/mo., $11.99/yr., or a one time payment of $14.99.
Eugene Kalnyk, PR & Communications Specialist for MacPaw, says, "Either through a one-time payment or through subscription, users get access to all the functionality. Of course, with one-time payment users get lifetime access, and through subscription, the functionality is available for the period of this subscription."
"It might make sense for some users to get a monthly subscription if they plan to go over their photo libraries only a couple of times during a year," clarifies Kalnyk. "In this case, they can subscribe only for the time period they need to use the app, and then cancel the subscription when the job is done."
He adds, "There's no difference in the functionality of the app based on the payment method. Users can select a payment method which would be most convenient for them. It all just depends on how users plan to use the app."
Ready to try or buy? To download the Gemini Photos app for iOS, visit this link.
We want to hear from you! For being a loyal reader of MacPrices, the first four people to submit a short review of their experience using the Gemini Photos app during the initial 3-day free trial period will receive an activation code for a full license for lifetime access to the app (a $14.99 value!) compliments and courtesy of MacPaw. (Note: reviews must include your first and last name, age, city, and state to qualify and agree to have their reviews published on this website at a later date). Submit your reviews to Joe Leo at: j.leo@macprices.net.