Will Apple dump Intel and use its own CPU in future MacBooks?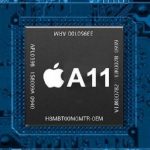 An report by Christopher Mims at the Wall Street Journal postulates that Apple could be considering moving from Intel as their source of chips for MacBooks to home-grown CPUs, similar to those used in iPhones and iPads.
Apple's A11 Bionic chip used in the iPhone X is already fast enough to power a MacBook, with 7nm 64-bit capability running at 2.39GHz. Future versions will, of course, be even more powerful and efficient. Intel's delays in introducing new chips, perhaps as Moore's Law slows down, or as a result of Intel's change of focus from traditional computer chips to those intended for cloud computing, creates a void or opening for Apple to fill with its own designs.
Having the guts of an iPhone doesn't mean that they ports, keyboard, trackpad, and display of the MacBook would have to change. Apple recognizes that people use their Macs in a different fashion than iPhones and iPads. Apple's current A11 Bionic chip is very power efficient, allowing for longer battery life, and allows for facial recognition and augmented reality (AR) capabilities. Mims suggests that AR, in particular, might be the primary driver in creating a MacBook running on a future version of Apple's A-Series chip. Designing the chip in-house would allow Apple to better streamline facial recognition software as well as voice recognition while using their own graphics software.
Mims points out that Apple would likely continue to use Intel Core i5 and i7 processors on Pro series laptops for the foreseeable future, as these CPUs are much better suited at he terms "general computing tasks."
Perhaps we'll see a new MacBook in the near future with an Apple A-Series chip sold alongside MacBook Pros with more traditional Intel Core CPUs.
Want to join the conversation? Comment below: