Apple Introduces new iPhone Xs, iPhone Xs Max, and iPhone Xr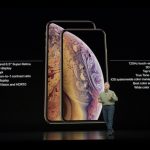 Apple today introduced their 2018 iPhone models. The new 2018 iPhone Xs features new stainless steel construction with edge to edge displays, rounded at the corners, with a 5.8″ Super OLED HDR super-durable screen along with a 6.5″ display in a version of the phone dubbed iPhone Xs Max. The 6.5″ model is the largest display Apple has yet offered in an iPhone. Space Gray, Silver, and Gold colors will be available.
New features include better stereo sound (in and out) & improved water resistance, plus a new A12 Bionic 7nm chip with an 8-Core CPU and a 4-Core GPU with 15% to 50% improved performance. Up to 512GB of internal storage will be available for the first time. Faster algorithms allow for an improved and much faster Face ID experience. The dual-camera system will be a 12MP wide-angle system with a larger lens, Smart HDR image processing technology, and the ability to change the depth of field after the picture has been taken.
Battery life is 30 minutes longer than iPhone X. The Max version increases that time to 90 minutes. Dual SIM capability is available for the first time.
A low-cost iPhone Xr model will be available from Apple featuring an aluminum chassis, multiple colors, edge-to-edge display, glass back, IP67 water resistance, 6.1″ LCD 'Liquid Retina' display, tap to wake, but no 3D touch. The Xr has Face ID and a 7nm A12 Bionic chip like the Xs models. The camera is a single 12MP wide-angle system but otherwise similar to the Xs system. Battery life is 90 minutes longer than the iPhone 8 Plus.
The iPhone Xs starts at $999 for 64GB models, and the iPhone Xs Max starts at $1099 for 64GB models, with 256GB and 512GB configurations available. The low-cost iPhone Xr will retail starting at $749 for 64GB models, with 128GB and 256GB models available. iPhone 8 will remain available from $599, and iPhone 7 models will remain available starting at $449.
The new 2018 Apple iPhone Xs will be available for order at Apple starting on September 14th. October 19th for the Xr.