Apple's new 2018 Mac mini is the most powerful mini yet with up to 64GB RAM and 6-Core CPUs
Apple today introduced a new 2018 Mac mini with a similar form factor but significantly upgraded internals. The new mini comes in a darker Space Gray color and features Intel 8th generation Quad-Core i3 CPUs standard with optional 6-Core CPUs available. Available memory ranges up to 64GB, and internal SSD storage is available up to 2TB. Gigabit ethernet, 4 Thunderbolt 3/USB C ports, HDMI 2.0, 2 USB-A ports, and 10GB ethernet are all included.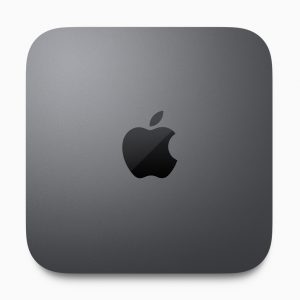 The standard configuration will feature 8GB RAM, a 3.6GHz Quad-Core Intel i3 CPU, and a 128GB SSD for $799. Order today at Apple for deliveries starting on November 7th.
A second standard configuration will include a 3GHz 6-Core Intel i5 CPU, 8GB RAM, and 256GB SSD for $1099.
Keep an eye on our Mac mini Price Tracker as we update our listings with the latest information on the new model from Apple and its resellers.