Apple updates 13″ MacBook Pros, 13″ MacBook Airs, discontinues 12″ MacBook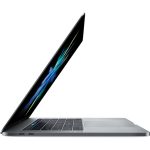 Apple updated their line of laptops today with changes to the 13″ MacBook Pros and 13″ MacBook Airs, and they also discontinued the 12″ Retina MacBook.
The 13″ MacBook Air for 2019 has received a True Tone display plus a $100 price cut. The base 13″ 1.6GHz/128GB MacBook Air now starts at $1099 ($999 for Education customers).
The 2017 13″ Dual-Core non-Touch Bar MacBook Pro has been replaced with a new 13″ 1.4GHz Quad-Core Touch Bar model featuring updated 8th generation Intel processors, a T2 security chip, Touch ID, and a Touch Bar. As with the previous models, prices start at $1299.
Apple's 12″ Retina MacBook has been discontinued as well as the 2017 13″ 1.8GHz MacBook Air that Apple was selling for $999.
Keep an eye on our 13″ MacBook Pro Price Tracker and our 13″ MacBook Air Price Tracker. We'll be updating the trackers with information on the new models as they become available from Apple and its resellers.