Recalling When I Met Apple Co-Founder, Steve Wozniak, On Heels Of Woz's 70th Birthday Celebration
FEATURE: 08.31.20 – August marked another journey around the Sun for Apple co-founder, Steve Wozniak, who turned 70 years old earlier this month.
The big bash was — or should it be, Woz (pun intended), his nickname? — filled with stars, not the ones that light up the night sky, but of the Hollywood type with the likes of actors William Shatner and George Takei of "Star Trek" fame (Captain Kirk and Sulu, respectively) and comedian Chris Rock, formerly of NBC's "Saturday Night Live," who were among the many celebrities on hand to help the Apple co-founder celebrate his special day. As reported by CNET earlier this month, the virtual party, which featured recorded birthday greetings and performances due to the global pandemic surrounding the coronavirus, was viewed by Wozniak and his wife from their Northern California home.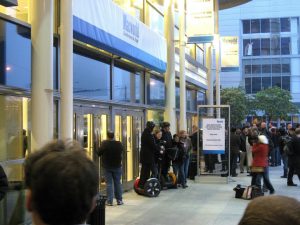 According to CNET, Woz's 70th birthday party was the kickoff event for the "11 Days of Wozdom," a series of social media challenges — ranging from baking a Woz-related cake and writing a formula for happiness to telling a joke and filming a dance routine (a la Wozniak's guest appearances on ABC's "Dancing With The Stars") — in which a panel of judges chose a winner for each challenge and all winners received a T-shirt signed by the Apple co-founder and a shoutout on Twitter (presumably from the Woz himself). In addition, five of the ten participants who won were awarded a bigger prize that included such Apple products as a MacBook Air and an iPhone.
The signed t-shirt that each winner received reminded me of the day in January of 2008 when I met Wozniak at the Macworld Conference & Expo in San Francisco, California (the year that the original MacBook Air was unveiled) and my personal encounter with the Apple co-founder is something that I'll never forget!
I first caught a glimpse of the Apple co-founder — through the zoom lens attached to my D-SLR camera — as I stood in line waiting to get in to watch the keynote address by then Apple CEO, Steve Jobs, in order to live blog the event for the website PowerBook Central (the long since defunct sister site of MacPrices). Wozniak, who was a VIP guest (presumably invited at Jobs's own behest), arrived to the show riding a Segway personal transporter (as seen in the featured photograph accompanying this story).
However, my more up close and personal encounter with the Woz himself, albeit, a very brief meeting, happened quite unexpectedly later that day, just by chance and pure luck!
After jobs finished his keynote address, I made my way over to an educators' workshop as I was there wearing two hats (so to speak), first, as a columnist for PowerBook Central covering the expo and, second, as a computer teacher — who, while personally doing work on Macs, unfortunately taught students on Windows-based PCs (I wouldn't have a Mac lab until the Fall of that same year after I moved to two new schools which had them) — attending one of the many conferences in order to expand my teacher's tool belt, if you will. As I mindlessly wandered towards the meeting room, I noticed a small line that had formed just outside the doors of the conference that I was going to attend and ever the curious type, I asked one of the persons lined up what they were there for and as soon as I found out the reason, I excitedly joined the group as well.
The reason? The Apple co-founder was there to sign copies of his book: iWoz.
I hurried over to a table off to the side to buy a copy of Wozniak's book which were available for sale so that I could get his autograph and then patiently waited for the Apple co-founder to arrive to the event exclusively for teachers. When Woz finally arrived and got seated to begin signing people's books, before he signed mine, I turned to the person lined up next to me and told him that I would take a picture of him with his digital camera — while we both individually stood beside the author of the autobiographical work that all of us in line had just bought — if he took one of me with my own (at the time, I didn't have an iPhone yet).
To my dismay? Although iWoz (I was… pun intended) grateful for the deed, the guy took the worst shot ever: I wasn't ready for him to take the picture yet and had the stupidest look on my face when he did. However, despite the bad photograph (which I wouldn't share even if I could find it on my computer, since, it's not labeled and the file name is still the generic "IMG_xxxx.JPG"), nevertheless, I was just excited to be up close and personal (to a point) with the Apple co-founder, me and the Woz himself side-by-side, and, not to mention, getting his autograph too!
Looking back at that day, I've always wondered if Wozniak looked down on me with disdain for appearing to crash the party as an uninvited guest because although I was wearing the conference badge clearly identifying me as a computer teacher, around my neck was also the media one — as well as my press identification card — which was more prominently displayed in front of the other, and, in hindsight, maybe I should have temporarily taken off the latter two offending ones before attending that educators' workshop and especially while standing in line to get the Apple co-founder's autograph in my personal copy of his book.
In addition to the special book signing, if I recall correctly, I believe that the Apple co-founder was also scheduled to be the keynote speaker during that educator's workshop (which I couldn't stay for because halfway through the presentations and before he went up to speak, I had to leave in order to cover some of the events happening down in the exhibit hall). Of course, Wozniak's primary reason for being at Macworld in the first place (I presume) was to see what Apple had to unveil that year, although, something tells me that Woz already probably had some inkling into what the product announcement would be prior to attending that year's show.
Born on August 11, 1950 at the heart of Silicon Valley in San Jose, California to father Francis Jacob Wozniak and to mother Margaret Louise Wozniak — as Stephan Gary Wozniak, according to the Woz himself in iWoz, where he says his mom told him that the "a" in his birth certificate was a mistake and should have been an "e" instead (thus, he has gone by Stephen) — Wozniak's basic education began in Cupertino, California where he attended Homestead High School before heading off to college at the University of Colorado, Boulder where he was expelled for hacking into the university's computer system. In the early 1970s, prior to meeting Jobs, Wozniak had a short stint designing calculators at Hewlett-Packard- (HP), and later, on April 1, 1976, the dynamic duo would team up together to co-found Apple Computer where he designed (at least, he was credited for doing so) the Apple I and II computers.
After helping to establish Apple Computer (now Apple, Inc. since 2007 after Jobs, as CEO, dropped the word "computer" from the company's name), the Apple co-founder as an adult returned to college at the University of California, Berkeley where he earned a bachelor's degree in electrical engineering and computer science. In addition to designing two of Apple's most significant products, Wozniak also has four company patents to his name, and, since his departure, the American inventor, computer programmer, and philanthropist has been the recipient of more than 15 awards as well as having a street in San Jose named after him.
Wed four times with three children, Woz is currently married to his wife, Janet.
According to the celebrity lifestyle website Justrichest.com, Wozniak's exit from the company that he co-founded was attributed to differences in personality between Woz and Jobs, especially with their vision for moving Apple forward. Ironically, it was the creation of the Macintosh computer — released in 1984 prior to Woz's departure in 1985 (and, coincidentally, Jobs's own that very same year after being ousted by the board) — which led to the Apple II team being sidelined, and as the team's head, the move did not bode well with the Apple co-founder who subsequently left his position as Vice President of research and development.
Technically, Woz remains an employee of Apple (in the role of an Apple Fellow), representing the company at events and during press interviews, all while earning a salary of $50 a week per the Apple co-founder's profile on Justrichest.com.
Despite having played a key role in inventing the personal computer, according to Cult of Mac, the Apple co-founder spent his fortune having fun instead of trying to take over the world. As the website described him in a birthday tribute feature published earlier this month on the actual day itself, Compared to Jobs who sometimes was viewed as a glorified salesman, Woz always proved more relatable to tech geeks and was clearly one of them: the geek's geek.
To put it in other terms, as Cult of Mac wrote, Woz was the geeky yin to Jobs's polished yang.
Inside Apple, Wozniak stood up for people in a way that has never been forgotten by its employees. And, while Jobs may be the company's most admired figure, Woz, according to Cult of Mac, might be the most well-loved by fans. Today, although he has been largely absent from the company for many years, the Apple co-founder still makes his presence felt in the technology community.
Cult of Mac reported that much of Wozniak's continued presence has revolved around fun and geeky pursuits like making cameos on CBS's "The Big Bang Theory" (the hit sitcom which ended its 12 season run in 2019), becoming a world champion of the video game "Tetris," and owning a Segway (the personal transporter that in his autobiography says he rides all the time as seen with his grand entrance at Macworld back in 2008).
But more importantly, the Apple co-founder also continues to speak out about what he views as the utopian mission of technology in society. In iWoz, Wozniak touches on that very topic, fondly recalling the single most important lesson that his father taught, or, in his own words, drilled into him — what it means to be an engineer's engineer (the geek's geek, if you will) — which is something he has always held onto all of these years, even more than a virtue he learned at an early age: honesty.
"I so clearly remember him telling me that engineering was the highest level of importance you could reach in the world, that someone who could make electrical devices that do something good for people takes society to a new level. He told me that as an engineer, you can change your world and change the way of life for lots and lots of people."
"I realize that when engineers create something, there is often an argument that the creation could be used for bad or good: like the atomic bomb…," writes Wozniak in his book.
"My dad had the opinion that change is what moves the world forward and that's the path we're on and basically, all change is good. That any device people want is good and should be made and not get stopped by governments or anyone else. And I came to that same view when I was very young, ten or maybe younger. Inside my head, and this is what has really stayed with me, I came to the view that basically, yes, technology is good and not bad. People argue about this all the time but I have no doubts about it at all."
"I believe technology moves us forward, always," adds Woz.
On a side note, Wozniak is not the only Apple co-founder that I have been up close and personal with. Coincidentally? I also happened to bump into the other Steve (jobs, of course) during another educators' workshop, this time around, on the Apple Campus at 1 Infinite Loop in Cupertino, the former headquarters of the company (now Apple Park since 2017 in a different location within the city). It was on that particular hot Summer afternoon in August of 2010 when I encountered the Apple genius (and innovator extraordinaire) himself face-to-face in all of his glory and managed to even, slyly as a fox (so to speak), get a shot of him with my iPhone's camera (a second generation iPhone 3G, not the brand new model that had just been released earlier that June, the iPhone 4, which I wouldn't get until a few months later) as he presumably returned from his lunch break and was headed back to his office, albeit, from behind (and from a distance), but still recognizable as the company's late co-founder due to the fact that he was wearing the outfit that the former Apple CEO always wore onstage during his keynote addresses at Macworld — a black mock turtleneck and a pair of blue denim jeans and white sneakers — but unlike with Woz two years prior to that, unfortunately, not standing beside him (or getting his autograph either for that matter).
To this very day? I've always regretted that I didn't say hello or ask the other Apple co-founder if we could take a selfie picture together. Although it was probably for the best and a good idea (after the fact) that I didn't because had I done so? According to an individual (who I presume to be a former Apple employee from the way the person's comments were worded) that chimed in and gave their two cents (so to speak) on my personal encounter with Jobs that was published back in October of 2018 in this column (as opposed to the story from another website that I used to write for as linked in the previous paragraph), I would have been disappointed since, in their own words: "He was not a nice man").
iWoz: Computer Geek to Cult Icon, which tells how Wozniak invented the personal computer, co-founded Apple, and had fun doing it, can be purchased (you can preview it for free before buying) and downloaded on Apple Books for reading on your iPhone, iPad, or Mac.