Apple introduces new 13″ MacBook Pro, 13″ MacBook Air, and Mac mini with Apple Silicon M1 processors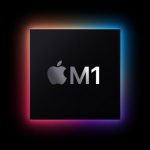 Apple today introduced the first Macs running on Apple's in-house Silicon processors, using an Apple Silicon M1 System on Chip (SoC) 5nm, 8-core processor. With Apple Silicon, Apple claims the best CPU performance per watt of any chip currently on the market with up to three times the performance per watt than before. M1 has up to an 8-core GPU with up to twice the integrated performance than current PC chips. Mac OS Big Sur will be the first OS to support Apple Silicon and will feature efficiencies and securities specific to the M1. Universal app options will allow users to run new apps on Intel as well as Apple Silicon Macs, plus a new version of Rosetta will allow non-universal apps to run on Silicon Macs. iPhone apps will also run natively in Mac OS Big Sur.
The first Mac to feature the Apple M1 CPU is the 13.3″ MacBook Air. The new Air features up to 3.5X faster CPU performance and up to 5X faster graphics. With M1, Apple claims that the new Air is faster than 98% of current PC laptops. SSD storage is up to twice as fast as well. Despite the performance, there is no fan. Apple claims 15-18 hours battery performance with the new M1 chip.
The design is still wedge-shaped, with a Magic Keyboard and Touch ID. Prices start at $999.
Apple is also updating the Mac mini with an M1 processor, using a similar design as before. It features 3X the CPU performance, 6X the graphics performance. Apple claims 5X the performance compared to PCs in the same price bracket. USB-C is supported, and Apple says the Mac mini will now run the Pro Display XDR display. Prices will start at $699.
Finally, Apple is updating the 13.3″ MacBook Pro with Apple M1 processors. Apple claims a 2.8X CPU performance and up to 5X better graphics performance. It's up to 3 times faster than similar PC laptops. The design of the laptop is similar to previous models and features an active cooling system. Battery life increases to up to 17-20 hours of performance — the longest battery life ever offered in a Mac. Prices start at $1299.
Orders begin today and will be available next week, the week of November 15th.
We'll be updating our 13″ MacBook Pro Price Tracker, 13″ MacBook Air Price Tracker, and Mac mini Price Tracker with the latest information on prices and deals, for new Silicon Macs as well as existing products, from Apple and its online resellers as it becomes available.