New sale at Apple: Buy an Apple TV and get a free $50 gift card through August 15th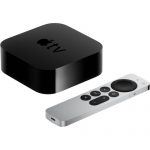 Apple today launched a new promotion supporting Apple TV in which customers will receive a $50 Apple gift card with their purchase of an Apple TV 4K or Apple TV HD. Offer runs from August 1, 2022 through the 15th.
This is the same sale Apple ran in early July, so if you missed it then, now is your chance to take advantage of their offer.
For the latest sales and deals, see our Apple TV Price Tracker, updated daily.