What's next for Apple? Mixed reality VR headset and Apple EV car – Gurman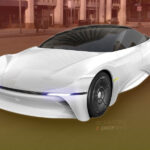 Mark Gurman, in this weeks's Power On newsletter, states that Apple's next product categories are likely to be a mixed-reality VR headset and electric vehicle. While not as revolutionary as earlier products like the iPhone and iPad, Apple's entry into these product categories are likely to be more 'pragmatic' and work more as 'foot in the door' products meant to establish Apple as a player in those markets.
Apple VR headset, while not revolutionary, will offer a blend of augmented and visual reality use the best technology on the market today. Gurman mentions that Tim Cook stated a few years ago that the technology meant to really revolutionize the category is still many years aways, so in the meantime, Apple will likely offer a similar product as other brands are currently offering, but with high-end components.
Little is known about Apple's EV plans in terms of style, performance, range, etc. However, Gurman states that while Apple has initially intended the EV to be as full autonomous as possible, the technology for a car to be 100% autonomous (that is, no steering wheel or pedals) is still a ways off. So while Apple will apparently offer autonomous capabilities on the highway, similar to those offered by Tesla, GM, etc., the Apple EV will still include a steering wheel and pedals for regular driving capabilities. Gurman states that 2026 is a potential release state for any Apple EV car.