Differences and similarities between the Apple 13″ M2 MacBook Air and the 13″ M2 MacBook Pro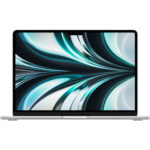 The 13" M2 Apple MacBook Pro and the 13" M2 Apple MacBook Air have a lot of similarities as well as differences. Both laptops are equipped with Apple's M2 processor. However, the Pro model has a fan for cooling which the Air does not, meaning the Pro can handle more intensive tasks for longer periods of time than the Air. The Air has a larger 13.6" display compared to the Pro's 13.3" display. The Air also has a more durable Liquid Retina display while the Pro has a standard LED-backlit IPS panel. The Air also has a camera notch, a four-speaker sound system and a 1080p webcam while the Pro has a Touch Bar, stereo speakers, and a 720p webcam. The Pro has a slightly heavier weight of 3 pounds while the Air is 2.7 pounds. The Air has a MagSafe power port while the Pro has only USB-C ports. The Air also has an option of a 30W USB-C adapter, a 35 dual USB-C port adapter, and a fast-charge 67W adapter, while the Pro comes with a 67W version.
The MacBook Air features a newer design that mimics the larger 14-inch and 16-inch MacBook Pros including their Magic Keyboards. The 13″ MacBook Pro sticks with an older design including a Touch Bar at the top of the keyboard.
The prices of the two models are similar, with the Pro being around $100 more expensive than the Air.
The MacBook Air and Pro have many similarities, such as the same M2 processor and macOS operating system, but there are also many differences, such as the fan in the Pro, the size and type of the displays, the shape of the keyboards, and the number of ports and adapters. Both models are good options depending on the user's needs and budget.