Apple to update the 24-inch iMac this year with M2 or M3 processors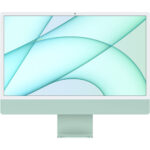 Mark Gurman, in this weeks's Power On newsletter, suggests that the development of Apple Inc.'s upcoming iMac desktop computer, codenamed J433 and J434, has reached engineering validation testing (EVT) stage and production tests are being conducted. It will be the same 24-inch size with the current model's color palette, including blue, silver, pink, and orange. It will also feature a new M-series chip, and some internal components will be relocated and redesigned for ease of manufacturing.
Mass production won't happen for at least three months, so it won't be delivered until the second half of the year. This is good news for those who were hoping for an update after two years of no changes. It is unclear if the updated iMac will be one of the first machines to incorporate the 3nm M3 chip or carry on with a version of the current Apple M2-series processor.