Apple's watchOS 10 likely to feature revamped design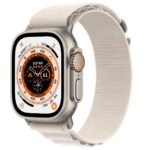 According to recent reports, the upcoming watchOS 10 software update for Apple Watch is expected to bring several new features such as recovery modes, a health dashboard, a native notes app, a step-counting complication, and a new Home Screen layout with a redesigned interface, easier navigation, and iOS-like aspects such as app folders. The software is anticipated to ship on the Apple Watch Series 9, and compatible Apple Watch models will include Apple Watch Series 4 through to Apple Watch Series 8, Apple Watch SE (2022), and Apple Watch Ultra.
The user interface is also expected to be extensively upgraded, and the update is expected to be the biggest software update for the Apple Watch since 2015. Some features, though, may be exclusive to certain Apple Watch models with always-on displays and newer health sensors. It is also possible that there will be various unknown integrations with Macs and iPads. At any rate, watchOS 10 is expected to be introduced at WWDC in June and released to the public in Fall 2023.