Record low price: Clearance Mac mini with Apple M1 CPU for only $469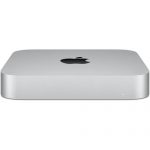 B&H Photo has Apple's base Mac mini with an M1 Apple Silicon CPU in stock today and on clearance sale for $230 off MSRP, only at $469. Free 1-2 shipping is free to many US addresses. Their price is the lowest available for new Mac today, and it's also the lowest price we've seen for a new Mac with an M1 CPU:
– Mac mini M1 CPU/256GB SSD: $469 $230 off MSRP
This is the same mini originally sold by Apple in their retail and online stores. For the latest prices and sales, keep an eye on our Mac mini Price Tracker, updated daily.