Specifications for Apple's upcoming Macs with M3 CPUs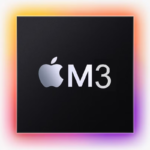 The specifications of Apple's M3, M3 Pro, M3 Max, and M3 Ultra chips have been worked out using developer logs. Outlining what to expect from the M3 Mac line, the amount of cores the CPU and GPU have, and the models which will use each chip, the structure of the M3 Mac road map have become clearer.
The base configuration of the M3 contains eight CPU cores (four performance and four efficiency) and 10 GPU cores. These will likely be found in base MacBook Pros, MacBook Airs, Mac minis, and iMacs. The M3 Pro has 12 CPU cores (six performance and six efficiency) and 18 GPU cores in its base configuration, ranging up to 14 CPU cores and 20 GPU cores. M3 Pro Macs will likely include higher-specification 14″ and 16″ MacBook Pros along with a Mac mini. The M3 Max has 16 CPU cores (12 performance and four efficiency) and 32 GPU cores at its base (ranging up to 16 CPU core and 40 GPU cores), likely found as options on 14″ and 16″ MacBook Pro as well as the Mac Studio. The M3 Ultra will have 32 CPU cores (24 performance and eight efficiency) and 64 GPU cores, ranging up to 32 CPU cores and 80 GPU cores, powering a Mac Studio model and the Mac Pro.
It is possible that the M3 Macs will include more base memory than the current options, with 36 and 48 gigabytes tested. The first M3 Macs should come out in October, with the M3 Pro and M3 Max likely to come out in 2024 and the M3 Ultra arriving at the end of the year at the earliest.
Source: Mark Gurman