Apple unveils new iPhone 15 and 15 Pro with new features and enhancements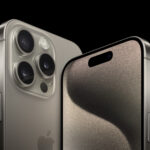 Apple today unveiled the new iPhone 15 family. The base 15 and 15 Plus are solid upgrades consisting (for the most part) of last year's 14 Pro innards and a newer 48MP camera. More significant upgrades were reserved for the iPhone 15 Pro and iPhone 15 Pro Max.
The Pro models feature aerospace-grade titanium construction, combining strength and lightweight design to create the lightest Pro models ever produced by Apple. The phones also introduce a host of new features, including customizable Action buttons, significant camera upgrades, the powerful A17 Pro chip, enhanced connectivity options, and innovative safety capabilities.
The iPhone 15/15 Pro and iPhone 15 Plus/15 Pro Max come in two sizes, 6.1 inches and 6.7 inches, and boast a premium titanium build (for the Pro models), a first for the iPhone lineup. This aerospace-grade titanium, known for its impressive strength-to-weight ratio, contributes to the phones' lightweight profile while ensuring durability. Apple has given them a refined brush texture, contoured edges, and slim borders, making them very pleasing to the eye.
The Pro models are designed to withstand the test of time, featuring the toughest back glass in the smartphone market and Apple's renowned Ceramic Shield on the front. The innovative use of titanium bands encasing a substructure made from 100 percent recycled aluminum enhances structural integrity and thermal performance, while also simplifying back glass replacement. This design showcases the Super Retina XDR display with Always-On and ProMotion technologies, ensuring a superior viewing experience.
The most notable addition to the iPhone's physical interface is the Action button. Replacing the traditional ring/silent switch, this multifunctional button offers users the choice of quickly accessing the camera, flashlight, Voice Memos, Focus modes, Translate, and accessibility features like Magnifier, or using Shortcuts for more versatility. The Action button is designed for intuitive use with a press-and-hold gesture, fine-tuned haptic feedback, and visual cues in the Dynamic Island.
Powering the iPhone 15 Pro and iPhone 15 Pro Max is the A17 Pro chip, a groundbreaking 3-nanometer silicon marvel and an industry first. This chip represents a significant leap in iPhone performance, with the largest GPU redesign in Apple's history. The new CPU is up to 10 percent faster, benefiting from microarchitectural and design enhancements, while the Neural Engine now boasts 2x faster speeds, enhancing features like autocorrect and Personal Voice in iOS 17. A pro-class GPU, now 20 percent faster, enables hardware-accelerated ray tracing, providing smoother graphics and more immersive AR experiences.
These devices offer console-quality gaming experiences with titles like Resident Evil Village, Resident Evil 4, Death Stranding, and Assassin's Creed Mirage. Additionally, A17 Pro incorporates a dedicated AV1 decoder for improved video streaming quality and introduces USB 3 speeds, enabling much faster data transfer and supporting video output up to 4K at 60 fps HDR.
The iPhone 15 Pro and iPhone 15 Pro Max feature an advanced camera system that leverages both hardware and software, equivalent to seven professional lenses, all powered by the A17 Pro chip. The 48MP Main camera, designed exclusively for the Pro models, offers a new 24MP super-high-resolution default mode, striking a balance between exceptional image quality and practical file size for storage and sharing. Users can switch between three popular focal lengths (24 mm, 28 mm, and 35 mm) and choose one as their new default.
Moreover, both devices support 48MP ProRAW and HEIF image capture. iPhone 15 Pro incorporates a 3x Telephoto camera, while iPhone 15 Pro Max features the longest optical zoom ever on an iPhone, offering 5x zoom at 120 mm. This Telephoto camera employs an innovative tetraprism design with combined optical image stabilization and autofocus 3D sensor-shift module for outstanding stabilization.
Next-generation portraits are sharper, feature more vivid colors, and excel in low-light conditions. Users can now take portraits without entering Portrait mode, as the device captures depth information when there is a person, dog, or cat in the frame, or when the user taps to focus. This enables users to transform photos into stunning portraits later on their iPhone, iPad, or Mac.
The iPhone 15 Pro lineup introduces convenient charging options and improved wireless performance. Both models use the USB-C connector, a universal standard for charging and data transfer. This connector supports USB 3 speeds, up to 10 gigabits per second, 20 times faster than previous iterations. Additionally, the second-generation Ultra Wideband chip extends the range for Precision Finding in Find My, making it easier to locate friends and devices, even in crowded places.
These devices also support Wi-Fi 6E for faster wireless speeds and are the first Thread-enabled smartphones, paving the way for Home app integrations. With super-fast 5G capabilities, MagSafe, and future Qi2 wireless charging, these phones are at the forefront of wireless connectivity.
The iPhone 15 lineup introduces critical safety features, including Crash Detection and Emergency SOS via satellite, currently available in 14 countries and regions. This groundbreaking service will expand to Spain and Switzerland later this month. Building upon this satellite infrastructure, the iPhone 15 Pro and iPhone 15 Pro Max introduce Roadside Assistance via satellite in the U.S. This service connects users to AAA, the country's largest roadside assistance provider, when traditional cellular and Wi-Fi coverage is unavailable. Access to Roadside Assistance via satellite is complimentary for two years and is covered according to AAA membership.
In summary, the iPhone 15 Pro and iPhone 15 Pro Max mark a solid upgrade, offering a combination of advanced features, performance, and innovative design. With their aerospace-grade titanium construction, powerful A17 Pro chip, and groundbreaking camera system, they represent a new era of iPhone excellence. Pre-orders begin on Friday, September 15, with availability starting on Friday, September 22.