Updated Apple iPhone Price Tracker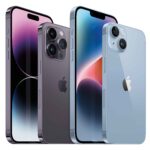 We've updated our iPhone Price Tracker with the latest carrier information on Apple's new iPhone 15 family of smartphones as well as previous models including the iPhone 14, 13, and SE.
Use our price tracker to find the best deal on an iPhone from major carriers such as Verizon, AT&T, and T-Mobile as well as numerous MVNOs such has Boost, Mint, and many others.
We also show you the lowest prices for base unlimited plans for each carrier, helping you decide which carrier is right for your needs.
Beginning today, you can get a new iPhone 15 for up to $1000 off MSRP, with trade-in, depending on the carrier. You can also get an iPhone 15 for $300-$400 off MSRP with no trade-in, again depending on the carrier.
We'll be updating our iPhone Price Tracker continuously as information comes in from wireless providers.