Apple's product roadmap for 2024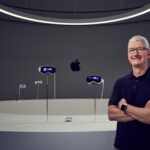 With the recent introduction of the iPhone 15 family of smartphones, the Apple Watch Ultra 2, Apple Watch Series 9, and updated AirPods Pro, Apple's lineup for the rest of 2023 is set. As we gaze into the tech horizon beyond 2023, there is much to anticipate from Apple. The tech giant has several product developments in the pipeline, promising to reshape the way we interact with their products and the world of technology in general.
One of the most eagerly awaited releases is the Apple Vision Pro, a headset poised to usher in a new era of augmented reality experiences. While its initial revenue impact may be modest, this innovation is expected to serve as a magnet, drawing consumers to Apple retail stores. The Vision Pro will (hopefully) create a halo effect, enhancing the appeal of Apple's entire product lineup.
The Apple Watch is set to receive a major overhaul, known as the "Series X" redesign, marking its 10-year anniversary. Beyond a refreshed design, users can look forward to cutting-edge health features, including a blood pressure monitor, anticipated to launch either next year or in 2025. Apple is also delving into the realm of AI-powered health coaching services, promising to revolutionize personal wellness.
Apple's iPad Pro is about to undergo its first major redesign in half a decade. Notably, both the 11-inch and 13-inch models will sport vibrant OLED displays. Complementing these enhancements are revamped accessories, including a Magic Keyboard with a sleek metal-top case, aligning it seamlessly with Apple's laptop offerings.
The imminent arrival of the M3 transition, characterized by the introduction of 3-nanometer Macs, promises to elevate the performance of Apple's computing devices. MacBook Airs, MacBook Pros, and other Macs are gearing up to embrace these cutting-edge chips, enhancing speed, efficiency, and overall user experience.
Building on the significant redesign unveiled this year, Apple's Pro iPhones are slated to feature slightly larger displays in the upcoming year. The evolution of screens remains a pivotal driver of iPhone hardware upgrades, offering users more immersive and engaging experiences.
In an important move, Apple is gearing up to enter the generative AI race in 2024. The company has been diligently working on an internal tool known as "Apple GPT" in tandem with their proprietary large-language model, Ajax. This strategic leap into artificial intelligence holds immense promise, shaping the future of AI-driven technology.
As we peer into Apple's future, it's clear that innovation remains at the heart of the company's mission. With these exciting developments on the horizon, Apple continues to redefine the boundaries of technology, offering users new ways to connect, create, and explore the digital world.
Source: Mark Gurman