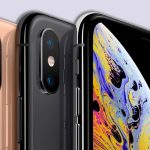 US Cellular is offering any iPhone Xs or iPhone Xs Max for $800 off for new customers. Their promotion reduces the price of Apple's new iPhones to a low of $199 for 64GB iPhone Xs models ranging up to $649 for the maxed out 512GB iPhone Xs Max.
The promotion requires US Cellular's Total Plan with unlimited data. $800 is applied to your account via monthly bill credit over 30 months. For one line, US Cellular's price for unlimited data is $65 per month, dropping to $40 per month with up to five lines. According to US Cellular, "All data on Unlimited Data plans streams at speeds of up to 3.0 Mbps and will automatically shift to 2G speeds when each line reaches 22GB."
More details are available on US Cellular's website.