Apple Price Trackers
The lowest prices from Apple's resellers
Updated
---
Latest Articles:
(Jump to our daily Apple deals)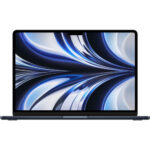 With the introduction of their new M2 processor, Apple released a completely redesigned 2022 13" MacBook Air. At the same time, Apple released a 13" MacBook Pro with an M2 CPU, but kept much of the existing design. Both models take advantage of Apple's M2 processor and offer a performance ...
Read More
Apple today introduced the 2022 13.6" MacBook Air with an M2 Apple processor. Apple's second-generation Apple Silicon processor, the M2 CPU, is a 5nm CPU with 20 billion transistors, 100GB/S unified bandwidth memory, and 8-core CPU with 18% greater performance than M1. Up to 24GB unified memory is supported. The ...
Read More
All recent articles…
---
---
Deals Ticker:
Missed a post?
See all the recent deals & sales here
---