iPevo Articulating Video Stand For iPhone And iPod touch – 'Book Mystique Review
I'm a huge fan of iPevo products, several of which I use regularly. Truly versatile design and quality construction counts for a lot. Most of the time my iPad lives in an iPevo KA-01 "Origami" iPad Folio case.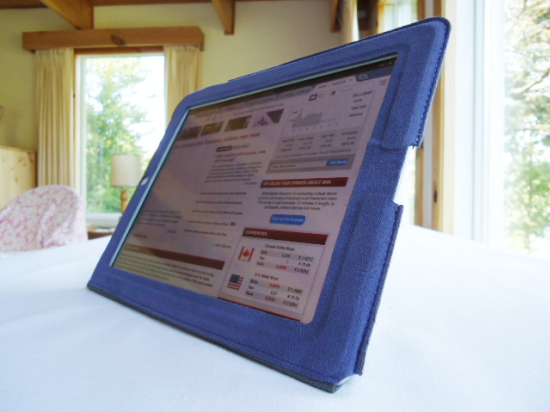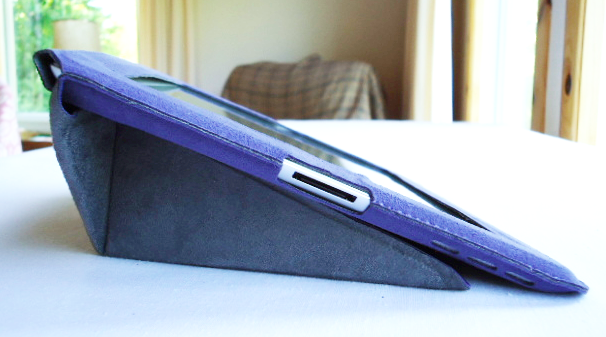 The iPad is most often used held by an iPevo PadPillow stand, which is the best solution I've found yet for iPad laptop support and on-screen typing.
Consequently I expect a lot from iPevo, and they've delivered again with the new iPevo Articulating Video Stand for iPhone and iPod touch.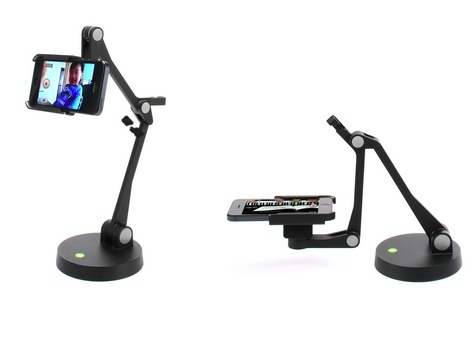 This is a multiple-use accessory that holds the iDevice steady and hands-free for macrophotography on a tabletop, including a strasight downward angle that many other stands are unable to achieve – making the stand ideal for capturing documents as well as objects, much like iPevo's own document cameras. And because the Articulating Video Stand allows for hands-free capture, it can also be used as a camera tripod surrogate for either still photography or video recording, or just to position the screen conveniently for movie and video watching, Skype chatting, and the like.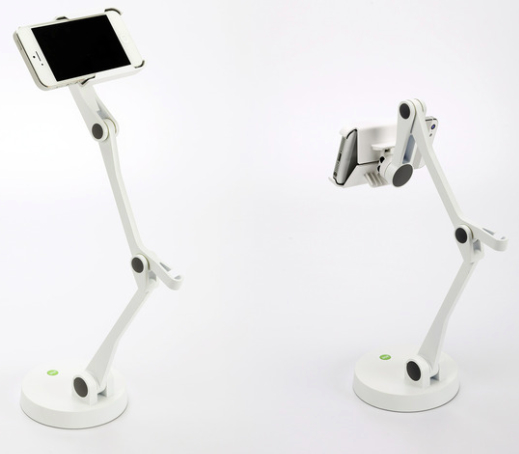 The video stand features a multi-jointed swing support arm anchored to a heavily-weighted base that holds the iDevice securely in an instant insert/release swivel mount that allows for infinite and precise camera positioning in a secure and stable manner at any height and angle adjustment within the range.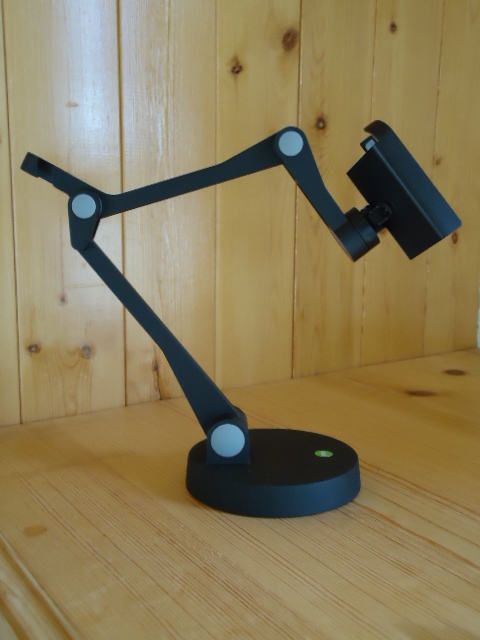 The spring-loaded quick-release mount is the most convenient and slick such arrangement I've encountered with any stand or accessory –'elegant, simple, highly functional, and rugged.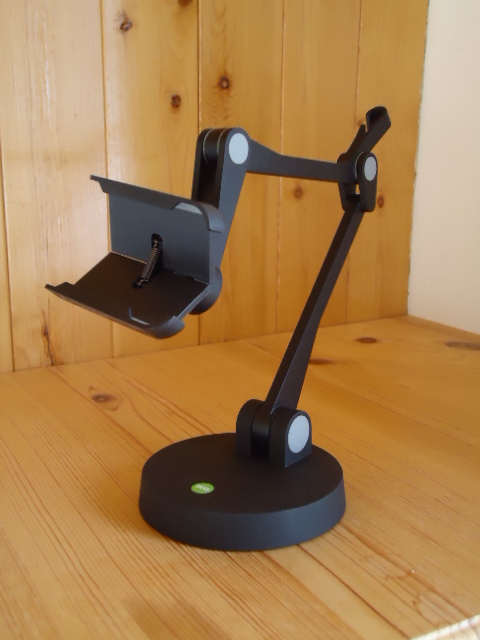 You really can mount and unmount the iDevice in shorter time than it takes to say. Rubber inserts inside the grip prevent any damage to the iPhone or iPod touch, and a rear hook in the middle of the swing-arm allows the mounted device to charge without the cord hanging in front of the screen.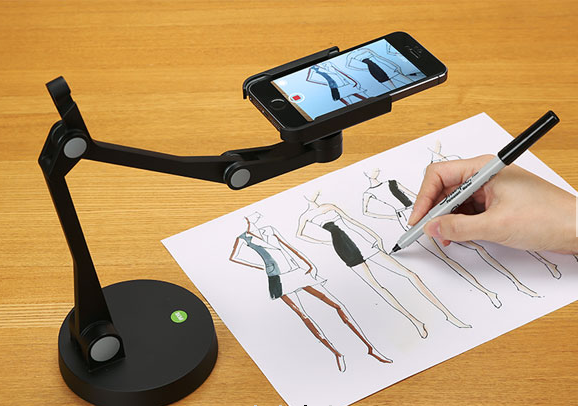 iPevo stresses that the Articulating Video Stand can help users achieve high-quality capture due to its range of camera angles and complete device stability, features that can't be achieved with handheld operation and its associated shakiness.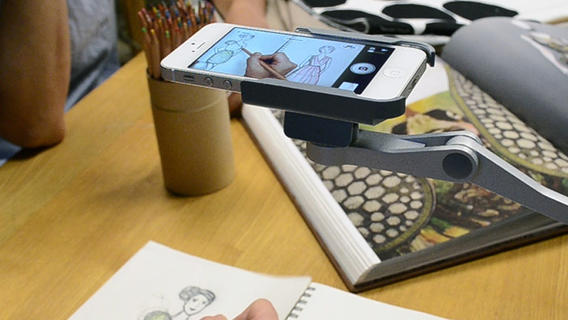 Mounted on the Articulating Video Stand, the Apple device may be used like a document camera in classroom and office contexts with the iPevo Presenter app, which is available for free through the Apple App Store.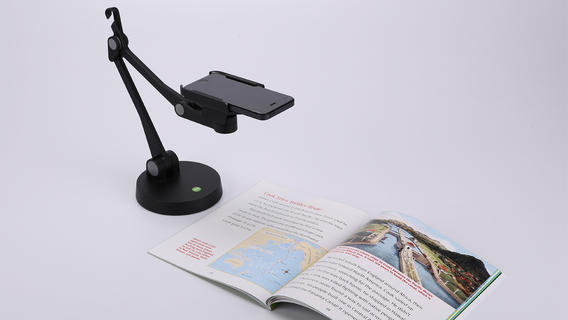 Two focus modes, live image pause, orientation rotation and lock, and a one-touch ability to switch between the front and rear cameras are a few of the features possible in iPevo Presenter.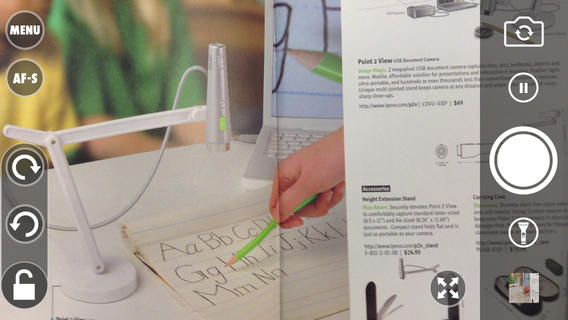 iPevo's mission statement is to introduce a whole new approach to classroom teaching by making versatile testing tools teaching tools instead of specialized "classroom equipment." They go beyond the usual conventions of classroom teaching, large, expensive, specialized, and complex — to rethink simple and flexible solutions to teaching tools.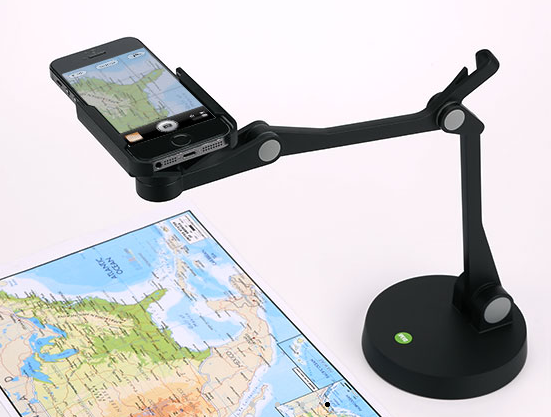 However, I hasten to observe that the iPad Articulating Video Stand will find many uses outside the classroom — in homes, offices, workshops, and labs.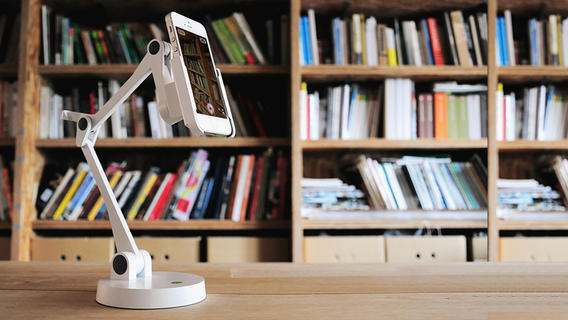 The device is constructed of mostly precision machined, anodized metal of generous enough proportions that the term "flimsy" is farthest from mind. I don't anticipate that the swing arms' articulating joints will have any problems with loosening up after a few months use. The stand is somewhat heavy to lug around due to the weighted base and quality materials, but it's a lot more convenient to pack along than a full-sized tripod.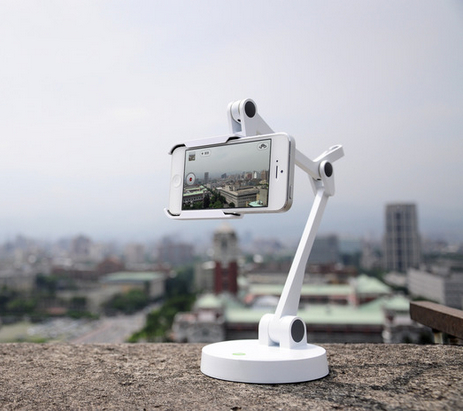 I can't really think of anything to complain about with the iPevo Articulating Video Stand other than that it's too small,to hold an iPad, and the iPevo folks tell me that's in the works if demand warrants production. It would help if Apple were to upgrade the iPad rear camera to the same 8 megapixel resolution as the iPhone 5/5s camera. But I digress. I'm giving the current product for iPhone, iPod touch, and any other small handheld device of similar dimensions a full 5 out of 5 rating.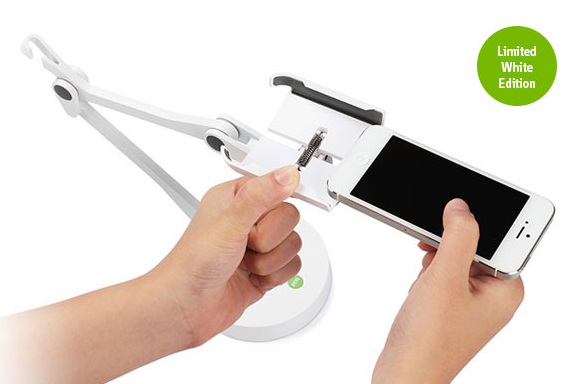 Articulating Video Stand for iPhone and iPod Touch:
http://goo.gl/Wi6fuj
Articulating Video Stand for iPhone and iPod Touch – Black :
http://goo.gl/wov5vE
Purchase from Amazon:
http://goo.gl/KnriYL
IPEVO Presenter 1.1:
https://itunes.apple.com/app/ipevo-presenter/id702664497
Facebook Profile:
https://www.facebook.com/ipevous
Twitter Profile:
https://twitter.com/ipevo