iPad And iPhone Kung Fu – 'Book Mystique Review
When the review copy of iPad And iPhone Kung Fu arrived, I was surprised by how thin the book was. But somehow, author Keir Thomas has managed to pack an astonishing amount of useful information — 318 tips in all — into fewer than 300 pages that include a 20-page table of contents, a 24-page Index, plus several more pages devoted to Acknowledgements, a Preface, and ads for other titles in the Pragmatic Bookshelf Kung Fu series.
Kung Fu indeed.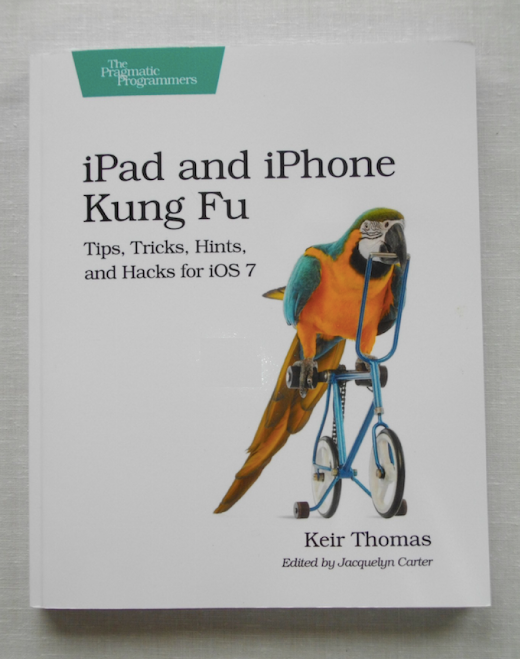 There is no explanation of why Thomas (or Pragmatic Bookshelf) used Kung Fu in the title, but it seems appropriate. You're probably at least vaguely aware that the term refers to a Chinese martial arts style or styles., but literally in Chinese, "Kung" means "work" or "achievement," and "Fu" denotes high intensity.
Oldsters like me may remember Kung Fu as the title of a hybrid television drama series that aired on ABC from October 1972, to April 1975, starring David Carradine as Kwai Chang Caine — a half-American, half-Chinese monk and martial artist trained at China's Shaolin Monastery wandering the western U.S. in late 19th Century. Keye Luke co-starredin in flashbacks as Caine's Shaolin mentor and teacher. There was also a spinoff series called "Kung Fu: The Legend Continues" that ran from 1972 to 1975, again starring David Carradine as the grandson and namesake of the original Kwai Chang Caine, and Chris Potter as his son Peter Caine — a police detective.
Although David Carradine had never formally trained martial arts until after the first Kung Fu series was cancelled, and knew nothing of the practice of Kung Fu when first cast as Kwai Chang Caine, after the first series was canceled he began to study martial arts, and while he reportedly never considered himself a Kung Fu master, his serious engagement with the philosophy lent authenticity to the second series. Carradine is said to have thought of himself as a Kung Fu "evangelist," and in the early '00s he produced and starred in several instructional videos on T'ai Chi and Qigong. He visited the Shaolin Monastery in Henan, China when filming extra features for the third season of the Kung Fu DVDs, and according to Wikipedia during his visit there, the abbot, Shi Yngxn, said he recognized Carradine's important contribution to the promotion of the Shaolin Monastery and Kung Fu culture. Carradine died under somewhat mysterious circumstances in Bangkok in 2009.
Anyway, "high intensity achievement" describes quite aptly what Keir Thomas's has done with iPad and iPhone Kung Fu. It's a no nonsense or frills package of concentrated content, and even more remarkable in that it sells for a very reasonable $19.95, at which price it's more than a bit of a bargain.
Less than half an hour after first opening the book, I was doing stuff with my iPad I hadn't been aware it could do. Apple products don't ship with much print documentation these days, and I detest on-screen user manuals, but if the iPad did have a real user manual, iPad and iPhone Kung Fu picks up where such a reference would have left off. Consequently, Thomas, who has authored more than ten books, including Mac Kung Fu and Ubuntu Kung Fu for Pragmatic Bookshelf, was pretty much obliged to first off cover the basics in iPad and iPhone Kung Fu Chapter 1's 48 pages. That's up to and including "basics" such as jailbreaking.
However, even if you've logged several years on the iPad and/or iPhone as I have, I'd be surprised if you don't find some features that you weren't previously aware, or that needed some elucidation of those first 15 "basics" topics, and there are still 303 more in the meat of the book, the intent of which is to efficiently transform you from a beginner or casual user to power-user level on these machines. As the cover notes affirm, most of the tips, tricks, hints, and hacks described therein take only a minute or two to implement, but can literally change your life.
There are only two chapters in iPad and iPhone Kung Fu, the second being 200 pages long and divided into those 303 remaining tips, tricks, hacks, and shortcuts, and this book delivers on its promise. Notwithstanding (or perhaps because of) his admirable talent for brevity, Thomas writes readable prose that is more conversational than pedantic, while still managing to get straight to the point.
The book is not intended to be a cover-to-cover read, although there' soothing to stop you from reading it that way if you wish. It's primarily a reference work, hence the two tables of contents and extensive index. You can just browse or dig for topics of particular interest to you. A 20-page sampler in PDF format posted here will give you a taste of the content and format.
It would be tedious to try and summarize coherently 318 tips in a review. However, one of the two tables of contents does classify them in general categories: office, maps and navigation, creativity, entertainment, system and security, calls messages and connections, web and email, and the longest one of all: productivity. That makes sense, because productivity is where I see the iPad and iPhone needing the most help.
Some selected samples of tips include: "easily select paragraphs, sentences, and lines" – 6; "Copy items between iWork apps," – 219; "Get your longitude and latitude fix" – 106; "take photos in burst mode" – 1; "move right to left when taking a panorama shot" – 60; "take photos like you would with a point-and-shoot camera" – 94; quickly adjust color and brightness in iPhoto – 165; "rotate and crop photos in iPhoto" – 290; "quickly rip your CD collection for your iPad or iPhone" – 29; "view lyrics while listening to music" 43; "create folders in the dock" – 33; "print to any printer connected to a Mac or Windows PC" – 81; "avoid wearing out the home button" – 137; "fix crashes" – 184; "Instantly switch to the last used app" – 239 ; "quote only part of a message in an email reply" – 50; "quickly type a period" – 63; "dictate like a pro" – 287. And of course, plenty more. A few I was already familiar with; most were new to me. You can browse the entire tables of contents here:
http://media.pragprog.com/titles/ktios/TOC.pdf
As I noted in the preamble, there's an awful lot of useful information in this book. I'm giving it a five out of five rating.
For more information, or to purchase, visit:
http://pragprog.com/book/ktios/ipad-and-iphone-kung-fu
DRM-free prices:
eBook + Paper Book ($24.00)
Paper Book ($19.00)
eBook ($12.00)
Buy the eBook and get these DRM-free formats delivered immediately:
epub (for iPhone/iPad, Android, eReaders)
mobi (for Kindle)
PDF
Amazon.com
Paper: $16.56
Kindle $9.13
Amazon:
http://amzn.to/1gzlTzs