Apple Claims Reinvention Of The Notebook With New 12-Inch MacBook
At Apple's "Spring Ahead" special event on Monday, the company unveiled its new MacBook line of notebooks that it says have been reinvented in every way to deliver the thinnest and lightest Mac systems ever, and reviving a nameplate last used on the entry level/education white polycarbonate MacBook model in 2011.
Apple claims that every new MacBook component has been meticulously redesigned to create a Mac weighing just two pounds and measuring 13.1 mm thick at its deepest dimension. The new MacBook also features a 12-inch Retina display that is also the thinnest ever on a Mac, a dramatically thinner, Apple-designed full-size keyboard that is stillhighly responsive, Apple's all-new Force Touch trackpad technology that brings a new dimension of interactivity to the Mac, acompact US B-C port for data transfer, video out and charging in a single connector, and a new battery design that maximizes every millimeter of internal space to deliver claimed all-day battery life.
Photo Courtesy Apple
"Apple has reinvented the notebook with the new MacBook, and at just two pounds and 13.1 mm, its the thinnest and lightest Mac ever," said Philip Schiller, Apple's senior vice president of Worldwide Marketing. "Every component of the MacBook reveals a new innovation. From its fanless design, ultra-thin Retina display and full-size keyboard thats 34 percent thinner, to its all-new Force Touch trackpad, versatile USB-C port and breakthrough terraced battery design, the new MacBook is the future of the notebook."
Measuring just 13.1 mm at its thickest point, the new MacBook design is amazingly 24 percent thinner than the already svelte 11-inch MacBook Air. With a new precision-milled unibody enclosure featuring integrated Wi-Fi antennas and a top case with polished stainless steel Apple logo, MacBook is available in a choice of three finishes — gold, silver and space gray — and is the first MacBook with an all-metal enclosure.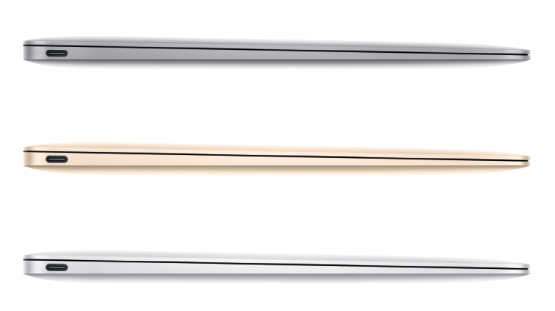 Photo Courtesy Apple
A comfortable keyboard is essential to the Mac experience and the new MacBook is designed around a new full-size keyboard. To fit a full-size keyboard into the anorexically thin MacBook meant completely re-engineering how a notebook keyboard works. The new keyboard is 34 percent thinner and uses an Apple-designed butterfly mechanism that is an 40 percent thinner than a traditional keyboard scissor mechanism yet claimed to be four times more stable, providing greater precision no matter where your finger strikes the key. New stainless steel dome switches located beneath each key are designed to deliver a crisp and responsive feel when typing, and every key on the new keyboard is individually backlit with its own single LED to deliver precisely calibrated, uniform brightness behind each keycap.
The perfect match to a full-size keyboard is a 12-inch display, and the new MacBook features a 12-inch Retina display with a 16:10 aspect ratio. Measuring just 0.88 mm in section, the Retina display on the new MacBook is the thinnest display ever on a Mac. With a larger aperture for each pixel, the new Retina display is also extremely efficient and uses 30 percent less energy than existing Mac notebook Retina displays, while delivering the same level of brightness and a resolution of 2304 x 1440.
MacBook also features the all-new Force Touch trackpad that brings a new dimension of interactivity to the Mac. The new trackpad features built-in force sensors that allow you to click anywhere and haptic feedback that provides a responsive and uniform feel. You can even customize the feel of the trackpad by changing the amount of pressure needed to register each click. The Force Touch trackpad also enables a new gesture called Force Click, a click followed by a deeper press, for tasks like pulling up the definition of a word, quickly seeing a map or glancing at a preview of a file.

Photo Courtesy Apple
Applying miniaturization techniques used in iPhone and iPad, MacBook features the most compact logic board ever in a Mac, measuring an amazing 67 percent smaller than the logic board of the 11-inch MacBook Air. With no moving parts or vents, the new MacBook was designed from the ground up to be the first fanless Mac notebook since mid-1990 PowerBook models, providing silent, efficient performance. MacBook features the new fifth-generation Intel "Broadwell" Core M processor that runs at just 5 watts and Intel HD Graphics 5300. The highly efficient processors work in conjunction with optimizations throughout OS X to make the new MacBook the worlds most energy efficient notebook according to Apple.*
The new MacBook features a new terraced battery design that is layered in individual sheets that are precisely contoured to fit the MacBook's curved enclosure. As a result, the new MacBook has 35 percent more battery capacity than would be possible with traditional battery cells and delivers a claimed all-day battery life with up to 9 hours of wireless web browsing and up to 10 hours of iTunes movie playback.**
Designed for the wireless world, MacBook is perfect for tasks like streaming content from your MacBook to your HDTV using AirPlay, exchanging files quickly using AirDrop, or using wireless headphones. MacBook is equipped with the latest wireless technologies, including built-in 802.11ac Wi-Fi and Bluetooth 4.0 for fast wireless connectivity.
The new MacBook also features a next-generation USB-C port that is compact, yet extremely versatile and even more user friendly. A new industry standard, USB-C supports higher wattage charging, USB 3.1 Gen 1 (5Gbps) data transfer and DisplayPort 1.2 all in a single connector one-third the size of a traditional USB port.
OS X Yosemite is preinstalled, along with bundled Apple iLife and iWork software including iMovie, GarageBand, iPhoto, and Pages, Numbers and Keynote that come free with every new Mac. Pages, Numbers and Keynote for iCloud let you create a document on iPhone or iPad, edit it on your Mac and collaborate with friends, even if they are on a PC. An updated Photos for OS X app keeps your growing photo and video collection automatically organized and easy to navigate and will be included in an OS X Yosemite update this spring.
Be sure to check our 12″ MacBook Price Tracker for the latest prices and deals from Apple's resellers, updated daily.
The new MacBook will begin shipping Friday, April 10 through the Apple Online Store (http://www.apple.com), Apple's retail stores and select Apple Authorized Resellers. MacBook comes with a 1.1 GHz dual-core Intel Core M processor with Turbo Boost speeds up to 2.4 GHz, 8GB of memory, 256GB of flash storage and Intel HD Graphics 5300 starting at $1,299 (US); and with a 1.2 GHz dual-core Intel Core M processor with Turbo Boost speeds up to 2.6GHz, 8GB of memory, 512GB of flash storage and Intel HD Graphics 5300 starting at $1,599 (US). Additional technical specifications, configure-to-order options and accessories are available online at http://www.apple.com/macbook
Notes:
*Claim based on energy efficiency categories and products listed in the EPA ENERGY STAR database for Notebook Computers as of March 5, 2015.
**The Wireless Web protocol testing was conducted by Apple in March 2015 using preproduction MacBook configurations. Battery life and charge cycles vary by use and settings.
For more information visit:
http://www.apple.com/macbook
Source: Apple