Digital Paper Tablet Offers Distraction Free Reading And Writing Environment – The 'Book Mystique
I typically spend 8-10 hours a day gazing at the screens in my laptops and iPad, as tools of my livelihood, I don't as a rule use electronic devices for pleasure reading. I subscribe to a daily newspaper and several monthly magazines, and reading books on screen holds no appeal at all for me.
I do a lot of research online, but when reading for personal enjoyment I much prefer the tactile feel of ink-on-paper to the hard sterility of metal, plastic, and glass device housings, and the absence of backlight glare with ink-on-paper calms the psyche when one wants to settle down in a comfortable spot for a good read. Ink-on-paper also requires no battery or wall current power and works just fine off the grid.
I also used to compose blogs and articles mostly longhand with a pen or pencil and paper, although I've been gradually seduced by the powerful text editing facility provided by electronic word processing. However, I still sometimes do a first rough draft longhand, then convert it to digital text for final editing, refining, and proofing by reading it into a dictation utility such as the excellent Dragon products on the iPad or Mac, or Apple's built-in dictation technology to convert my scribbling to editable text.
If one opts to go digital for reading, I've long admired the E-ink electrophoretic display technology in my wife's Kindle e-reader and other similar devices, also known as electronic paper display. These types of screens use physical ink in the display, and therefore don't need backlight to illuminate what appears on the screen, instead, they reflect light much in the same way as paper and are thus comfortably legible even outdoors in bright sunlight, whereas I still find my iPad Air 2 even with its bright, anti-glare display, frustrating to use in daylight outdoors. A downside is that E-ink panels are monochrome, capable of showing black, white and grayscale. Another is that E-ink displays have too slow a refresh rate to make viewing dynamic content like videos possible.
iPad air 9.8″ (with full brightness) versus reMarkable 10.3″ with its electronic paper display outside on a cloudy day in Oslo – Photo courtesy reMarkable
Consequently, an E-ink device cannot be advocated as a satisfactory substitute for an iPad or personal computer for things like web surfing, photo editing and sharing, watching videos, streaming Netflix, playing video games, and so forth. But as a complimentary device, an E-ink tablet would provide a superior mobile platform for both distraction-free reading and composing. Electronic paper displays are also extremely economical with power demands and can operate for days or weeks between battery charges — a combination of qualities many should find attractive.
Magnus Wanberg thinks so. The Oslo, Norway based developer is CEO and founder of reMarkable, a startup dedicated to building and marketing an electronic paper screen tablet. Wanberg believes paper is the ultimate tool for thinking, letting our minds work without restrictions or distractions, obliging us to focus.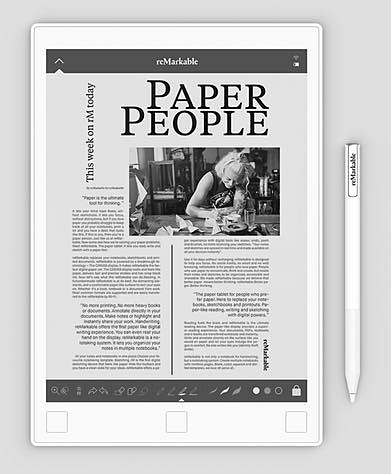 In 2013, Wanberg began assembling a product development team to create a connected digital paper tablet for reading, writing and sketching. Dubbed "reMarkable," this device is designed to be an elegant tool for thinking in the digital age, for those who cherish the simplicity and power of working on paper. reMarkable notes that while there are few tablets on the market offering less functionality than reMarkable, it does the things it is made for better than any other device. After four years of development the reMarkable is almost ready for release.
reMarkable's paper-like display allows users to write and annotate directly on the surface like they would on paper, but also to instantly transfer documents, PDFs, textbooks and e-books wirelessly with ease.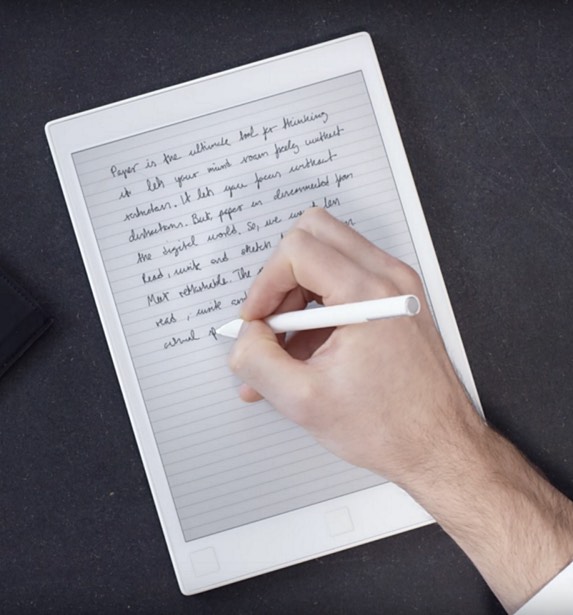 Content is instantly synced to reMarkable's cloud service and made available on all your devices. reMarkable connects to the internet for easy sharing and collaboration across devices, and you can even take notes on one device and have it appear on a second device, in real time.
Working in close collaboration with electronic ink technology innovator E Ink, the reMarkable team have spent the last three years developing and perfecting what they call a breakthrough digital paper tablet that delivers an experience more like working with real paper but yet, is still connected to the digital world, a disruption-free device that replaces traditional notepads, sketch pads, and printed documents.
reMarkable's 10.3 display features breakthrough proprietary technology known as the CANVAS display, which delivers a record-breaking low 55ms latency, pen-on-paper experience much better than has been available with handwriting input heretofore. reMarkable features palm rejection, crucial for a natural writing experience.
You can read ebooks through reMarkable's PDF and .EPUB file format support, but note that some e-books contain DRM (digital rights management), which reMarkable does not support at this time. Also note that the Amazon Kindle ecosystem is not open to third parties, so you can't read your Kindle books directly on the reMarkable. The reMarkable supports the open e-book format EPUB without DRM, a format available with many e-book retailers.
reMarkable isn't available in retail quite yet, but the company is accepting pre-orders for a limited first edition reMarkable including a pen, folio case and shipping for $429 USD. Shipping is estimated to begin in September 2017.
The pre-order price features a limited edition bundle which is priced at $429, though this offer is not permanent and pricing may change as we move towards the first shipment of products. If you order now the plan is to ship in September 2017. Shipping costs for the reMarkable is included in the pre-buy price. Shipping method may vary depending on your shipment address, country and region.
reMarkable Specifications
Dimensions:
177 x 256 x 6.7mm (6.9 x 10.1 x .26 inches)
Weight:
Approximately 350 gram (.77 pounds)
CANVAS display:
10.3" monochrome grayscale digital paper display (no colors)
1872×1404 resolution (226 DPI)
Partially powered by E-ink Carta technology
Multi-point capacitive touch
No glass parts, claimed to be virtually unbreakable
Paper-like surface friction
Pen:
No battery, setup or pairing required
Special high-friction pen tip
Tilt detection
2048 levels of pressure sensitivity
Storage and RAM:
8 GB internal storage (100,000 pages)
512 MB DDR3L RAM
Connectivity:
Wi-Fi connected
Battery:
Rechargeable (Micro USB)
3000 mAh
If you use the reMarkable for 2-3 hours a day, it will likely last all week
Processor:
1 GHz ARM A9 CPU
Operating system:
Codex, a custom Linux-based OS optimized for low-latency e-paper
Document support:
PDF and ePUB, with more formats to be announced
For more information, visit the reMarkable website at:
http://getremarkable.com