Retro Review: 1999 PowerBook G3, Lombard
Originally published in 1999
The 1999 PowerBook G3 was an evolutionary change from previous G3 models, not revolutionary. Lombard, as they are called, was 20% thinner and 2 pounds lighter than previous models and sported a 5 hour battery life – 10 hours when using two batteries. The series was separated into two models (PowerBook G3/400 and PowerBook G3/333) based on processor speed, among other things. Below are the MacBench 5 benchmarks for a PowerBook G3/400 with 192MB RAM running OS 8.6 and extensions disabled: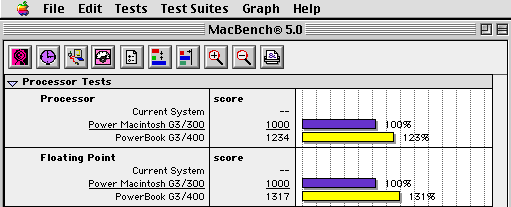 I purchased a PowerBook G3/400/DVD in June, 1999. Coming from a PowerBook 1400c/233 (Vimage), Lombard's screen seemed huge. I didn't realize what I was missing. Bigger is certainly better as far as screen sizes go. Lombard was a little lighter in weight than the 1400, even with the battery and DVD installed, and its sleek design made the 1400 look like a dinosaur.
Speed? Oh, yeah, Lombard was fast. I had a beige Power Mac G3/300 at work at the time, and I thought that the Power Mac was much faster than my 1400c/233. After I got a PowerBook G3/400, though, I thought that the PowerBook was faster than the Power Mac. Boot time was cut in half, and then some, and applications opened so fast that you didn't have time to read their splash screens. The DVD-Drive was very nice, and Apollo 13 ran flawlessly on my screen – no skipped frames or any other type of slow down. The speakers were also a major improvement over the one in the PowerBook 1400.
Yes, the Apple logo glowed brightly on the lid – not that you could see it when you were typing, and I did think it was upside down. When the screen was open, the Apple logo was glowing upside down. The keyboard, power button, trackpad, trackbutton, and lid-latch were all bronze-translucent. Nice touch, but the translucent nature of the keys made them a little harder to recognize. Compared to the 1400, having the sound controls (up, down, and mute) as Fn keys was very convenient, but I missed the full-size arrow keys and oversized command key.
Downsides? Well, I wasn't thrilled with the keyboard and trackbutton. I'm still convinced that the keyboard on the 1400 was the best ever made on any laptop, Mac or PC, period. The new one was a little squishy and not properly seated. The trackbutton on Lombard also takes more force to hold down compared to the 1400. Finally, I'd have liked to have the modem RJ-11 jack outside the port door. I didn't experience a high-pitched whine, like others have reported, nor did I hear a loud fan very often (although CDs – not DVDs -spin loudly). My machine ran silent and not too hot. Lombard is a nearly-perfect and flawless laptop, at least in my experience, and I'd recommend it for nearly any application in today's world.

Rating
At the time: A+

General (PowerBook G3/400)
400MHz PowerPC G3 processor
1MB backside L2 cache
64MB standard RAM, maximum 384MB
Available 6.0GB or 10.0GB hard drives
DVD-ROM drive
56k internal modem
No floppy drive
Available as build-to-order through Apple Store
General (PowerBook G3/333)
333MHz PowerPC G3 processor
512K backside L2 cache
64MB standard RAM, maximum 384MB
Available 4.0GB, 6.0GB, or 10.0GB hard drives
24x CD-ROM drive
56k internal modem
No standard floppy drive
Available as build-to-order through Apple Store
Ports
2 USB
stereo in
stereo out
video out
S-video out
HDI-30 SCSI
IR
2 expansion bays
1 PC card slots
ethernet
internal modem
Display
14.1" TFT XGA active matrix at 1024×768 resolution, able to display varying resolutions.
Weight
Apple's Specifications:
PowerBook G3 Series (bronze keyboard, 400 MHz)

Logic Board
Ports
Power

| | |
| --- | --- |
| Processor: | G3, 400 MHz |
| PMMU: | integrated |
| FPU: | integrated |
| Data Path: | 64-bit, 66/83Mhz |
| L1 Cache: | 64kb |
| L2 Cache: | 1 MB |
| 2nd Processor: | none |
| Slots: | 2 Type II PC Card |

ADB:
none
Video:
HDI-15
Floppy:
none
SCSI:
HDI-30
Geoports:
none
Ethernet:
10/100 Base-T
FireWire:
Mic Type:
PlainTalk
Other Ports:
Printer, Modem, Speaker,
Headphone,


| | |
| --- | --- |
| Max Watts: | 45 |
| Amps: | 1.2 |
| BTU per Hr: | 153.9 |
| Voltage: | 100-240 |
| Freq Range: | 50-60 Hz |
| Battery Type: | 50 Wh Lithium Ion |
| Soft Power: | yes |

Memory
Video Memory

| | |
| --- | --- |
| Logic Board: | none |
| RAM Slots: | 2, SO-DIMM |
| Min – Max RAM: | 64 MB – 384 MB |
| Min RAM Speed: | 10ns |
| RAM Sizes: | 64, 128, 256 MB |
| Install in Groups of: | 1 |

Resolution
Video Memory
built-in LCD (8MB VRAM)
(built-in)
512 x 384
n/a
640 x 400
n/a
640 x 480
n/a
800 x 600
n/a
832 x 624
n/a
1024 x 768
32-bit
1152 x 870
n/a
1280 x 1024
n/a

Physical
Software
Storage

| | |
| --- | --- |
| Introduced: | 5/7/1999 |
| Discontinued: | n/a |
| Form Factor: | PowerBook G3 Series |
| Gestalt ID: | |
| Weight (lbs): | 5.9 |
| Dimensions (in): | 12.7 H x 10.4 W x 1.7 D |
| | |

Addressing Modes:
32-bit
Orig SSW:
8.6
Orig Enabler:
ROM ID:
ROM Ver:
ROM Size:
AppleTalk Ver:
Mac OS
Supported:

| | |
| --- | --- |
| Floppy Size: | none |
| Floppy Inject: | n/a |
| Min. Int HD Size: | 6, 10 GB |
| Int HD Interface: | IDE |
| Orig CD Speed | 24x |
| Int CD Support: | yes |
PowerBook G3 Series (bronze keyboard, 333 MHz)

Logic Board
Ports
Power

| | |
| --- | --- |
| Processor: | G3, 333 MHz |
| PMMU: | integrated |
| FPU: | integrated |
| Data Path: | 64-bit, 66/83 Mhz |
| L1 Cache: | 64 K |
| L2 Cache: | 512 K |
| 2nd Processor: | none |
| Slots: | 2 Type II PC Card |

ADB:
none
Video:
HDI-15
Floppy:
none
SCSI:
HDI-30
Geoports:
none
Ethernet:
10/100 Base-T
FireWire:
Mic Type:
PlainTalk
Other Ports:
Printer, Modem, Speaker,
Headphone,


| | |
| --- | --- |
| Max Watts: | 45 |
| Amps: | 1.2 |
| BTU per Hr: | 153.9 |
| Voltage: | 100-240 |
| Freq Range: | 50-60 Hz |
| Battery Type: | 50 Wh Lithium Ion |
| Soft Power: | yes |

Memory
Video Memory

| | |
| --- | --- |
| Logic Board: | none |
| RAM Slots: | 2, SO-DIMM |
| Min – Max RAM: | 64 MB – 384 MB |
| Min RAM Speed: | 10 ns |
| RAM Sizes: | 64, 128, 256 MB |
| Install in Groups of: | 1 |

Resolution
Video Memory
built-in LCD (8 MB VRAM)
(built-in)
512 x 384
n/a
640 x 400
n/a
640 x 480
n/a
800 x 600
n/a
832 x 624
n/a
1024 x 768
32-bit
1152 x 870
n/a
1280 x 1024
n/a

Physical
Software
Storage

| | |
| --- | --- |
| Introduced: | 5/1/1999 |
| Discontinued: | n/a |
| Form Factor: | PowerBook G3 Series |
| Gestalt ID: | |
| Weight (lbs): | 5.9 |
| Dimensions (in): | 12.7 H x 10.4 W x 1.7 D |
| | |

Addressing Modes:
32-bit
Orig SSW:
8.6
Orig Enabler:
ROM ID:
ROM Ver:
ROM Size:
AppleTalk Ver:
Mac OS
Supported:

| | |
| --- | --- |
| Floppy Size: | none |
| Floppy Inject: | n/a |
| Min. Int HD Size: | 4, 6, 10 GB |
| Int HD Interface: | IDE |
| Orig CD Speed | 24x |
| Int CD Support: | yes |