Retro Review: PowerBook G3 Configurations Revealed
Originally published in 2001. Several of our readers have sent us email about the various PowerBook G3 Series configurations and how they were confused when buying used or refurbished models at various vendors. Most of the confusion revolves around the 12.1" models and the 233MHz 14.1" models.
Some of the PowerBook G3 Series I models, introduced in May 1998 and referred to as Wall Street, had available 12.1" passive-matrix screens with either 233MHz or 250MHz CPUs. The 233MHz variety had no L2 cache, and some didn't ship with modems. PowerBook Central recommends that you avoid the 12.1" passive-matrix (DSTN) screens like the plague, no matter how cheap they are. A 14.1" active-matrix (TFT) model was also produced with the 233MHz CPU, and this model also had no L2 cache.
With the introduction of the PowerBook G3 Series II in September 1998, Apple gave the 233MHz CPU 512K of L2 cache and upgraded the 12.1" screens to active-matrix. This corrected the biggest problems we had with the Series I models. The Series II models also included a choice of 266 and 300MHz processors.
So how do you tell the difference? For 12.1" screens, make sure you know if it's the passive-matrix (DSTN) version or active-matrix (TFT) model. This is usually given in the description of the PowerBook. For 233MHz models with 14.1" screens, those which have a model number beginning with "6" are cacheless Series I models, while those whose numbers begin with "7" are Series II models with L2 cache. These are the specs for Series I can Series II Wall Street PowerBook G3's: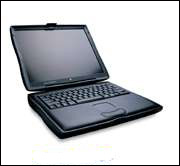 Model
RAM/MAX (MB)
Hard Drive
CPU
Cache
Display
Media
G3/12.1
32/192
2.0 GB
G3 PPC 233 MHz
none
12.1" DSTN PM 1000s colors
20x CD
no modem
G3/12.1
32/192
2.0 GB
G3 PPC 233 MHz
none
12.1" DSTN PM 1000s colors
20x CD
G3/12.1
32/192
2.0 GB
G3 PPC 250 MHz
1 MB backside L2
12.1" DSTN PM 1000s colors
20x CD
G3/13.3
32/192
2.0 GB
G3 PPC 233 MHz
none
13.3" TFT AM millions colors
20x CD
G3/13.3
32/192
2.0 GB
G3 PPC 250 MHz
1 MB backside L2
13.3" TFT AM millions colors
20x CD
G3/13.3
64/192
4.0 GB
G3 PPC 292 MHz
1 MB backside L2
13.3" TFT AM millions colors
20x CD
G3/14.1
32/192
2.0 GB
G3 PPC 233 MHz
none
14.1" TFT AM millions colors
20x CD
G3/14.1
32/192
4.0 GB
G3 PPC 250 MHz
1 MB backside L2
14.1" TFT AM millions colors
20x CD
G3/14.1
64/192
8.0 GB
G3 PPC 292 MHz
1 MB backside L2
14.1" TFT AM millions colors
20x CD
G3 II
233
32/192
2.0 GB
G3 PPC 233 MHz
512K backside L2
12.1" TFT AM millions colors
20x CD
G3 II
233
32/192
2.0 GB
G3 PPC 233 MHz
512K backside L2
14.1" TFT AM millions colors
20x CD
G3 II
266
64/192
4.0 GB
G3 PPC 266 MHz
1 MB backside L2
14.1" TFT AM millions colors
20x CD
G3 II
300
64/192
8.0 GB
G3 PPC 300 MHz
1 MB backside L2
14.1" TFT AM millions colors
DVD-ROM, 20x, or 24x CD
In 1999, Apple introduced Lombard model PowerBook G3's, also referred to as Bronze Keyboard. These machines were a little thinner & lighter with translucent bronze keyboards and the words 'Macintosh PowerBook G3' on the casing below the screen. The white Apple logo on the lid glowed when the machine was on. This also marked the introduction of USB on PowerBooks. Lombard PowerBook G3's were available with 333 and 400MHz processors and a 66MHz system bus. Here are the specs for Lombard PowerBook G3's:

| Model | RAM/MAX (MB) | Hard Drive | CPU | Cache | Display | Media |
| --- | --- | --- | --- | --- | --- | --- |
| G3/333 | 64/384 | 4.0 GB | G3 PPC 333 MHz | 512K backside L2 | 14.1" TFT AM millions colors | 24x CD |
| G3/400 | 64/384 | 6.0 GB | G3 PPC 400 MHz | 1 MB backside L2 | 14.1" TFT AM millions colors | DVD |
Finally, in February 2000, Apple introduced the Firwire PowerBook G3's, also referred to as Pismo. Outwardly similar to Lombard models, the Firwire PowerBooks were quite different internally. For one, two Firewire ports became available for the first time. These were also the first models to support Apple's wireless AirPort technology with the addition of a $99 AirPort card. Maximum memory was extended to 512MB, officially, and 1GB, unofficially. Firwire PowerBook G3's were available with 400MHz and 500MHz processors and a 100MHz system bus. On the casing below the display, these models simply say 'PowerBook,' and nothing else. Here are the specs for Firewire PowerBook G3's:

| Model | RAM/MAX (MB) | Hard Drive | CPU | Cache | Display | Media |
| --- | --- | --- | --- | --- | --- | --- |
| G3/400 | 64/512 | 6.0 or 10 GB | G3 PPC 400 MHz | 1 MB backside L2 | 14.1" TFT AM millions colors | DVD/AirPort |
| G3/500 | 128/512 | 12.0 or 20 GB | G3 PPC 500 MHz | 1 MB backside L2 | 14.1" TFT AM millions colors | DVD/AirPort |