Retro Reading: Macs Share Screen Time In 'Transformers' Movie
FEATURE: 12.21.18- Welcome to another edition of "Retro Reading," a series here in my column, "Mac Potpourri," where we dig deep into the archives for content written on today's date several years ago from PowerBook Central — where I served as one of its three columnists from 2006-09 — a website established in 1997 and retired in 2015, which was defunct until it merged earlier this year with its sister site, MacPrices, in May 2018.
Today we stray off the beaten path, so to speak, and take a look at a story that was not actually published on this day. Why? Well, I chose to mix things up and not follow the formula of this series which is supposed to feature a story written on this calendar date because the new movie "Bumblebee" — the sixth film in the "Transformers" live action movie series that serves as a prequel to the first film — opens today in theaters across the U.S.
The story we will look at today is my commentary on the first "Transformers" movie which opened in U.S. theaters back on July 3, 2007 with my piece published two days later on July 5.
I'll never forget the experience of seeing the toy action figures from my childhood brought to life on the big screen. (I think I almost teared up, just a little, during the movie seeing the character of Optimus Prime in the "flesh" transforming right before my very eyes in life-like fashion!). Granted, there was an animated cartoon series — not computer animation, mind you, but the old fashioned hand-drawn animation — so the live action movie was not the first time I saw the toys walking and talking but the comparison of the cartoon on TV to the film on a movie screen was like night and day.
As excited and in awe as I was over the Autobots and Decepticons starring on the big screen, I was just as excited, if not more, to catch Apple computers sharing screen time with the robots and it gave me the idea for a story on the Macs featured in the movie.
So naturally, I had to take a lot of mental notes to be able to describe what I saw in the film. Having a photographic memory certainly helps in that area and so does being very observant (I am known to have an "eagle eye") not to mention very detail oriented as well.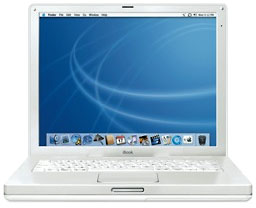 Now let's take a look back at my observations of the secondary star of the film from the "Transformers" movie more than 11 years ago, shall we?
Here is just a sample of my commentary piece published on July 5, 2007:
… in the film, mankind's savior Sam Witwicky (played by a grown up Shia LaBeouf of the DisneyChannel's "Even Stevens")uses his wicked wits to make some cash off of his great grandfather by selling some family antiques / relics on eBay. After making a presentation at school and shamelessly announces to his class that the items he just shared are available for bidding on the electronic auction site, he heads home to check the items' status on his?
14-inch iBook. Courtesy of Apple. …
Later in the film, some room in the Pentagon where military officials, the Secretary of Defense (played by veteran — not military — actor Jon Voight), and a college graduate aged "geek squad" working for the NSA, or National Security Administration,all have their sights focused on computer screens which at first look generic enough to be any widescreen display but when the angle shifts to a sub main character in the film, we see her gazing into?
An Apple Cinema Display. From Steve Jobs in Cupertino. …
The film's plot twists and thickens and in order to not give away details for those that may not have seen it yet, we'll just say that an uninvited guest (not a robot) visits the Secretary of Defense to bring him some news. Mr. Secretary doesn't have time to see or hear it but the uninvited guest presses on and finally gets his meeting with the government head. They both sit down and the uninvited guest pulls out of his briefcase a?
15-inch PowerBook G4 (or it could have been a MacBook Pro).Designed by Apple in California. …
Could this all have been intentional product placement in the film by Apple for advertising? I wasn't sure but what was pretty evident of a marketing ploy was the GMC vehicles used in the film that were the brand of cars that some of the "Transformers" were in the movie when not in their robot form.
The only disappointing thing was that the Apple products were not robots that transformed in the film. How cool would that have been? (If my memory, photographic memory, serves me correct, I think a Nokia cell phone was a small Decepticon that transformed onscreen. If only I could take a look at the movie on DVD to check… for those that don't already know, I'm visually impaired now and have been completely blind since 2013.).
For those of you who want to refresh your memory of the film — it has been more than a decade since it was released — or those of you who may not have seen the movie, check out this page about "Transformers" on IMDb (the Internet Movie Database). There you'll find a treasure trove of information such as a synopsis of the film, videos, photos, cast & crew list, reviews, and trivia, including links where you can purchase the movie instantly for viewing online.
To read the full version of my original article, visit the following link: "'Transformers' Real Star? Apple Notebooks"
Thanks for joining me on this edition of Retro Reading where we took a look back at a headline from the past from my days writing for PowerBook Central. Join me again next time when we dig deep back in to my archives and see what headlines were displayed on the front page of that website.
(Note from the Author: thanks to Dan Knight, publisher of Low End Mac — a website that this writer also writes for — for searching the image archives of that website and providing the image needed for this story).