When will Apple release an updated iMac?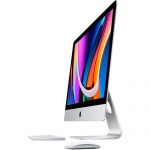 Apple is rumored to be working on an upgraded version of the M1 24-inch iMac, with Bloomberg's Mark Gurman suggesting earlier that the new iMac could arrive as soon as the end of 2022. However, that model did not materialize as thought and is now expected sometime this year, perhaps with M2 power.
Reliable Apple analyst Ming-Chi Kuo doesn't believe a high-end iMac (iMac Pro?) will come out until later this year or perhaps in 2024, depending on which CPU Apple chooses to use. With a new 27-inch display just launched in 2021, that introduction may not be too far away.