Apple to release new iPad with carbon fiber kickstand and folding display — Kuo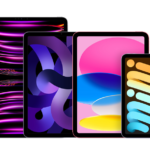 According to analyst Ming-Chi Kuo, a new Apple iPad will be the beneficiary of all-new technology featuring a kickstand and folding OLED screen. There will be no new iPads released in the next nine to twelve months as an iPad mini refresh is more likely to begin mass production in early 2024. Kuo's prediction for 2023 is a year over year sales decline of 10-15%. However, a foldable iPad in 2024 is thought to boost sales and inject much needed innovation into the product mix.
Kuo suggests that the foldable iPad will utilize a carbon fiber kickstand and a folding OLED screen, possibly reflecting a growing demand for foldable devices with kickstands.