Ibilities Inc has released iPIN, their mobile safe for all important passwords and PINs of everyday life, for iOS, Mac OS, Windows, and now Android. iPIN is the mobile safe for all important passwords and PINs of everyday life. Confidential data is being encrypted, so no unauthorized person is able to take a glimpse at it. The program is already available for iOS, MacOS and Windows. Now it is also being offered for Android smartphones and tablets. To celebrate the good news, all four versions are presented for a short period of time at half price.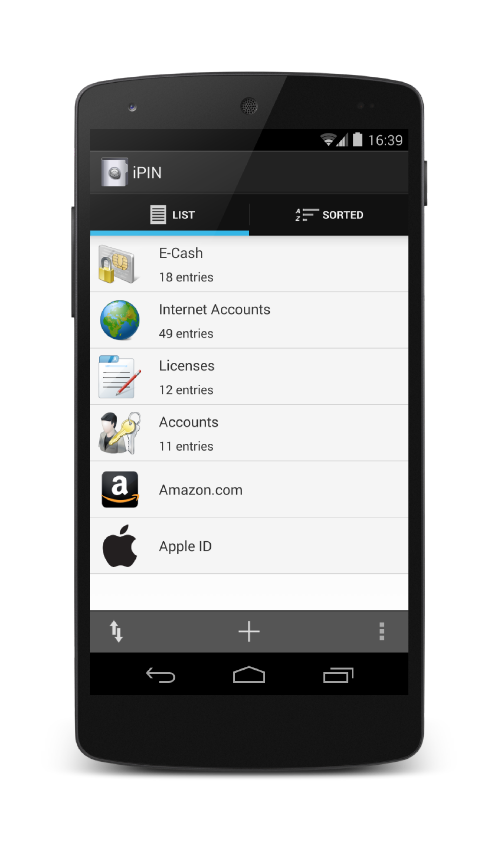 In a nutshell:
* iPIN for Android has been released
* iPIN is already available for iOS, MacOS and Windows
* Manages all passwords, user IDs and PINs
* Data is encrypted with the 256 bit AES algorithm
* Is able to attach documents in encrypted format to entries
* Synchronization of data via Wi-Fi with all iPIN apps
* All 4 apps are currently half price
Who is allowed to make calls with the cell phone, withdraw money at the ATM or download movies from the online video store? Only an authorized person may do so. Passwords, PINs and other secret codes are proof of legitimacy. However, the problem for most of us is that we simply can not remember all the numbers – they seem to multiply as time goes by. Writing them down is not recommended, since they can easily fall into the wrong hands.
The sensible solution: iPIN – a mobile safe for all passwords. The program is available as app for the iPhone and iPad, as tool for all Mac computers and as application for Windows. Starting immediately iPIN is also being offered as Android version, completing the support of all four operating systems. Finally millions of Android smartphone or tablet users are able to implement the popular tool to store passwords.
The Android version of iPIN closely follows the successful iOS version and brings some strong arguments to the table:
* Encrypted Storing of Data: All passwords, which are stored in iPIN, are being automatically encrypted with the secure 256 bit AES algorithm – making it impossible for anyone unauthorized to take a look at them. Users are even able to attach external documents to password data documents, including photos, office documents or PDFs – which are encrypted as well.
* Wi-Fi-sync: Users have the option to synchronize all four iPIN versions via Wi-Fi. This means that passwords, which are stored on the iPhone, can immediately be accessed on the Android smartphone. During the synchronization process all data remains, naturally, encrypted.
* Login via Sensor Code: With iPIN users do not need to be concerned about the access password to their database – the sensor keyboard provides a good alternative upon request. The user simply inputs an individually generated pattern to activate access.
* Safety Display: iPIN ensures that no one secretly takes a look at the screen, when the user is working with his database. The password is displayed really small in a clutter of digits, which is very confusing for anyone that might be a little too curious. Another option is to display passwords in reversed order.
To celebrate the launch of the Android version, all iPIN versions have been reduced to half price – for a limited period of time. In addition, the new Android app is being offered at a special introductory price. The current prices are as follows:
* iPIN (iOS) – $1.99 instead of $3.99
* iPIN (Mac OS) – $4.99 instead of $10.99
* iPIN (WIndows) – $4.99 instead of $9.99
* iPIN (Android) – $1.99 Introductory Price
Frank Moeller of IBILITIES, INC. says: "We applied the KISS principle to all four iPIN version – Keep It Simple and Secure. The Android version also provides a password generator, creates a PDF list of all passwords and can incorporate icons to personalize the user interface. A new feature of ALL versions is the option to add icons from the photo library, camera or clipboard."
Ibilities:
http://www.ibilities.com/
iPIN 2.35:
https://www.ipin.ibilities.com/
Purchase and Download (iOS):
http://bit.ly/OpmdGg
Purchase and Download (MAS):
http://bit.ly/1lItSKL
Product Information: https://www.ipin.ibilities.com/
Windows-Version:
http://bit.ly/1p4oX77
Mac App Store:
http://itunes.apple.com/app/ipin-secure-pin-password-safe/id536572186?ls=1&mt=12
Google Play (Android):
https://play.google.com/store/apps/details?id=com.ibilities.ipin.android