Belkin has announced that it has completed Apple MFi (Made for iPad) certification for its Secure Wired Keyboard for iPad, designed for classroom and standardized testing environments. Belkin will showcase the wired keyboard, introduced in early February, and other education solutions at the annual CUE 2014 Conference, March 20-22 in Palm Springs, California.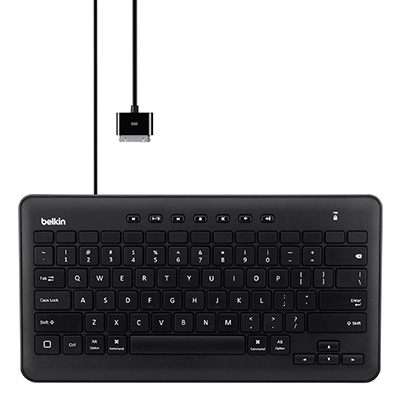 The MFi Program is a licensing program that encompasses third party hardware accessories using Apple's licensed technology to connect electronically to iPhone, iPad or iPod. Companies, organizations, government entities and educational institutions are eligible to apply for MFi certification. MFi licensed technology includes lightning and 30-pin connectors, authentication coprocessors, and iPod Accessory Protocol, among other accessories.
Apple has very strict rules and demanding certification requirements to obtain MFi certification, in order to ensure that Apple's brand image, quality and taste are consistent with its authorized accessories. Companies passing certification tests are able to display MFi-related logos on their product packaging.
"MFi Apple-certified accessories — more than any other certification — provide users with quality assurance protection," says Jon Roepke, director of product management, Business Division, Belkin International. "Successfully obtaining the MFi authorization is a sign of confidence in the technology and top quality products. We are pleased to offer the first wired keyboard for iPad certified under Apple's newest MFi guidelines for this product line."

Secure, durable, and lightweight, the Belkin Secure Wired Keyboard connects directly and securely to a single iPad or Samsung tablet, and does not require batteries or recharging, making it an ideal partner for standardized testing. The slim, ergonomic design features well-spaced keys made specifically for the classroom. Its plug and play simplicity enables reliable and easy use. The Belkin Secure Wired Keyboard also includes a "correct connect" diagnostic indicator, allowing teachers, administrators, and students to verify proper connection via one button push.
Key Features and benefits include:
• Plug and play
• Full-size keys
• "Correct connect" diagnostic indicator to verify proper connection
• Durable, lightweight design
• Well-spaced keys for comfortable typing
• No additional software required
• No batteries required
• Made for classrooms
• Certified to Apple's latest MFI specifications for wired keyboards.
Belkin will showcase its Secure Wired Keyboard and other education products, at booth #648 at the annual CUE 2014 Conference, March 20-22 in Palm Springs, California. CUE provides leadership and support to advance student achievement in the educational technology community. For more information visit:
http://2014.cue.org/
The Belkin Secure Wired Keyboard for the Samsung tablet with the 5-pin micro-USB connector (Part # B2B120) is available now through Belkin's global network of distributors and resellers; the 30-pin iPad connector (Part # B2B114) and the Lightning iPad connector (Part # B2B115) will be available April 2014.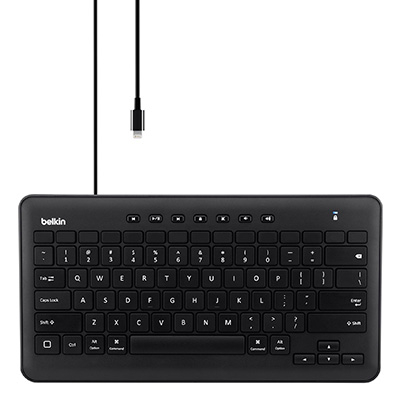 Specifications:
Device Type: Keyboard – wired
Interface: Apple Lighting connector
Localization: US
Input Device
Hot Keys Function: Multimedia
Width: 6.4 in
Depth: 12.2 in
Height: 0.9 in
Weight: 14.1 oz
Miscellaneous
Cables Included: 1 x Lightning cable – 1.5 ft
Compliant Standards: FCC Class B certified, WEEE, MFI
Manufacturer Warranty
Service & Support: 1 year warranty
Service & Support Details: Limited warranty – 1 year
Environmental Parameters
Min Operating Temperature: 32 °F
Max Operating Temperature: 104 °F
For More information, visit:
30 pin:
http://www.belkinbusiness.com/products/b2b114
Lightning:
http://www.belkinbusiness.com/products/b2b115
For more information, visit:
http://www.belkinbusiness.com