Apple and Samsung have forged a bitter rivalry both globally and within the North American marketplace. With each manufacturer planning to unveil at least one new flagship device in 2014, investors will be watching closely as the market dictates who comes out on top in terms of sales and impact on the overall mobile ecosystem. To provide a baseline for both companies based on past releases, Chitika Insights studied initial adoption rates for Apple's iPhone 5 and Samsung's Galaxy S IV in the two months following their respective North American debuts.
To quantify this study, Chitika Insights examined tens of millions of U.S. and Canadian Apple and Samsung smartphone-based online ad impressions generated within the Chitika Ad Network. The date range of this study consisted of impressions cataloged during the first, fifth, and ninth weeks following the respective North American release dates of the Apple iPhone 5 (September 21, 2012) and Samsung Galaxy S IV (April 26, 2013). The below graph displays each phone's post-launch Web traffic share as a function of total Web traffic generated by that individual manufacturer's smartphone users.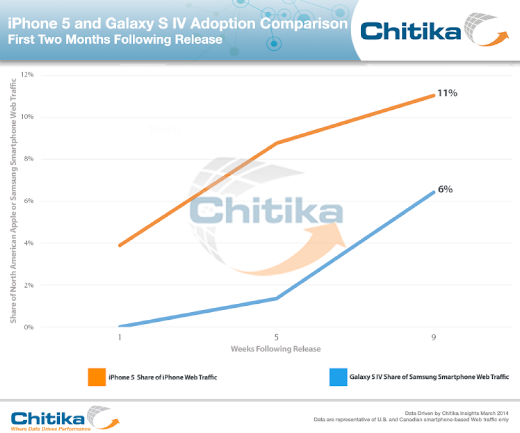 Despite Apple having a larger existing North American install base at the time of release as compared to Samsung, adoption of the iPhone 5 outperformed the Galaxy S IV throughout the two months following each device's individual market debuts. Just one week following the iPhone 5 hitting the shelves at U.S. and Canadian retailers, the device's users were already generating close to 4% of all iPhone traffic across the continent. Meanwhile Galaxy S IV usage share took longer to accelerate, with the highest rate of growth occurring between the fifth and ninth weeks post-release, topping out at 6% by the end of the study period.
Despite Samsung not besting Apple in terms of adoption of its flagship smartphone, the Korean company has succeeded in dominating the North American Android marketplace. During the summer months of 2013, Samsung's collective usage share grew to represent a majority of all North American Android Web traffic, and has continued to grow to levels far above any of its competitors.
For the following two graphs, Chitika Insights analyzed hundreds of millions of iOS- and Android-based online ad impressions observed from regular weekly samples drawn every month between February 2013 and January 2014.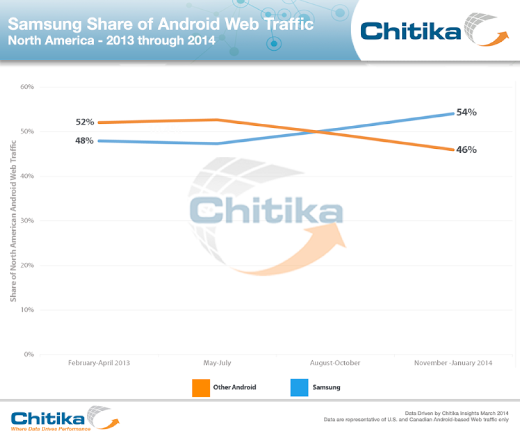 Yet, over the same time period, the overall share advantage of iOS within North America has grown. The sizable disparity is largely driven by iPad's substantial usage share advantage within the continent, along with iPhone users still commanding a large percentage of smartphone Web traffic in comparison to other manufacturers.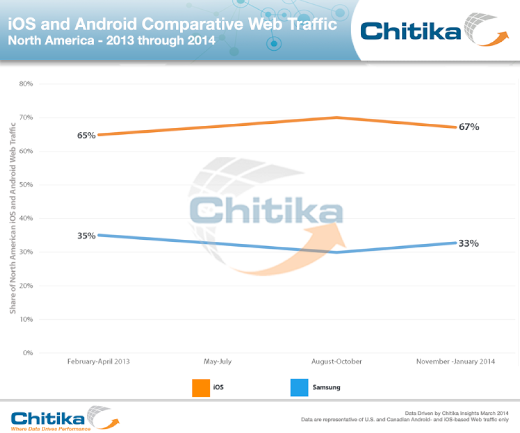 Both Samsung and Apple are well positioned to maintain their top spots in the mobile marketplace, but usage statistics, in conjunction with sales figures, make it clear that each company has its own set of strengths when it comes to North America. Continental usage of Apple products generally outperform its market share, likely indicating that users are highly engaged with the company's devices as compared to those of its competitors. Samsung has invested heavily in the North American mobile marketplace, and its devices easily drive the most Android Web traffic. This makes the user experience on its devices of prime concern for Android OS and application developers, helping Samsung deliver a more seamless experience to its users.
Read the ful report:
http://bit.ly/1gl4taW