Dell has unveiled new Dell Venue 7 and Venue 8 tablets, Inspiron 11 3000 Series 2-in-1, Inspiron 13 7000 Series 2-in-1, Inspiron 20 3000 Series AIO, and announced the worldwide availability of the new Dell UltraSharp UZ2715H, UZ2315H, and UZ2215H Multimedia Monitors. The new products include more modern (ie: thin and light) form factors, and connectivity options that enhance these machines' mobile/portable functionality and flexibility to have technology move with them throughout the day.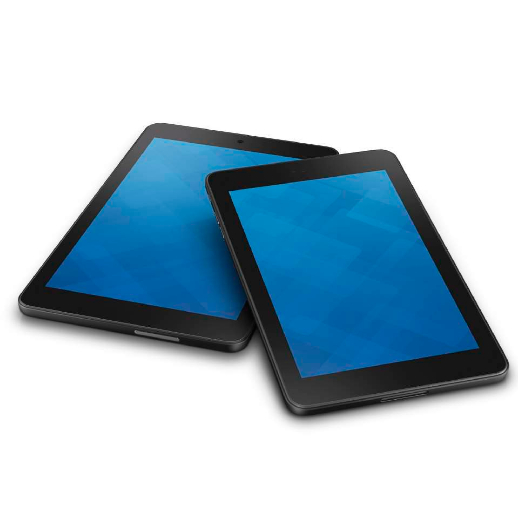 "The Dell Venue tablets and Inspiron 2-in-1s are designed to be essential companions to power projects, provide entertainment, and share meaningful moments with family and friends," says Sam Burd, Dell Personal Computing Product Group vice president and general manager. "Dell customers have more flexibility than ever before to have their technology move with them throughout the day and become a seamless part of their lives."
Dell Venue 7 And Venue 8 Tablets: Solid Performance And Eye-catching Design
The updated Dell Venue 7 and 8 tablets enable users to experience enjoyable entertainment and productivity in an attractive, thin, and light design. The HD (Venue 7) and Full HD (Venue 8) screens deliver bright images and wide viewing angles and a better viewing experience, even outdoors says Dell. Premium audio technology from Waves MAXXAudio Pro provides top-drawer sound quality, and can be paired with the optional Dell Bluetooth Portable Speaker. Based on Android 4.4 Kit Kat, the new Dell tablets feature the latest Intel Atom Z3460 (Venue 7) and Z3480 (Venue 8) processors (Merrifield) to drive faster web browsing and media editing, and also feature an easy-grip design on the back. Both are available in red or black color options.
Dell has a full range of optional accessories to customize the Dell Venue tablet experience, such as the Dell Venue Cradle (coming soon), designed specifically for the Dell Venue 8. Users wil be able to wirelessly charge their devices while in use. Place the Venue 8 on the cradle and comfortably surf the web or watch videos while charging the battery.
A brightly-colored, dual-layer Dell Duo Tablet Case will keep the device safe while making a stylish statement. Similarly, the \ Dell Venue Rotating Folio for the Dell Venue 8 provides protection, while the 360-degree screen rotation allows for positioning in portrait or landscape modes.
The Dell Bluetooth Keyboard Folio provides a wireless Android keyboard for easy, natural typing. Designed for travel, the cover provides protection for the
The Dell Venue 8 screen and also folds into a stand for hands-free use, and the Dell Bluetooth Portable Speaker provides easy connection for a wide variety of devices with Bluetooth 4.0 wireless and NFC connectivity to tap-and-pair and tap-and-connect with NFC-equipped devices. It offers up to 10 hours of continuous play, a wireless range of up to 30 feet, and built-in microphone for hands-free calls.
Dell Inspiron 2-in-1 Devices
Those seeking a synergy of the PC and tablet worlds in a single machine will be interested in Dell's new Inspiron 2-in-1 devices that enable users to flip from scrolling to typing in an instant. Both the 11-inch and 13-inch systems feature an innovative hinge design that rotates 360 degrees between laptop, easel, tent, and tablet configurations. Typing performance is enhanced with a 10-finger capacitive touch display. The latest Intel processors provide fast, responsive performance to power through tasks such as working on a project or web chatting with friends and family. New features on all Inspiron products include 20GB of Dropbox cloud storage for sharing, saving and collaborating, and facial recognition software to make using password-enabled websites safer.
The Inspiron 11 3000 Series 2-in-1 is equipped with with up to Intel Pentium quad-core processors, delivers exceptional mobility, and offers 500 GB of storage capacity so people can bring all of their videos, pictures, and music with them wherever they go. The light weight and a claimed up to 8 hours, 18 minutes of battery life will cover a productive workday, and when it's time to transition into play mode, the edge-to-edge display and wide viewing angles are ideal for watching TV shows or movies in the tablet stand or tent mode.
Waves MAXXAudio technology completes the immersive entertainment experience with a startlingly realistic soundstage.
The Inspiron 13 7000 Series 2-in-1 with 4th generation Intel Core processors offers additional upscale features such as a backlit keyboard for productivity, and a 13.3-inch display, up to Full HD resolution. The built-in passive stylus is perfect for note-taking or fine edits to drawings, and the complimentary 20GB Dropbox storage ensures that important documents are always accessible.
Dell UltraSharp Multimedia Monitors
New 27-inch, 23-inch, and 21.5-inch Dell UltraSharp Multimedia Monitors are designed to take connectivity to the next level. The monitors offer a complete multimedia configuration, spanning brilliant Full HD screen resolution, customized views, and a 2.0 Megapixel Full HD webcam. The displays come optimized for Microsoft Lync, allowing users to make voice and video calls through the computer to Lync users, ideal for collaborating via screen-sharing and virtual whiteboards, or catching up with friends and family. During video chats, participants will see and hear each other with remarkable clarity, enjoying 1920 x 1080 Full HD resolution across an ultra-wide 178 degree/178 degree viewing angle with built-in echo cancellation.
The Dell Venue 7 and 8 tablets will be available from July 1 on Dell.com starting at $159.99 for the Dell Venue 7 and $199.99 for the Dell Venue 8
The Inspiron 11 3000 Series 2-in-1 will be available from June 19 on Dell.com starting at $449.99. The Inspiron 13 7000 Series 2-in-1 will be available in September
The UltraSharp Monitors are available from June 3 on Dell.com starting at: $449.99 (UZ2715H); $299.99 (UZ2315H); $269.99 (UZ2215H)
For more information, visit:
http://www.dell.com