Garden Produce Exchange has introduced the new Local Carrot iPhone App — a fast and easy way for consumers looking for healthy, locally-sourced produce to connect with home gardeners who have surplus goods such as vegetables, fruits, herbs, seeds, eggs, honey, edible flowers, mulch, and compost.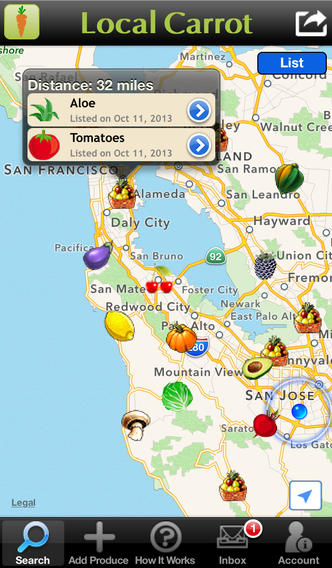 Are you a home gardener with more vegetables than you know what to do with? Is fruit falling off your tree and rotting on the ground? Don't let good, healthy food go to waste! List your surplus produce on Local Carrot and sell, share, or trade it with health and budget conscious people in your neighborhood looking for fresh, locally-grown foods.
Gardeners and Growers can:
* Safely list surplus produce you have available and would like to share, sell, or trade
* We do not reveal your address and you decide how and with whom to swap
* Contact local growers and consumers interested in buying, trading, or selling home grown produce
* Create a personal profile to let others know a little more about yourself and the produce you grow
* Add photos of your garden, produce, and the meals you have made using foods you have grown or swapped
* Provide details on your surplus produce including its specific variety, the quantity available, your selling price, whether it is organic or an heirloom, and how it was grown
Are you a parent looking for high quality, organic produce for your family but are on a tight budget? Do you want to make smart and healthy food choices for both yourself and the environment? Search Local Carrot to see what your neighbors are growing in their backyard gardens and have available to share, sell or swap with you right now.
Consumers can:
* Search for fresh, locally-grown foods in your neighborhood via a dynamic map or searchable produce list
* Tap fun icons to find fresh fruits and vegetables available near you
* Show results by freshness, distance, or alphabetically
* Safely contact local growers to arrange a trade and meet growers in your neighborhood
Join the sharing economy today through Local Carrot. It's good for your health, strengthens your community, saves the environment, and is great for your wallet.
Device Requirements:
* iPhone, iPad, and iPod touch
* Requires iOS 6.0 or later
* 11.1 MB
Local Carrot 1.0.2 is free and available worldwide exclusively through the App Store in the Food & Drink category.
Local Carrot 1.0.2:
http://www.LocalCarrot.com
Download from iTunes:
https://itunes.apple.com/app/local-carrot/id726792632
Pinterest Gallery:
https://www.pinterest.com/LocalCarrot/
Facebook Profile:
https://www.facebook.com/LocalCarrot
LinkedIn Profile:
https://www.linkedin.com/company/3304846
Twitter Profile:
https://twitter.com/local_carrot