MICOM Software has announced the release of Auto Mechanic Bob – Engines 1.0 for iOS, a fun educational app created to help you learn about the many different types of engines used in cars, trucks and small equipment. This app is full of interesting information, including a few challenges that can actually help you diagnose starting problems on your own automobile or other small engine. The first menu shows four types of engines. All of these engines work with colorful working animations and sounds:
* Four stroke engine
* Two stroke engine
* Wankel engine
* Steam engine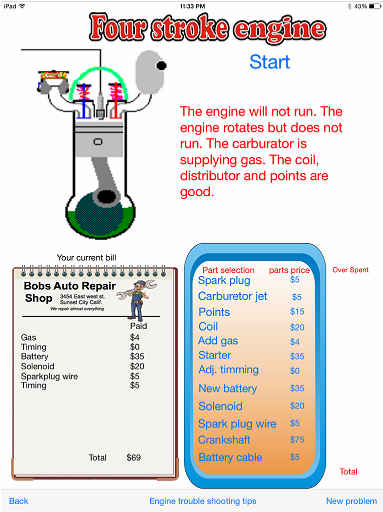 Many of these engines are still currently being used today and others were used in the beginning of the automobile era. Professional mechanics and students will enjoy the challenge of the Engine quiz and the FIX Engine repair challenge. The next menu has informational pages covering:
* The electrical starting system
* An engine that needs repair in order for it to work
* There is an engine quiz with over 110 different questions
* Engine forums
Starting system:
This is a fantastic way to learn about the starting system and related problems. Actual engine starting sounds are used to help you identify starting problems.
Fix engine:
The engine is ready to go, but for many different reasons it won't start and run, you must correctly diagnose the problem part to make the engine run. If you can correctly diagnose and buy the engine parts without over spending you will earn a certificate.
Engine quiz:
With over 110 different and challenging questions to test your mechanical knowledge you will be surprised on what you know or don't know. The more questions that you answer correctly you will move up the different certificate levels, up to Master mechanic. Save and print these certificates to prove your skill level.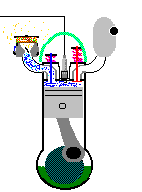 Engine forums:
A collection of popular engine forums on the web. It's a great way to learn about these different engines. You can also edit and change these web address to your preferred site.
Device Requirements:
* iPhone, iPad, and iPod touch
* Requires iOS 7.0 or later
* 16.9 MB
Auto Mechanic Bob – Engines 1.0 is $1.99 USD (or equivalent amount in other currencies) and available worldwide exclusively through the App Store in the Education category.
MICOM Software:
http://www.micomsoftware.com
Auto Mechanic Bob – Engines 1.0:
http://www.micomsoftware.com/Mechanic%20Bob.html
Purchase and Download:
https://itunes.apple.com/app/auto-mechanic-bob-engines/id870140455