Calgary based Kallaxa Software has announced the release and immediate availability of Dazzle, a shareware app for Mac OS X. Retailing for $29 with a free 15 day trial, Dazzle is a comprehensive system cleaning tool. Perform a variety of tasks such as finding duplicate files, erasing web histories, deleting caches, completely and uninstalling apps.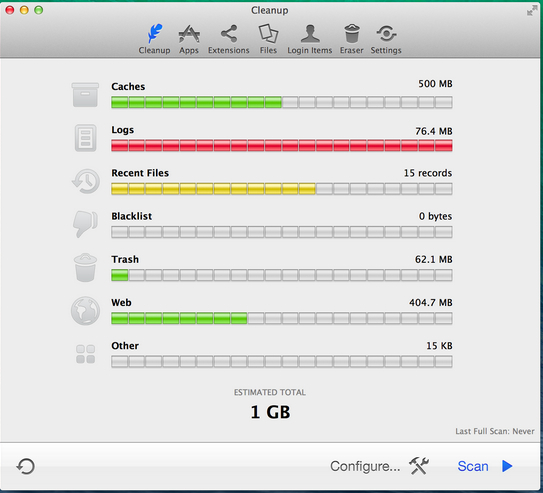 Dazzle is for both home and business users, regardless of their technical knowledge, who are running out of disk space. It uses complex and safe algorithm to detect junk and flag it for removal. It presents its findings to the user to confirm erasure, and then proceeds to intensively delete the data using military grade security.
Dazzle can be automatically scheduled to run daily, weekly, or monthly and will periodically remind the user to perform scans. Additionally, it will offer to correctly uninstall apps if a user mistakenly drags an app to the Trash and alert the user if the Trash has become full.
Extensions such as Flash Player, login items, preference panes, and screen savers can be toggled on or off with the click of a button to conserve system resources and improve computer performance. When working with apps, Dazzle can remove unused language packs, strip out compatibility code (ie. PowerPC code on an Intel Mac), and even catch files left behind by apps uninstalled incorrectly.
Kallaxa:
http://www.kallaxa.com/
Dazzle:
http://www.kallaxa.com/products/dazzle/
Download Dazzle:
http://www.kallaxa.com/products/dazzle/#download